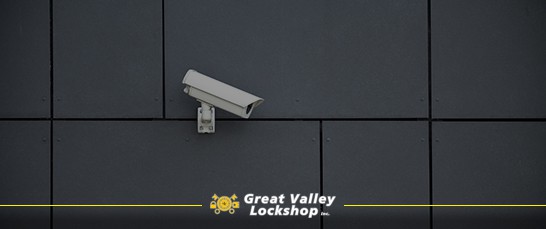 5 Reasons Why Security Cameras Don't Ensure Commercial Security
A lot of business owners are investing in expensive surveillance systems and security cameras to help protect their property. Though cameras can be an effective addition to a commercial security strategy, they shouldn't be the only measure. Here's why…
Security cameras aren't the best single way to protect a facility. Relying solely on video records is generally ineffective and possibly leaves your property vulnerable to burglary and vandalism.
Why Video Cameras Aren't Enough to Protect Your Business
Let's go through the top five disadvantages of security surveillance when it comes to commercial security.
1. No Match for Bold Burglars
Many business owners assume that burglars will stop in their tracks if they spot the flashing red light of a recording camera. But, just look at the recent headlines and you will see that, these days, burglars aren't afraid of being caught on tape.
For example, a few days ago, an intruder stopped to wave at a surveillance device operating in the Tennessee retail business from which he was stealing. Then, in Philadelphia, one of the most burglarized cities in Pennsylvania, two burglars were caught on video stealing money from a local boy's piggy bank. In New York last week, three armed thieves dressed the part for his role in a high-value jewelry heist knowing that it would be recorded by the store's security system. Footage shows that the holdup took place at midday in Manhattan's swanky diamond district. The men walked away with an estimated $4 million in jewelry and watches designed for celebrities.
These news stories are proof that security cameras are no obstacle for brazen criminals like these. Many are considered serial criminals and they are unafraid of getting caught on camera.
2. Security Cameras Don't Ensure Security
In this industry, we consider surveillance cameras to be a passive security measure. They can watch a property 24 hours a day and seven days a week. However, this constant surveillance is not the same thing as crime prevention. It doesn't stop trespassing onto a property, acts of vandalism, theft, or other crimes.
In fact, police and security agents have been unable to show that installing security cameras affects the crime rate. There are no statistics to support the idea that surveillance deters criminal activity. Further, cameras can't stop criminals from entering, stealing, threatening occupants or damaging property, even during the act. There is also no guarantee that video images will help catch or convict the offender, nor get stolen property returned.
On the local level, here in Pennsylvania, the arrest rate for burglaries is among the highest in the country. Unfortunately, solving only 19% of burglaries is considered good news when compared to other states in the country.
3. Security Cameras Do Not Restrict Access
It's true, invaders may choose a different path to go around the anticipated range of a security camera. However, it doesn't keep them from accessing the property or entering the building. Unlike active security measures, surveillance only observes the events going on around it during the day or night.
4. Surveillance Is Unreliable
If the security camera does its job, at best, it records activity when an intruder accesses a store, warehouse, office, workshop or construction site. Though systems have become quite advanced in recent years, the technology is still not perfect.
Surveillance video may not show who burglarized the business or reveal who is responsible for a crime on the property for a number of reasons. Footage could turn out to be entirely unhelpful in solving a crime if:
At the time of the crime, the camera was not recording.
Equipment was too far away or pointed in the wrong direction.
The camera angle or visual radius was too limited to record the activity.
Video quality was too low or grainy to identify the culprit.
The criminal's face and distinctive features were not caught on tape.
There was insufficient storage space to save the video data.
Video footage was deleted automatically before the manager or authorities could review it.
Footage was deleted before it was discovered that an intruder accessed the property.
The system experienced some other type of technical difficulty.
5. Security Cameras Can Be Stolen Too
Instead of protecting valuable equipment or merchandise, sometimes security systems become another item that thieves target. During a break-in, disconnecting and taking CCTV or IP security cameras is a fairly simple procedure. Once stolen the equipment can be resold for cash. In fact, to prevent theft of expensive cameras, some manufacturers now sell extra devices to help disguise and protect them.
How to Make Your Business Space More Secure
We don't discourage our customers from investing in surveillance cameras or security systems. However, we do recommend that they be utilized as part of a more comprehensive residential security strategy. Active security measures should also be used to help keep your property and staff.
The fact is that there are much more cost-effective methods for improving security for your employees. Implementing a security access system, switching out low-quality hardware for high-security locks and top-grade hardware, and implementing other commercial security measures can make a big difference. These measures can even be used in addition to the existing surveillance system.
Get some helpful tips from our Security Checklist for Business Owners.
Trust your local lock experts at Green Valley Lockshop to help you determine and install the best residential and commercial security solutions. Call us at (610) 644-5334 or request a free quote online to learn more about your options.