5 Foolproof Tips for Buying a Fire Resistant Safe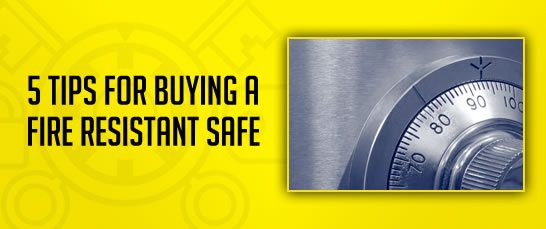 If you have been giving serious thought to purchasing a safe for your home or business, then the idea of having a fire resistant safe has surely crossed your mind. Often called 'fireproof' in sales lingo, the truth is that no safe is completely fireproof. Many factors come into play when determining just how fire resistant a safe is, with standard protection options ranging from 30 minutes to a few hours at certain temperatures. However, this is just one of many considerations to be mindful of before purchasing a fire resistant safe to protect your valuables such as guns, paper documents, cash, photos and essential digital media. Here are some tips from our experts at Great Valley Lockshop to put the power and knowledge you need in your hands before you purchase a fire resistant safe.
1. Understand the Difference Between UL Listed and UL Rated Testing Labels
Safes are tested by Underwriters Laboratories (UL) and are held to the highest standards according to the company. That being said, buyers should be wary of safes that carry labels stating that they have been 'tested to UL standards.' While it sounds like this must be a premium safe, it is actually not much more that a sales technique that merely means that the safe has been submitted to industry regulators for UL testing. However, this label does not mean that the safe actually passed the inspection to meet those rating standards. Those that have undergone such testing and have passed in accordance with industry standards will be labeled 'UL Listed.' This is the term that you should consider mandatory on any fire resistant safe that you intend to purchase.
2. Decide What You Want Your Safe to Protect
The two most popular types of fire resistant safes on the market carry separate and distinct ratings. Safes for paper document storage such as titles, birth certificates, insurance papers and important business receipts or customer information should have a fire rating of UL 350. However, if you are storing data or computer media, you will need to go with a data safe that carries a UL 72 or UL 125 rating. Data will melt in a safe with lessor protections, so if you don't want to shell out the money for a large safe for data, consider purchasing a smaller one that will fit inside the safe you choose for extra security. Of course, you will want your safe to be waterproof, as well for the ultimate protection.
3. Determine the Level of Fire Protection You Want
Fire safes are available from a variety of manufacturers that offer varying levels of fire protection. An average fire burns around 800°F for 20-30 minutes. When we refer to data safes with UL 125°F and UL 350°F ratings, this means they offered protection for at least 1 hour at 1700°F. However, there are safes with ratings that claim protection for up to 3 hours. So, depending on the importance of your valuables, you'll want to consider just how much protection you want. While the higher the rating and protection level will cost you more, you must remember—you get what you pay for.
4. Are You Interested in Burglary or Impact Ratings?
Fire ratings are only one aspect of UL tests that most safes undergo. Many are also tested for their resiliency against serious impacts such as structural collapses and to see how much time it takes for an experienced burglar to get inside to the goods.
Burglary Testing
UL technicians take on the challenge of testing the resilience of safes against burglars by using every too they can get their hands on…blow torches, grinders, picking tools and so on. Safes are rated according to how long it takes the best pros they have on hand to penetrate the lock or the safe to get inside. The higher the burglary rating is, the longer it took experts to break in. Ratings such as TL-15 and TL-30 indicate that it took 15 minutes and 30 minutes respectively to 'burglarize' the safe.
Impact Testing
Impact testing at the UL takes place after it passes the fireproof test where it reaches temperatures of 1700°F. Within two minutes of going through the flames, researchers then drop it from a height of 30 feet onto a pile of bricks situated upon a concrete base. If the safe is still intact and remains closed, it will then receive an impact rating from the UL.
5. How Secure Do You Want Your Locks to Be?
While combination safes were the standard a decade ago, we have moved onto a digital age that allows for even greater measures of protection. Some types of electronic locks have been tested for times longer than 20 hours with technicians having no luck 'breaking in' to them, making them ideal for high cost valuables and business owners with essentials to protect. Electronic keypad locks allow for quick code changes and can be set to have individual codes for each employee or household member, so when one party exits the picture, others still have access. The best part, is that there are many additional features that electronic locks can boast.
Time Delays: These can only be opened according to the time frequency you determine.
Opening Windows This allow access at only certain time 'windows' and can be customized for specific days.
Penalty Modes Prevent prying eyes from trying several codes in rapid succession with this feature that will lock them out after a specified amount of wrong attempts at cracking the code.
Audit Feature A valuable asset for companies who want to keep track of who's accessing the safe, this loss prevention feature can produce audit trails to wrap up investigations quickly.
These are only a few options, as others include integrated camera and alarm systems and features such as duress modes that can alert the authorities if you are forced into opening the safe against your will.
Let Great Valley Lockshop Guide You to 'Safety'
Whether you need a new safe installed or need an experienced safe locksmith for your home or commercial business, get in touch with one of our experts at Great Valley Lockshop today by calling 610-644-5334. We have specialist in the communities of Malvern, West Chester, Downingtown, King of Prussia and Kennett Square, PA for your convenience.