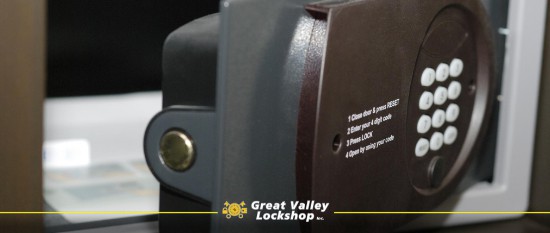 Best Home Safes – 2022 Purchase Guide
The process of evaluating a home safe might be overwhelming. It's easy to become dazzled by the sheer variety of shapes, sizes, functionalities, and extras available. Choosing the right home safe for your specific requirements is something we want to make as simple as possible. We have compiled a list of the finest products in each category and then outlined the most prevalent factors.
We've done the legwork and uncovered some of the top bargains in the industry.
Best Homes Safes on the Market in 2022
The contents of a home safe are protected from theft, fire, and water by a safe. They give you a sense of security in knowing that your valuables, heirlooms, and important documents will be safe from such threats. Invest in the best home safe that meets your specific requirements so that you can keep your most prized possessions safe. Choose one of these top-rated safes for your valuables.
Overall Best Home Safe: SentrySafe SFW 123GDC
The SentrySafe SFW123GDC isn't exactly a featherweight. It weighs about 87 pounds. With its sturdy construction, it's meant to resist the rigors of everyday use.
The backlit digital keypad and secondary locking key may lack some of the more high-tech features seen on more expensive models, but they do the job. It is UL-certified to withstand temperatures of up to 1700 degrees Fahrenheit for an hour, protecting crucial documents and digital material.
The valuables will remain dry for up to 24 hours in water up to 8 inches deep, even if the flooring burns through.
There are four live-locking bolts on the safe's hinge bar and a locking drawer for added security. It's available in various sizes to suit a wide range of requirements and budgets.
Item Weight: 86.3 lbs.
Dimension: 19 inches long by 16 inches wide by 17 and a half inches high.
Fireproof: 1 hour at 1700°F
Waterproof: Yes
Type of Lock: Electronic Lock
1.23 Cubic Foot Capacity
Pros
A secondary key is included with the dual combination lock.
On the inside, there is a lockable drawer with a tray.
The 15-foot water test was passed by the model.
Cons
Best Basic Home Security Safe: Amazon Basic Home Safe
There is still a lot to like about Amazon's Basic safe. It isn't as powerful as the SentrySafe SFW123GDC, but is reliable. In addition to the stated model, the Amazon basic home security safe portfolio has a wide range of sizes and styles to fulfill the needs of value-conscious consumers.
Pre-drilled mounting holes are included in most safes, further enhancing their anti-theft capabilities. As a result of the keypad's backlighting, it's easy to see even in the dark.
Dimensions: 14 inches long, 13 inches wide, and 19.7 inches high
Item Weight: 37.5 lbs
Fireproof: No
Waterproof: No
Lock Type: Electronic
1.8 Cubic Foot Capacity
Pros
Aesthetically appealing
Warranty of one year
There is plenty of storage space
Carbon steel is a long-lasting material (8-gauge door and 14-gauge body)
Cons
Not Fire or Water-Resistant
Light in weight
Best Portable Home Safe: SentrySafe CHW 20205
Because the SentrySafe CHW20205 weighs just 20 pounds, it is the ideal answer for anyone who needs to securely store and transport vital documents and small objects when the circumstance demands so.
To conceal it, you can simply put it in a closet or hide it in a corner. It provides fire and water resistance, making it ideal for compact spaces. Carrying handles and an inside lighting option make it easy to transfer and identify its content.
Dimensions: It is 15.4 inches long, 14.3 inches wide, and 6.6 inches high.
Item Weight: 20 lbs.
Fireproof: Yes, 5 hours at 1550°F
Waterproof: Yes
Type of Lock: Key
1.23 cubic foot capacity
Pros
Interior lighting
Fireproof and waterproof, even after 72 hours of submersion
Lightweight and portable to move around
Cons
Certain items may not fit
Best Home Biometric Safe: Viking Security Safe VS-50BLX
In addition to the digital keypad and a backup key, the safe can be opened by any of these methods. A biometric finger sensor that can store up to 32 user profiles is used to unlock the device quickly.
There are two motorized 20mm deadbolts, seamless welding, and a 5mm laser-cut door, all of which contribute to the sturdy construction of this door. An LED light, carpeted interior, and three adjustable shelves are among the premium amenities.
Dimensions: It is 14 inches long, 12 inches wide, and 20 inches high.
Item Weight: 48 lbs.
Fireproof: No
Waterproof: No
Type of Lock: Biometric
Pros
Steel build
Biometric security with a retractable key lock
Two override keys for emergencies
Cons
Neither fireproof nor waterproof
Occasional scanning Problems
Annoying beeping sound
Best Home Gun Safe: SentrySafe QAPBLX
If you are a handgun fan wishing to keep numerous firearms nearby but protected, the SentrySafe QAP2BLX is your friend. It allows biometric access and a gas compression strut for quick, silent, and efficient one-handed retrieval.
It's made of heavy-duty 12 gauge steel and may be fastened down for further protection. It is fitted with inner lights, a digital keypad, and backup keys to ensure optimal visibility and access.
Dimensions: It is 9.8 inches long, 16.4 inches wide, and 3.2 inches high
Item Weight: 16 lbs.
Fireproof: No
Waterproof: No
Type of Lock: Biometric
Capacity: 2 Handguns
Pros
Digital keypad and biometric lock with the capacity to store up to 10 fingerprints.
A timed LED light to allow easy access in the dark when the safe is opened.
Cons
The price is too high for the capabilities.
Best Apartment Safe: TIGERKING Personal Safe
If space is an issue, this safe is an excellent choice. The pre-drilled holes and provided hardware can be wall-mounted in a closet or tucked away and mounted to the floor.
It has a dual alarm warning system activated by violent vibration or three incorrect entries. It also has a USB charging port. In addition, it has a digital keypad and backup keys for easy visibility and access.
Dimensions: It is 12.2 inches long, 7.9 inches wide, and 7.9 inches high
Item Weight: 13 lbs.
Fireproof: No
Waterproof: No
Type of Lock: Keypad
0.5 cubic foot capacity
Pros
Enhanced security with supersensitive alarms
Rechargeable battery with a USB Port
Appealing design with lighting for the interior
Cons
Small in size
Weak lighting LED
Not resistant to fire or water
Best Budget Safe: Stalwart Electronic Digital Steel Safe
Are you on a tight budget and trying to find the best home safe you can afford? With this Stalwart safe, you can keep your valuables safe for less than $50! It's a small safe that can be mounted on the wall or the floor. Alternatively, you can store it in a small bag that you can easily transport when on vacation.
A set of fire and water-resistant pouches might be a good idea for essential documents and papers. The digital keypad and backup keys on the Stalwart safe make it user-friendly. If the wrong code is entered three times, an alarm will sound. Batteries and mounting hardware are included in the purchase price of this item. That's a lot of value for the money, right?
Dimensions: It is 12.2 inches long, 7.9 inches wide, and 7.9 inches high
Item Weight: 13 lbs.
Fireproof: No
Waterproof: No
Type of Lock: Keypad
0.5 cubic foot capacity
Pros
Electronic security system with tamper alarm
It is portable to quickly move in case of emergencies
Very affordable
Cons
Difficult to mount and very small
Not resistant to fire or water.
Best Wall Safe: Paragon 7725 Wall Safe
The Paragon 7725 wall safe is an excellent option for those looking for a wall-mounted concealed safe. Designed to fit neatly between wall studs, its flat panel design makes it easy to hide behind a tapestry or artwork.
The heavy-duty motorized deadbolts and 1/8′′ steel construction add up to a hefty 37-pound weight. In addition to the Paragon 7725, a fireproof security pouch may be necessary. Even though it isn't a high-end safe, it does its job well and is an excellent deal at $119. A padded bottom shelf and two additional shelves help keep your valuables safe.
Dimensions: It is 22 inches long, 16.5 inches wide, and 4 inches high
Item Weight: 37 lbs.
Fireproof: No
Waterproof: No
Type of Lock: Keypad
0.635 cubic foot capacity
Pros
Comes with installation materials
Appealing design with alloy steel build
Pry resistant steel deadbolts with a backlit keypad
Cons
Too flat to contain some items
Not resistant to fire or water
Difficult to install
Best Fireproof Safe: Honeywell Model 2605 Fire Safe
The Honeywell 2605 series has a lot to offer at a reasonable price. At 1700°F, most safes in this class provide an hour's worth of heat protection. Because it offers the best value for a medium-sized home safe under $300, it's our top pick for the Best Fireproof Safe.
The 2605 is rated for 2 hours at 1850°F, which is more than twice as long as the previous model. If that wasn't enough, it has a water-resistance time of 8 hours, even when submerged in up to 2 inches of water.
When you add in a backlit keypad, a tamper alarm, and backup emergency access keys, you get one of the best fireproof safes on the market.
Dimensions: It is 9.8 inches long, 12.4 inches wide, and 17.7 inches high
Item Weight: 113 lbs.
Fireproof: Yes, 2 hours at 1850°F
Waterproof: Yes, 8 hours
Type of Lock: Keypad
1.71 cubic foot capacity
Pros
Has the highest Fire and waterproof ratings in the Industry
Electronic keypad with tamper alarm rings
Replica Keys In case of emergencies
Cons
It is quite heavy due to insulation and construction materials
Best Hidden Safe: Real Paper Book Safe
This is the best book safe if you're looking for a distraction. It has enough room for a few extra dollars, some jewelry, and a passport. However, it is small enough to be hidden on a bookshelf.
If a curious house guest accidentally picks up the "book", they might be discouraged from looking through it. But even though the lock isn't going to keep out the most determined criminals, it's still a good idea. A combination code or a key can be used to unlock the device.
Dimensions: It is 8.7 inches long, 6 inches wide, and 2 inches high
Item Weight: 1.5 lbs.
Fireproof: No
Waterproof: No
Type of Lock: Code or Keypad
Small size
Pros
The appearance is authentic
There are numerous titles to choose from
Deceptive and still has key or code lock
Cons
Not water- or fire-resistant.
Most items will not fit into it.
Things to Consider When Choosing a Home Safe
Here are two important things to keep in mind if you're thinking about purchasing a safe to keep your valuables safe.
Size and shape of the safe – The size and shape of a home safe are the most important considerations. Buying a safe is pointless if you can't keep your valuables in it. The typical size of a home safe is one to two cubic feet (12 inches in width, length, and depth). In terms of shape, the most common models have a cube-like design that allows you to store and secure your valuables safely.
Type of Protection Required – The most critical consideration is the type of security you require. The following are some of the benefits you can get from having a home safe installed:

Fire protection: Consider the durability of the materials in a home safe to protect your valuables from fire. For example, if you're storing important documents, you'll want to ensure that the safe you choose is fire-resistant. A safe with a 2-hour fire rating or higher is highly recommended.
Burglary protection: You may want to invest in a home safe to keep your valuables safe. If you require a great level of security, you should consider purchasing a safe that can be bolted to the floor. This will serve as an additional deterrent to the thief in case of a break-in.
Water Protection: While it's impossible to make a safe completely watertight, you can make it resistant to fire hoses and other water-invading forces. You should strongly consider a safe that meets this water-resistance standard.

FAQs about Home Safe Purchasing

How large should my safe be?

You need to know what it is that you are trying to safeguard. How much space do you need in the safe, and how many things will you be storing there? The safe must be large enough to hold the required items. Safe capacity is commonly expressed in cubic feet or inches, but you may need to check the specific internal dimensions to fit certain items.

What is the best location for my safe?

Again, the location of a home safe is mainly determined by what you're protecting, how often you'll need access, the safe's size and kind, and the size and space available in your home or apartment.

The alternatives are numerous, but the common denominators are usually to make it as available as you need for your access while making it as challenging to locate or steal for an intruder or anybody else you don't want to allow access to.

How do I maintain my safe?

There isn't a lot of upkeep required for a home safe. When using an electronic keypad, ensure the batteries are fully charged. It's also a good idea to use a desiccant in a sealed fireproof or waterproof safe to avoid moisture accumulation and keep things from smelling musty.

When stored in a fireproof safe, will paper money burn?

Money (paper) burns when it reaches its limit. As you can see from the time and heat ratings on fire-resistant safes, no safe is fireproof. These ratings describe how long and hot a safe can withstand paper burning before it fails.

Related article: the Best Place to Install a Safe in Your Home.

Final Verdict

The SentrySafe
SFW123GDC is an absolute beast when it comes to protecting valuables from theft, fire, and water damage. A big plus is its 87-pound weight, making it difficult for a thief to transport the same to a workshop off-site. Although there are no mounting options for this safe, it is a great option when you're looking to purchase a safe.

Tired of high installation rates and poor customer service of lock repairs and servicing companies? Try Great Valley Lockshop for the best experience!