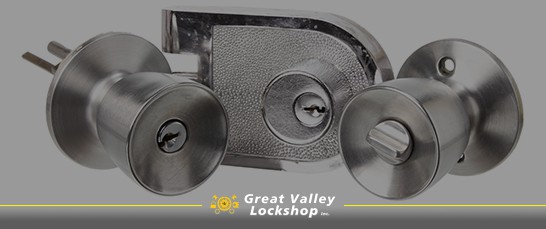 All About Commercial Door Locks
Commercial Door Lock Grades, Testing and Certifications Explained
It's no secret; commercial security starts at the main entry points. But even when you invest in high-security hardware and locks, how can you be sure that the office building or business facility is actually secure?
This is why there exists a set of industry standards to verify the quality and specifications of commercial locks used throughout the United States. Commercial lock grades also assist contractors, builders and locksmiths to select the best hardware devices to fit a project. Let's dive deeper into the national commercial lock grading system.
Commercial Lock Grades
Who Is Responsible for Setting Commercial Lock Grades?
The BHMA (Builders Home Manufacturers Association) is the official trade association for manufacturers of building hardware. It is the only association accredited by the ANSI (American National Standards Institute) to enforce performance standards for commercial locks. The BHMA also helps set industry standards on building codes, fire safety standards and accessibility compliance.
Together, the BHMA and ANSI are responsible for setting the standards for commercial locks. These two entities systematically test and certify hardware products before they can be sold to or installed for customers. As the point of reference for the commercial hardware industry, BHMA certification verifies safety and security for products including hinges, locks, emergency exits, and exit alarms. Locks with ANSI/BHMA certification can be trusted in terms of quality and security.
National hardware manufacturers must meet and maintain certain standards to be members of the BHMA. Membership is a highly respected credential in the building industry. This is because the BHMA has nearly 100 years of experience working with building code developers and industry associations to make sure hardware is strong and secure. Today, about 80% hardware producers have earned BHMA membership.
What Are the Commercial Lock Grades?
There are three ANSI/BHMA grades which classify and certify commercial hardware by its quality and security level. Each lock is tested and graded according to:
Function and application,
Strength,
Cycles – number of uses a lock will withstand before replacement is needed,
Security,
Material evaluation, and
Finish.
Locks are evaluated in multiple ways. For example, one verification includes applying the same amount of force to turn the key, knob, handle or lever. Then, based on the results, the ANSI/BHMA gives the lock product a grade – 1, 2 or 3.
Grade 1
Only the strongest and most durable commercial locks are placed in the first grade category. Grade 1 locks are considered heavy-duty and provide the greatest level of security. In terms of cycles, this hardware is expected to withstand twice the amount of use as locks under grade 2.
This type of hardware is certified for use on exterior doors and at high-traffic entry points. Grade 1 commercial locks are rated for application on public buildings, schools and educational facilities, healthcare facilities and other large capacity buildings.
Grade 2
Mid-range commercial hardware falls into this level. Grade 2 locks are rated for use on exterior access points for low or medium amounts of traffic. They can also be used on interior doors that require a high degree of security. Grade 2 lock applications include office spaces and the doors to storage rooms containing valuable merchandise, materials or equipment.
Grade 3
Any locks categorized as grade 3 are considered standard level. This hardware is appropriate for light applications. These include supply closets, offices not containing expensive equipment, employee break rooms and other areas that aren't open to all traffic and only require a low level of security.
Grade 3 door locks are also certified for residential applications.
How Can You Verify the Grade of Commercial Hardware?
If you are wondering what grade your commercial hardware has, just locate the ANSI/BHMA certification number. This can be found on the product information sheet, original packaging, or at the end of the product code. The ANSI/BHMA numbering system also provides information about the material used to make the hardware, product category and appropriate applications for it.
Fail-Safe and Fail-Secure Commerical Locks
Fail-safe and fail-secure are specific, regulated terms within the industry. They refer to how hardware on the outside, or keyed side, of the door operates and controls entry in the case of an emergency or power outage.
Fail-safe: hardware that automatically unlocks when the power goes out.
Fail-secure: hardware that automatically locks when the power goes out.
Security
Fail-safe lock devices may be considered a security risk for certain commercial and industrial applications. These hardware products unlock automatically whenever there is a power failure or when the fire alarm sounds. For this reason, they may not be recommended for doors relied on to secure valuable equipment or property even in these situations.
Safety
It's important to note that all locks – both fail-safe and fail-secure – should always ensure free egress from inside the building. In other words, all commercial locks allow occupants to exit the building in case of a fire or other emergency, unless otherwise stated by the manufacturer or use of another keyed lock, double cylinder, or deadbolt.
Types of Commercial Hardware Available as Fail-Safe & Fail-Secure
Electric strikes
Electromechanical locks
Electrified panic hardware trim
For more information, check out our Guide to Door Lock Types.
Fail-Safe Hardware
Electromagnetic Locks
This type of automatic door lock requires electricity in order to stay locked. For that reason, all electromagnetic locks are fail-safe. When power is lost, the door will unlock. Emergency releases are also usually required to facilitate egress in case of an emergency.
Fail-Secure Hardware
Electric Latch Retraction
Electric latch retraction is a function applied most commonly to panic and fire exit hardware. These devices are always fail-secure. When the power supply is lost, the lock latch moves into place and secures the door. Panic hardware still ensures safe egress however.
Commercial Hardware Testing
Commercial hardware available on the market in the U.S. is put through a series of specifically designed quality, security and performance evaluations. Then, based on the test results, hardware products are categorized into quality grade levels. Commercial grades certify the strength, durability, function, material and intended application of locks and other products. Finally, they are certified to have the quality and specifications needed for a specific range of applications.
The first step in the commercial lock certification process is to have each lock or hardware product evaluated. Submitting a product for testing is done voluntarily by manufacturers. The testing is carried out by an independent testing facility which has been approved by the BHMA. Specific tests are required by the ANSI/BHMA, which also provides a set of evaluation guidelines.
In general, the testing process is supposed to offer assurance of each product's quality, durability and performance for a range of applications. Below is a brief outline of the tests involved for some types of BHMA commercial hardware grading and certification.
Door Hinges
There are light-weight, standard and heavy-weight hinges designed for use with different types of doors. Hinges should be engineered and made to ensure correct function of the door for long-term use. Standard tests evaluate:
Cycles – the average number of uses it can withstand,
Vertical and lateral movement of the hinge pin, and
Vertical and lateral wear.
High-Security Lock Cylinders
High-security lock components need to meet standards for durability, reliability, and strength. Electrical high-security cylinders are also evaluated for resistance in case of attempted break-ins. Standard tests evaluate:
Cycles,
Protection against mechanical lock picking,
Protection against electrical lock picking, and
Resistance to magnets.
Exit devices
This category includes both panic hardware and exit devices installed with fire doors. They are put through trials related to heavy use and withstanding force. Standard tests evaluate:
Cycles,
Force needed to release the door latch,
Resistance to repeated pushing and pulling on the hardware,
Strength of material, and
Fire resistance.
Egress Locks and Latches
Hardware that is certified for use on egress doors must be both reliably secure from the outside and allow people to exit quickly and safely from the inside. Standard tests evaluate:
Cycles,
Ease of egress,
Force needed to release the door latch and unlock,
Amount of torque needed to release the door latch and unlock,
Operation after withstanding force,
Strength of material, and
Fire resistance.
Door Gasketing Systems
Gasket systems are important for their role in sealing the perimeter around a door, filtering light, sound, smoke, and fire. In fact, performance evaluation verifies the resistance to air infiltration and resistance of gaskets in hazardous environments. Standard tests evaluate:
Cycles,
Adhesion to the door and frame surfaces,
Smoke and air infiltration,
Strength of material,
Fire resistance, and
Intumescence.
Commercial Hardware Certification
Once the required testing has been completed, ANSI/BHMA certification is given to hardware products that meet or exceed the standards. Each product is also given a grade before it is available for sale. Certified hardware devices and their packaging are marked with the correct grade and BHMA certification logo.
To maintain certification the commercial hardware must be regularly checked by the testing facility. The BHMA also performs periodic audits of the manufacturing process. This ongoing process ensures that the locks and hardware continue to meet the certified specifications.
The ANSI requires that testing and certification standards be reviewed and updated at least every five years. The BHMA is also constantly working to develop new standards for commercial hardware.
Related article: Understanding the Options for Secure Commercial Doors.
Experienced Commercial Locksmith – GV Lock
Contact Great Valley Lockshop for advice and assistance with commercial doors and hardware. Our certified locksmiths have years of experience working in a wide variety of industries. For supply, installation and servicing, call us today at 610-644-5334 or request a quote.