Deadbolt Locks 101: What You Need to Know About This Common, Effective Locking Mechanism
When it comes to home or office security, the addition of a deadbolt lock is one of the common preventative measures against forced entry. You likely have at least once deadbolt lock protecting your home as it is now and many businesses also have them installed as an added security measure beyond just the standard door lock. If you don't, and are concerned about home security, it would be a good thing to look in to.
Just what is a deadbolt lock? Specifically, it's a locking mechanism that operates without a spring. Because a deadbolt door lock isn't spring activated, it can't be picked open with a knife or similar object to gain entry and it generally keeps homes and facilities more secure.
The origins of deadbolt locks actually date back to the 1800s when banks began using key-operated deadbolt locks to protect their safes. Back in those days, thieves saw bank safes as easy money, as it wasn't difficult to smash the lock on the safe and steal the contents inside. As it was, a bit of a "safe race" was on between bankers and crooks. And while safecrackers, or "yeggs" as they were called back then, largely prevailed in this safe race, this deadbolt concept eventually evolved into the various models that are available today for protecting homes and businesses.
A deadbolt lock certainly isn't thief-proof, and it doesn't replace a security system or other security measures, but it cannot be easily battered or bored – and that's why these types of locks have become so popular.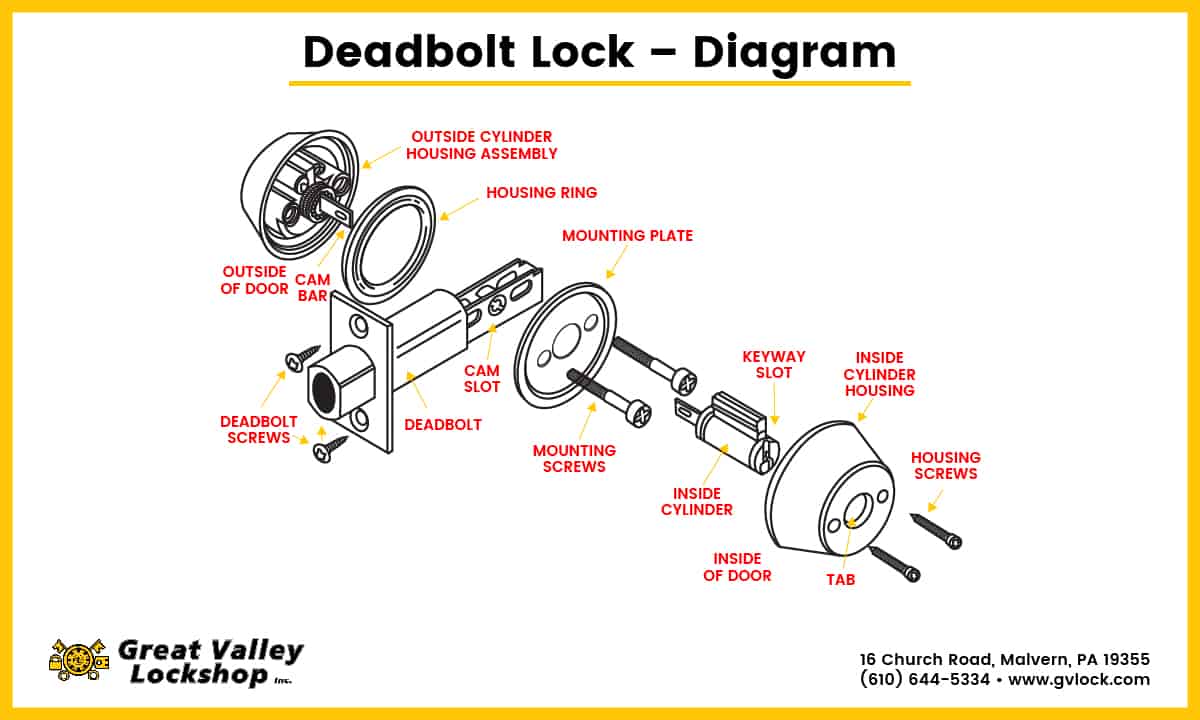 Types of Deadbolt Locks
Deadbolt Lock Advantages
We already covered some of the big safety and security benefits briefly in the opening to this blog, but they're worth mentioning again in greater detail. With that being said, here's a look at some of the big advantages of using a deadbolt lock:
Optimal protection from a forceful physical attack: As long as the bolt extends to at least 1 inch in diameter, is made of solid steel and the cylindrical lock collar is properly tapered and free spinning, deadbolt locks are a great additional safety and security measure.
No spring mechanism: Standard locks operate on a spring mechanism, so all that one needs to do to access it is to trigger this mechanism for entry. Hence, knives, keys, even things like paper clips and credit cards can be somewhat easily used to access locks of this kind. Deadbolts are much more secure and difficult to break.
Thief deterrent: Deadbolts aren't impossible to access without a key, but it can be very time consuming to do so. In this regard, not only do they provide extra security, but they're also somewhat of a thief deterrent, as a potential crook will have to decide whether it's worth it to spend the time and effort manipulating a deadbolt lock. Most crooks are unwilling to invest extra time in this regard, as it increases their chances of getting spotted and apprehended.
Cost of Deadbolts
The typical deadbolt lock should run between $30 and $50. While it's true that there are cheaper variations on the market, consumers should beware of choosing these more affordable options over the name brand, yet more costly, models. This is largely due to product quality, as one of the key areas where manufacturers skimp on deadbolt construction is in the material it's made of. Remember, the most effective deadbolts are those that are made of solid or high-strength steel. Anything less, and you might be selecting a lock that's not only easier to pick, but where the strength of the bolt isn't as strong as it should be to deter theft.
Check out Smart Deadbolt Locks for Garage Doors.
It's worth noting that deadbolts won't 100% safe-proof a home or business. But then again, nothing truly well. Where deadbolts truly shine is in adding that extra bit of security that a standard door lock can't offer. And being that deadbolts don't operate on a spring lock system, this type of lock is much more difficult for a thief to manipulate. For more information on the value of deadbolt locks, or to have a deadbolt lock installed or repaired at your home or business, contact us today at (610) 644-5334 or send an email to [email protected]