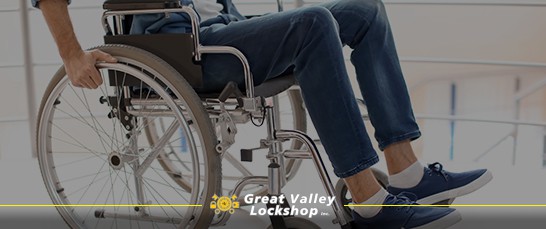 Door Lock Compliance: What Business Owners Need to Know
As a business owner, one of your numerous responsibilities is to stay on top of changes in relevant regulations and laws. For many, this includes the Americans with Disabilities Act (ADA) and the Health Insurance Portability and Accountability Act (HIPAA).
The ADA and HIPAA are important regulations. They have impacted guidelines for the types of door locks used and installed on new and existing commercial facilities. Depending on the specific industry in which you operate, the doors may need to comply with these regulations. By ensuring that locks are in compliance, you help to protect clients and employees while reducing your company's liability risk.
How can busy business owners make sure the door locks on a commercial property are up to ADA and/or HIPAA standards? We've taken some of the hassles out of the process by summarizing each act's compliance requirements as they relate to door locks.
Understanding ADA Door Lock Compliance
The Americans with Disabilities Act (ADA) was passed in 1990 and was designed to eliminate the discrimination of disabled people, whether it be intentional or unintentional. In the event of an emergency, the ADA requires that anyone – specifically those with limited mobility – can safely exit all commercial buildings. Door locks and hardware installed on the building must meet ADA guidelines. Customers, staff and anyone with a disability should be able to easily unlock doors and exit the building.
Specific ADA Requirements for Commercial Doors
According to the ADA National Network, in new buildings:
At least 60% of public entrances need to be accessible for people who use wheelchairs or have mobility impairments.
Accessible doors need to allow at least 32 inches of clearance for maneuvering and thresholds are limited to a half inch in height.
In all buildings open to the public, there must be doors in the required emergency exit route which are accessible for disabled people.
Doors must not require the use of excessive force (more than 5 lbs. of pressure) to open.
Specific ADA Requirements for Commercial Door Locks
All commercial properties are required to maintain ADA compliance. Regardless of the type of business you run, the building must meet these accessibility lock requirements.
All locks and handles attached to your doors must be operable with one hand and not require any extreme grasping or twisting.
Any lock or handle hardware must be mounted no more than 48 inches above a finished floor; this ensures that those in wheelchairs are able to reach door locks as needed.
The most common lock mechanisms which meet ADA compliance for commercial buildings include doors with push, lever-operated or U-shaped devices and panic bars which release the lock. Traditional round door knobs, for example, do not comply with these standards.
Understanding HIPAA Door Lock Compliance
The Health Insurance Portability and Accountability Act (HIPAA) was passed in 1996 to secure confidential health information for patients. HIPAA compliance applies to specific industries. Most healthcare facilities or businesses which handle protected patient records are required to follow HIPAA guidelines.
HIPAA requires that door locks be used to protect patient privacy. Documents with sensitive medical information need to be stored in secured areas. These secured areas should:
Only be accessible by authorized personnel using the proper keys or access control system.
Not have doors with hinges on the outside. Otherwise, the facility director will need to show that the hinges are firmly secured and not able to be tampered with or removed.
Have the hardware tested regularly to ensure it works properly and problems should be repaired as soon as possible.
Commercial Locksmith Services
The regulations – including ADA and HIPAA – which effect doors, emergency exits and locks on public buildings are complicated and can be confusing. Yet the safety of everyone depends on compliance with these important guidelines. Liability and lawsuits caused by hardware which doesn't meet the legal requirements can also be a real threat to the solidity of your business. Rely on an expert locksmith to keep your commercial property up to code.
Contact the team of locksmith professionals with extensive commercial experience. Great Valley Lockshop proudly serves areas of Pennsylvania, Delaware, Maryland, and New Jersey. We even provide free estimates to help your company budget the cost of getting your door locks up to compliance guidelines. Call us at 610-644-5334 or request a free estimate using our online form.