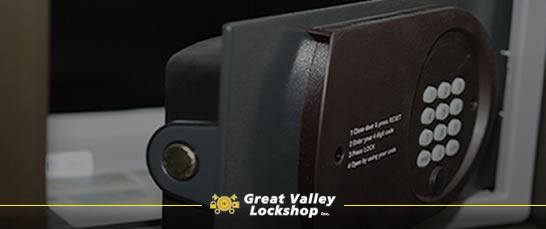 Electronic Safe Locks: Advantages & Disadvantages
In an ever-changing world, technological advances can work to our advantage or disadvantage, and this is certainly true when it comes to modern features and security safes. Seeing people break into safes on the big screen or in television shows is nothing new. However, this practice used to involve a stick of dynamite or a stethoscope to gain access to the safe, but today just about anyone with YouTube access can learn how to break into a radial dial combination lock. This brings forth the question of whether one should invest in electronic safe locks or stick with a dial lock. Here are the advantages and disadvantages of moving forward in the future with an electronic safe installation.
Potential Disadvantages of Electronic Safe Locks
Traditionally, an electronically locking safe is more expensive than dial combination locks. Essentially, you will want to determine if the investment is worthwhile, which is going to depend on the value of what you are trying to protect. If you don't feel as though your safe is at risk of being broken into or you only keep paperwork in there, a dial lock may be adequate.
However, if you plan to stash your cash, jewelry or priceless information in you safe, you could put yourself at a disadvantage by skimping on your safe purchase. Beyond the cost factor and the fact that you may need to change a battery every so often, there really aren't any other reasons to not to consider investing in a modern safe with electronic locking features. In fact, their capabilities far outshine the slight cost increase.
The Vast Benefits of Electronic Safe Locks
Going with the high-tech option of buying an electronic safe has quite a few perks. After all, these are customizable systems that do much more than recognize a few clicks of a dial on old-school safes. Between the ease of operation, their reliability and stellar security features, there is much to be said for the benefits of electronic safe installations.
1. Ease of Operation
If you want to avoid the hassles of trying to use a dial combination in the dark, an electronic keypad can provide an ideal solution. Typically, the keypad lights up and beeps as you use it, meaning if you are trying to quickly access you safe for protective weapons or for your cash to make a quick exit in a crisis, you can get the goods fast any time of day or night. Another convenience is that you can change the combination on these safes easily, and 75 percent of all lockout situations can be resolved without drilling and ruining your device.
2. Reliability
While old dial lock safes are reliable, there is quite a bit of additional reliability with newer electronic keypad safes. You can pre-program the master codes and super master reset codes for extra reliability and convenience. These models can even be set for multiple users with different codes that allow you to add users, delete users, enable and disable functions and even audit who has opened your safe and when they did so. If you own a business, this is clearly an asset.
3. Safety and Security
When it comes to additional safety features, electronic locks reign the industry. You can set a number of useful secondary security checks that increase the reliability and safety of your safe with modern features that include:
Dual Controls

This feature requires two separate combination entries in order to function.

Dual Token Mode

Want the extra security of needing a code and a key for entry? This feature of electronic locks doubles your protection.

Time Delay Options

You can set your safe to only open after a short delay period. This can be frustrating to would-be thieves who are in a rush to make a quick exit after a burglary attempt.

Duress Mode

If you are ever being held up and someone is trying to force your hand at opening the safe, there are options that include the ability to trigger a silent alarm that notifies the authorities of your duress.

Time Period Window Settings

Do you only want your safe to be operable during certain hours, such as when your business is open? This feature makes that desire possible.

Wrong Try Functions

Your safe will automatically disable itself after a specified amount of wrong code entries, which is sure to frustrate and discourage criminals.

One-Time Use Codes

If you want to limit access to your safe to another individual on a temporary or one time use basis, you can set a UTC code that makes it possible.
One final point to consider is that combination locks have not evolved over time, while electronic safe keypad locks have. Penetrating these safes has become more challenging day by day, so if you really want maximum security going with an electronic safe is the best choice.
Contact Great Valley Lockshop for Secure Safe Installations
As an experienced residential and commercial locksmith in Philadelphia, Great Valley Lockshop has been proudly serving those in need of security, locksmith services and safe installations since 1973. We offer 24/7 services to the communities in and around northern Delaware, northern Maryland and Southwest New Jersey. Contact our mobile locksmith services at Great Valley Lockshop today by calling (610) 644-5334, submitting a contact form, or send an email to [email protected] for more information or to schedule a consultation with one of our security experts.