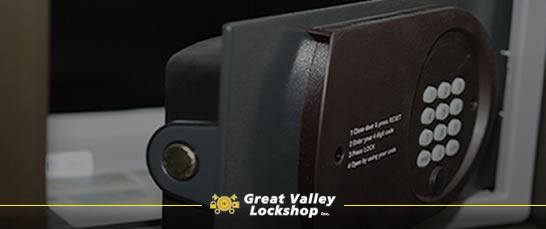 Advantages of Electronic Safe Locks
In an ever-changing world, technological advances can work to our advantage or disadvantage, and this is certainly true when it comes to modern features and security safes and gun safes. Here are the advantages and disadvantages of moving forward in the future with an electronic safe installation.
What Is an Electronic Safe Lock?
A mechanical safe lock can be opened by spinning a combination dial to enter a combination. The right combination puts the lock's tumblers in the right position, unlocking the door. It's simple, yet effective.
Digital locks are a little more advanced. Electronic safe locks work the same way as traditional locks but can be opened by entering a 4–6-digit combination on an electronic keypad. The keypad is battery-powered. When the correct combo is entered, it engages the mechanism and allows the handle to turn so that you can open the door of the safe.
Advantages of Electronic Safe Locks
Going with the high-tech option of buying a digital safe has quite a few perks. Between the ease of operation, their reliability and stellar security features, there is much to be said for the benefits of electronic safe installations. Here are the pros and cons that can help you make your decision.
Pro: Ease of Operation
Digital locking devices are the most user-friendly types of locks available for fire/burglary safes and gun safes. They are easy to use and alleviate the need to keep track of a key or remember a combination. Instead, a safe lock can be programmed to use a keycode that is easy for you to remember and changed if needed. The digital keypad on most safe models has a light which also makes it easier for you to use in the dark.
On the other hand, mechanical safe locks are hard to use because you must get the combination just right as you spin the dial. This can be difficult for some safe owners. Plus, spinning a dial takes longer. Even if you get the combo right on the first try, it takes longer to unlock the safe this way than with an electronic lock. And you can't change the combination yourself, it must be done by a safe locksmith.
Pro: Reliability
Electronic locks tend to be subjected to less wear and tear and last longer than traditional locks. They have also evolved a lot over the years and have become just as reliable as traditional mechanical safe locks.
If you want to know how good the lock on your safe is, check for the UL rating. UL-listed safe locks are the standard of excellence in the hardware industry. This rating proves that the lock has been tested for functionality and reliability.
Pro: Higher Security
When it comes to additional security features, electronic locks reign the industry. You can set a number of useful secondary security checks that increase the reliability and safety of your safe with modern features that include:
Dual Controls – This feature requires two separate combination entries in order to function.
Dual Token Mode – This feature of electronic locks doubles your protection.
Time Delay Options – You can set your safe to only open after a short delay period which helps prevent burglary attempts.
Duress Mode – If you are ever being held up and someone is trying to force your hand at opening the safe, there are options that include the ability to trigger a silent alarm that notifies the authorities of an emergency situation.
Time Period Settings – An electronic safe lock can be programmed to be operable only during certain hours, such as when your business is open.
Wrong Try Functions – This setting will automatically disable the safe's lock after a specified amount of wrong code entries.
One-Time Use Codes – On some models, the digital lock can provide a temporary or one-time-use code to unlock the safe.
Penetrating electronic safes has become more challenging day by day, so if you really want maximum security going with an electronic safe is the best choice.
Learn more about Residential & Commercial Safes.
Con: Price
When comparing the pros and cons, electronic safe locks vs. mechanical safe locks, we have to consider price. The cost is a deciding factor for many people looking to purchase a safe.
For most of the industry, mechanical locks are the standard. While a given brand may have a few safes that come standard with electronic locks, most are going to start with a mechanical dial lock. Then, you will have the option to upgrade to a battery-powered electronic lock, but you'll typically need to pay extra for it.
Prices for a safe with an electronic lock are going to vary by brand and by model. If you are looking to upgrade from the mechanical dial lock to a battery-powered electronic lock, expect to pay between $100 and $200 more.
Con: Changing Batteries
Like all things electronic, digital safe locks will need to have the batteries on the keypad replaced occasionally. Rest assured though, that the electronic lock will have your combination stored even if the battery dies. Plus, the safe lock will give you some kind of advance warning in case the battery power is running low. Read the owner's manual to better understand your device's needs and notification system.
Related article: Where to Install a Safe in a House.
Contact Great Valley Lockshop for Secure Safe Installations
As an experienced residential and commercial locksmith in Philadelphia, Great Valley Lockshop has proudly served those in need of security, locksmith services and safe installations since 1973. Call (610) 644-5334 or fil out the contact form for more information or to schedule a consultation with one of our security experts.