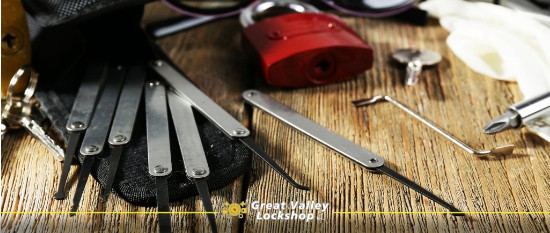 Ethical Lock-Pickers Are Helping to Increase Lock Security
It's estimated that up to 1 million burglaries take place in the United States each year. And while only a fraction of property invasions involves manipulating locks to gain entry, lock security is an essential component to keeping a property safe. In other words, locks still matter – and you might be surprised to learn that many property owners are selecting low price, over high quality, when it comes to outfitting their homes and businesses with secure door locks. You also might be surprised to learn that there are "ethical lock-pickers" out there who actually take up the challenge of picking various types of locksets. They see it as a fun hobby or challenge. 
In this post, we'll discuss the important role these ethical lockpickers can also play when it comes to security, as evidenced by a recent Bloomberg report, why you should take your home or businesses' locks seriously and more. Here's a look: 
Lock Basics: What You Need to Know
All locks are not created equal. And there are a whole lot of different types of locks. Like we said in the introduction, while lock manipulations account for a small number of invasions in the grand scheme of things, quality, secure locks still represent a critical element of home and business security. While locks are intended to keep people, property and belongings safe and secure – they're also intended to help "buy a property time." That is, the longer it takes to manipulate a lock to gain entry, the more likely an intruder is to be exposed and their plot foiled. 
Locks are typically measured in three grades – Grade 1 being the most secure type of lock and Grade 3 the least. Grade 1 locks are tested to adequately withstand up to a million open-close cycles, up to eight jackhammer-like blows and several minutes of taking a bolt saw to it. Unfortunately for property owners, it's estimated that Grade 3 locks are the most common in homes and businesses, which could represent a security liability. 
There are also a variety of different types of locks. From deadbolt locks to padlocks, keypad locks to smart locks, there's no shortage of options these days to outfit an exterior door with. Despite all of the options, deadbolt door locks are widely considered to be among the most secure locks available. 
What's an 'Ethical Lock-Picker?'
There's a clear distinction between curiosity and legality when it comes to lock picking. And while it's legal to own a lock picking kit under most circumstances, it's what you do with the lock picking kit that's what really matters. Ethical lock-pickers abide by some key rules and regulations. For instance: 
They never pick a lock that they don't own.

 

They never pick a lock that they don't have permission to pick.

 

They never pick a lock that they rely on or that is in use.

 
You could think of ethical lock-pickers as lock-picking hobbyists to an extent. They see lock-picking as an exercise, a challenge or part of solving a type of unconventional puzzle of sorts. And this hobby exploded during the pandemic when people were isolated within their homes and had a lot more time on their hands. 
How Ethical Lock-Pickers are Helping Manufacturers
So how are ethical lock-pickers helping make locks more secure? The increased interest in lock-picking has helped hold manufacturers more accountable when it comes to creating and then testing locksets. And they're doing this by posting demonstrations of their lock-picking abilities on social media and YouTube for anyone to view. With how easy some lock-pickers make it look, they're somewhat holding lock manufacturers accountable and challenging them to take their locks to enhanced levels of quality. 
Another way ethical lock-pickers are helping manufacturers is by literally reaching out to them and describing vulnerabilities that they find in the locks they make. As detailed in the recent Bloomberg story, Dominic Villeneuve reached out to Schlage when, as an ethical lock-picker, he discovered a vulnerability in one of its lock models. As a result, Schlage created a solution to help address the vulnerability. It's something that likely never would have been discovered if not for the persistence of an ethical lock-picker. Per the Bloomberg story, Villeneuve has also helped other manufacturers work on enhancements. 
Contact Great Valley Lockshop Today
For more information on your home or businesses' locks and for an assessment on how secure they are, contact Great Valley Lockshop today. As a full-service locksmith, we can accurately assess the security of your home, business, vehicle or safe to determine where any security improvements can be made. We'll also help you make these improvements. Contact us today for more information and to learn about how our "ethical lock-pickers" can help keep your property safe. 
Make sure that your door locks aren't easily manipulated – contact us today to learn more about your locks and what we can do to help make your property more secure.