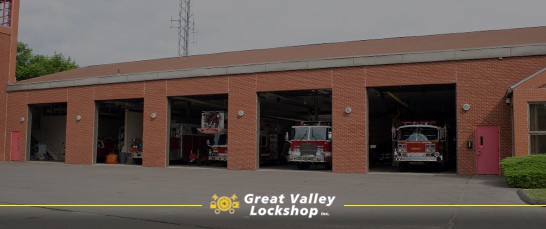 Benefits of Access Control Lock Systems in the Firehouse
There isn't a second spare. Firefighters work long shifts, have high levels of stress on the job and busy lives, even when they're not on call. In recent years, many local fire stations are considering the use of access control systems because they offer a range of advantages of this type of building.
Learn about the benefits of access control for first responder dispatch facilities and how it has helped a group of local firefighters increase efficiency when carrying out day-to-day duties.
Advantages of Access Control Systems for Firehouses
Here's a closer look at the many benefits of an access control system.
Security
Access control systems help secure the facility, vital equipment and hard-working crew. They can grant entry for volunteer firefighters, or career fighters, day or night, and even during periods of high turnover. By programming the system, access can be more restricted to some areas for a higher level of security. Advanced encryption guards against hacking and digital security breaches. Plus, most access system can be integrated with new or existing security systems.
Convenience
An access system also streamlines routine duties like tracking entry traffic. This is important for departments that need to operate efficiently, 24 hours a day, and manage shift changes.
Centralized Management
System data is stored on a central database. Any changes and modifications can be made regarding a specific entry point or user from any computer and the network of devices will be synced automatically. There's no need to install any type of special computer software to make changes to the system.
Remote & Mobile Management
The access system can be managed remotely from a special mobile app. With the required credentials, fire chiefs or captains can view entry data, change access permissions and more, from anywhere on a smartphone or computer.
Control for All Types of Access
Advanced systems also work for separate interior spaces, turnstiles, gates, overhead doors and garage-type doors.
Keyless Entry
Rather than worry about replacing lost keys, recollecting traditional keys or rekeying the facility to restore security, fire departments can go keyless. Key cards, fobs or individual access codes can be activated and deactivated easily. There is no need to change the hardware or other users' access devices if one goes missing or has lost entry permissions.
A matter of seconds can make the difference between life and death, between a total structural loss or one that can be restored. When it comes to emergency public service, anything that can be done to save time and streamline operations should be considered.
Effective Access Control for Commercial Applications
For more information on how an access control system can make your facility's operations more efficient, contact Great Valley Lockshop today at 610-644-5334 or request a free estimate using our easy online form.