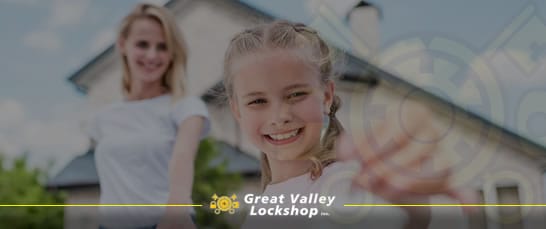 What to Consider Before Giving Your Kid a House Key
It's time to head back to school already. One of parents' common concerns this time of year is how to keep their kids safe after school. Even if someone is usually home when the child gets dropped off by the bus or carpool, it's important that they have a house key just in case.
It may be difficult to decide when it's the right time to provide your child with a copy of the house key. Here are some key considerations. This is also a good time to consider more high-tech solutions like keyless entry and smart home systems.
Is it the Right Time to Give Your Kid a Key?
Make sure that you talk with your kids about home security and the responsibility of having a house key. There are a few questions that you should consider when deciding to trust your child with a key.
Is your kid old enough to handle the responsibility of being home alone?
Does he/she feel comfortable at home alone?
Will your child need to unlock the door nearly every day, or just in case you're out running an errand?
Is your child forgetful or does he/she tend to lose things?
Do you have trustworthy neighbors who can help out?
Does your child know what to do in case of an emergency?
Can your kid call you or someone else if he/she has a problem or feels unsafe?
What is the safest place to keep the key during school hours?
Go through this set of questions and consider whether it's appropriate to give your kid a house key this school year.
Keeping Track of the House Key
One of the biggest challenges with entrusting a house key is making sure that the child doesn't lose it. An easy solution is to attach the key to something larger and more difficult to misplace. With a lanyard or retractable key leash can be attached to your kid's backpack, for example. An effective DIY workaround is to simply tie a string to the key and to the zipper of a school bag.
This way it's easy for your child to find the key, open the door when he/she gets home from school and put it back in its pocket. Attaching the key to a bag alleviates the problem of misplacing it or remembering where it's stored.
For security reasons, we strongly discourage homeowners from having hideaway keys or keeping a key under the doormat. Burglars tend to watch homes before attempting a break-in. They look for homes that are empty all day and may even see your child grabbing the key from its hiding spot.
More Secure Options for Kids
The good news is that today's technology enables better options for helping kids enter the home safely. Rather than providing them with a copy of the key which can be easily lost, keyless entry and smart lock systems enable access without compromising security. Especially if your children will be home alone for any period of time, this would actually be the right moment to consider boosting security around your home.
Keyless Entry
Consider upgrading to a keyless entry system at your home. Rather than coming up with solutions to keep your kids from losing a key, you could put a key fob in their backpack. Unlike a traditional key, the keyless entry system can be reprogrammed to block entry for that fob if it happens to go missing. This prevents the expense of rekeying the locks and the inconvenience of having new keys made for the rest of the family.
Fobs are coin-sized key tokens that unlock the door when they get close to the access reader. Your children will be able to open the door and the system records entry activity so that you know what time they come home. Keyless entry is also a great solution for granting limited access to others, such as babysitters, dog walkers, cleaning service staff or neighbors looking after the house while you're on vacation.
Smart Lock
You may have heard about smart home technology. This option has been gaining popularity among homeowners in recent years. Smart locks let you enter the house through a smartphone application. How do they work? If your kids have a smartphone, they can download the smart home app which allows them to unlock the door when they arrive. If they don't have a phone, or you only need to let them in occasionally, the smart home app allows you to unlock the door remotely.
Plus, you can let caretakers, the plumber or delivery service personnel, friends or family in from wherever you are. The application allows you to see who is requesting access, when they enter and exit, and then block access when their service is no longer needed.
Your Local Lock Expert
The experienced locksmiths at Great Valley Lockshop can help find the right security solutions to protect your family and house. Call Great Valley Lockshop at (610) 644-5334 or request a free estimate for services using our easy online form.