My Key Broke Off Inside the Lock – What Should I Do?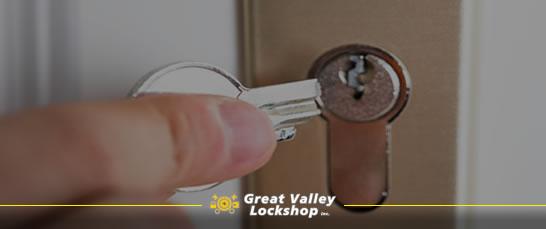 While irritating and inconvenient, a broken key inside of a lock is quite common
You're running late for work, trying to get everything in order in a hurry. With your hands full, you quickly insert the key into your front door's lock and twist it – only you don't feel that fluid movement. Instead, you hear a snapping sound and, upon looking down, realize that your house key just snapped inside of the lock. What a way to start the day.
Why Do Keys Break?
Often a result of an individual being in a hurry
Too much wear and tear (think about it, they do rattle around every day inside of purses, pockets, etc.)
The lock itself is "on the fritz"
No matter the circumstances behind the busted key inside the lock – and no matter whether it occurred in a house lock, business lock or car lock – a key broken inside of a lock is something that should be addressed immediately. We hear you thinking "why can't I just leave the broken key inside the lock until I have time later?" Well, here's why.
Why You Should Act Quickly After a Key Breaks
The broken key can also actually cause damage to the lock.
If the key broke inside lock before the door was shut, you'll be unable to lock the door, thereby leaving your home, car or office at a greater risk of theft.
If the key broke off in lock after you've closed the door, you may be unable to reopen the door until the issue is resolved.
Do You Need to Call a Locksmith?
Obviously, we'd love for you to call us or your preferred locksmith for help in this situation! We offer emergency locksmith services for this very reason! But, we know that's not always necessary. So, here's an unbiased guide on what to do if your key breaks off inside a lock! In some circumstances, you may be able to remove the broken key yourself. Here's how:
When the Key is Sticking Out of the Lock
If a key has busted off inside of the lock and you notice that a portion of it is sticking out of the lock, you should consider yourself lucky, as the chances are good that you'll be able to handle the situation without phoning in a professional locksmith.
Use Your Hands
If there's enough of the key sticking out, you may be able to simply pinch it with two fingers and withdraw it.
Grab Some Needle Nose Pliers
If there's only a small amount of key sticking out, matters can be a little more challenging, but you should still be able to extract it using a pair of needle nose pliers. However, securing a pair of pliers may not be possible if your key has busted in a way that prevents you from accessing tools in your home!
Disclaimer: If you have to poke and prod and can't quickly grab the key, you may be doing more harm than good. You could actually be pushing the broken piece further into the lock, causing damage. So, we actually advise against this – proceed with caution!
When the Key Isn't Sticking Out of the Lock
If no part of the key is sticking out of the lock, the chances of you being able to remove it yourself are slim – especially if you don't want to damage, or inflict further damage, on the lock during the attempt.
There is one tactic you could attempt before phoning a professional locksmith, but it's important to know that there's no guarantee of success and you could be subjecting your lock to further damage by administering this tactic.
This tactic involves finding a flathead screwdriver small enough to fit into the keyhole and attempting to pry or loosen the positioning of the key inside to the point where it extrudes out of the lock and you can remove it by administering one of the two methods detailed in the previous section.
Again, this attempt may fail – or lead to further lock damage – meaning you'll have to phone in the professionals for assistance regardless. So, again, we don't really recommend this unless you feel like you have the skill necessary.
How You Can Prevent Broken Keys
While preventative key and lock maintenance usually isn't at the forefront of many peoples' minds, there are certain things that you can do to prevent a key breaking off inside of a lock from occurring in the first place. This includes:
Lock Lubrication
Often, keys snap inside of locks because the lock hasn't received proper maintenance. Simply put, this "proper maintenance" can be as basic as applying a silicone- based lubricant spray to the keyhole every 6 months or whenever you notice grinding or excess friction when you're locking doors.
Replacement Keys
As we noted in the opening, keys are subject to a lot of abuse and are used very frequently. So, if you notice that your keys are starting to wear or if you notice other damage to your keys, have a spare made and toss out the old one.
Car Locks
If you park outside during the winter months, you may run the risk of your car locks freezing over. Jamming your key as-is through the ice in an attempt to open it could spell big problems.
Instead, you should either use de-icer to melt the ice around the lock, dip your key in Vaseline as a means of melting the ice or even heat your key with a lighter before administering it to your lock to safely solve this common cold weather issue.
For more information on what to do if you've broken your key off inside of a lock, contact us today. We're experienced locksmiths that are able to safely and efficiently correct this common problem, while also fixing your lock and getting you a new key to use. Give us a call at (610) 644-5334 or send an email to [email protected]
Editor's Note: This post was originally published in February 2015 and has been completely revamped and updated for accuracy and comprehensiveness.