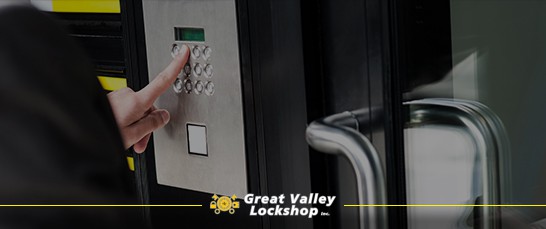 The Advantages of Using a Keypad Lock System
The main purpose of a lock is to keep a facility or property secure. If you're considering installing a keypad lock, you will want to get informed about their benefits in commercial and residential settings.
Keypad systems are one of the best ways to go keyless and safeguard a property. Often, they operate in connection with access control systems. Learn more about how keypad locks work and their advantages.
How Keypad Locks Work
Instead of a key, this type of lock system requires a numerical code to grant entry to a facility or property. The code is punched in by users via a numerical pad, similar to those on a basic calculator. If the correct code is entered, the door lock or deadbolt should release. Some mechanisms require batteries or a small electrical current in order to unlock.
Some keypad locks have an integrated security feature that keeps the door locked for a set amount of time (usually 10 to 15 minutes) after several incorrect attempts to enter the code.
Benefits of Keypad Locks
There are many benefits to choosing this type of keyless lock over conventional locking mechanisms.
Convenience of a Keyless System
The biggest advantage is convenience. It eliminates the necessity of keys. There's no need to carry them around, keep track of copies and spares, or change locks when a key is stolen or misplaced. Children, guests and service providers can be given their own code or a temporary code, rather than a key.
Higher Security
Keypad locks have a different hardware design than other types of locks. They don't have cylinder mechanisms, so they essentially cannot be picked or bumped like conventional locks. This keeps the building more secure.
Instead of risking losing keys and having to rekey or change out the lock. With a keypad system, it's easy to change the security pin code whenever necessary.
Enhanced Durability
Traditional keys and locks wear down over time; it becomes more difficult to get it to turn and function properly. Keypads are much more durable than conventional locks. A high-quality lock and keypad device should last longer with standard hardware.
Easy Installation
Many property owners think that if they want to install a keypad lock, they'll have to make major adjustments to door or frames. That's not true. In most cases, keypad locks can be easily installed on standard doors, just like any standard lock. Mechanical and battery-powered keypad locks are available which don't require connection to a power source.
Check out this short video to see how to install a keyless door lock with a keypad.
Integration with Access Control Systems
Keypad systems can be used as part of an access control system. This allows companies to restrict entry permission, even when using a correct code, during certain hours of the day or night. Businesses can also place a keypad entry system within the interior of a building. This restricts access to certain parts of the facility. It's handy for business owners who want to limit employee access to certain parts of an office complex during certain times of the day.
The Cost of Keypad Locks
One thing that is worth noting about keypad lock systems, however, is that they're generally more expensive than conventional locks. For instance, a standard deadbolt lock costs $20, a residential keypad set costs about $115. For a commercial-grade lock, you could easily spend over $500 for a keypad set.
Based on the above benefits, you can see why keypad locks have become increasingly popular for residential and commercial applications.
Find more great keyless options: Alternatives to Using the Same Key for All Locks.
Modern Security Solutions
At Great Valley Lockshop, we've been installing and servicing all kinds of locks – including keypads – in and around Pennsylvania since 1973. For more information on the benefits of keypad locks and how they might be able to better serve your home or office, contact GV Lockshop today by calling (610) 644-5334.