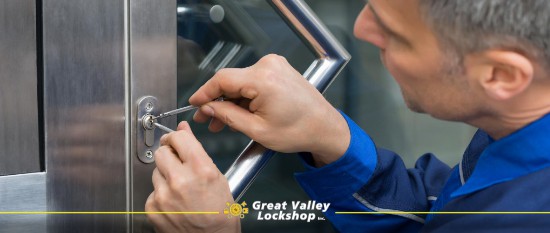 Locksmithing: Tools of the Trade
What Tools do Locksmiths Use?
Locksmiths utilize a wide variety of tools in their profession, depending on the specific tasks they perform. Some common locksmith tools include: 
Lock picks: A standard set of

lock picks

can include rake picks, hook picks, diamond picks, and ball picks. These tools help manipulate the pins inside locks to open them without a key.

 

Tension wrenches: These are used to apply tension to a lock's cylinder, holding the pins in place once picked, which helps open the lock.

 

Pick guns: These devices quickly pick locks by applying a sudden, powerful force to the pins.

 

Bump keys: Locksmiths use specially crafted keys to "bump" locks open through a rapid, forceful tapping technique.

 

Key machines: These machines generate new keys by duplicating or cutting them using a code or a key card.

 

Key decoders: Locksmiths use these devices to quickly decode locks, making it easy to generate new keys or re-key them.

 

Plug follower: A cylindrical tool that is used to remove and replace lock plugs while keeping the pins and springs intact.

 

Key extractor: Broken-off or stuck keys can be removed with key extractors, thin pieces of metal specifically designed for the task. A locksmith will use these tools to remove a

broken key

from a lock without damaging the lock itself.

 

Pinning tweezers: These special

tweezers

are used to hold and insert pins and springs when rekeying or rebuilding locks.

 

Pinning kits: Locksmiths use pinning kits to provide a selection of key pins, driver pins, and springs that are needed for rekeying locks.

 

Shims: Thin pieces of metal that are used to bypass the latch mechanism in padlocks and other similar locks.

 
These tools allow locksmiths to perform essential services such as picking, rekeying, and repairing various types of locks. Additionally, locksmiths may use automotive-specific tools when working on car locks and ignition systems. 
Related article: How Technology Is Changing the Locksmith Trade. 
What Jobs Can a Locksmith Do?
A locksmith is a skilled professional who specializes in working with various types of locks, keys, and security systems. Locksmiths can perform a range of services for commercial, residential, and automotive clients. Some common services include: 
Installing new locks
They can fit new locks on doors, windows, cabinets, or safes for improved security. 
Fixing damaged locks
Locksmiths can fix broken or damaged locks, ensuring they function correctly. 
Rekeying locks
Rekeying involves altering an existing lock so it works with a new key. This can be done for security reasons or after losing a key. 
Cutting and Duplicating keys
Locksmiths can duplicate or create new keys for various types of locks. 
Picking locks
In case of a lockout, a locksmith can help by opening locked doors non-destructively using specialized tools and techniques. 
Emergency lockout services
Professional locksmiths can be called upon to help with home, business, or automotive lockouts in emergency situations. 
Installing and repairing electronic access control systems
This includes card readers, keyless entry systems, and other security solutions for commercial or residential properties. 
Safe installation and repair
A locksmith can provide safe installation, maintenance, and repair services, as well as cracking or opening a safe if the combination is lost or forgotten. 
Master key systems
Locksmiths can design and install master key systems for commercial or large residential properties, allowing for selective access to different areas. 
Car locksmith services
They can cut and program car keys, repair or replace ignition systems, and provide lockout services for vehicles. 
Security consultation
Locksmiths can assess the security of a property and recommend appropriate lock and security solutions to enhance safety. 
Installing and maintaining high-security locks
These specialized, high-security locks offer enhanced protection against theft, unauthorized key duplication, and picking attempts. 
The services of a locksmith extend beyond just locks and keys to encompass an array of tasks to ensure the safety and security of homes, businesses, and vehicles. 
Why Is the Locksmith Profession Important?
Locksmiths possess a deep understanding of various lock mechanisms, access control systems, and the intricacies of lock technology. Their expertise ensures reliable solutions for any lock-related issue. They also have to stay updated with the latest advancements in lock technology, security systems, and tools. This ensures they can provide relevant advice and solutions even as technology evolves. 
Locksmiths are important as skilled professionals for the following reasons: 
Security and Safety
Locksmiths play a critical role in ensuring the safety and security of homes, businesses, and vehicles. They have specialized knowledge and skills to provide tailored security solutions adapted to individual needs. 
Maintenance and Repair
Locksmiths can provide routine maintenance, repairs, and professional advice, helping clients extend the life of their locks and security systems and avoid potential issues. 
Legal Compliance
In some regions, locksmiths adhere to legal requirements and regulations, ensuring that their services comply with the law, for life safety and accessibility standards, and provide clients with a fair and secure service. 
Emergency Assistance
In situations such as lockouts or lost keys, locksmiths provide timely assistance, helping individuals regain access to their homes, businesses, or vehicles rapidly and without causing damage. 
Custom Security Solutions
Locksmiths have wide range of skills that encompass residential, commercial, and automotive applications. This versatility allows them to design and implement custom security solutions, such as master key systems, that cater to unique requirements and preferences. 
In summary, locksmiths are important because they offer expert solutions to a wide range of security concerns, ensuring the safety and peace of mind for individuals and businesses alike.