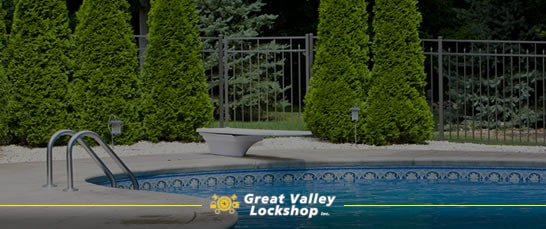 Summer is Here: Is Your Pool Gate Properly Secured?
When it comes to pool safety and security, no measures to keep people and pets safe are too great. Whether you have a private backyard pool or are in charge of a community or public pool, you likely put a good deal of thought into choosing the right fencing to surround the area. However, if you are still in the market to improve security measures such as adding a gate or a gate lock, there are several options to consider. You must consider strength, aesthetics, security, budget and materials when adding a gate or a lock to keep outsiders at bay.
Options for Pool Gate Locks
While supervision is the best method of pool safety, you cannot always be there to protect the area after hours and prevent uninvited visitors out without a properly locking gate. Many studies indicate that a predominant amount of drownings in pools are due to lack of supervision and the lack of gate or access protection. However, there are a number of ways that you can add security to your pool to avoid becoming a part of this grim statistic. Here at Great Valley Lockshop, we understand just how challenging it can be to keep people out when it is so easy to unlock gates from the inside or to crawl over the fence.
The good news is that our team of residential and commercial locksmiths can help you make the best choice and then follow through with professional installation of your gate locks. There is an array of effective locking mechanisms on the market to choose from when you want to secure your pool area. However, you will want to choose one that blends in with your pool design and the fence you have in place. If your decor is rustic, modern, contemporary, traditional or colonial style, try to find a lock that blends in for greater aesthetics. From that point, you will need to decide whether you want a traditional keyed entry lock, a keyless entry gate lock and determine whether you want a self-closing gate for additional protection.
The Benefits of Keyless Entry Locks for Pool Gates
Many pool owners and management companies are discovering the ease and benefits of using keyless entry locks for recreational areas such as pools. In particular, public and community pools with hundreds of users and residents that require access, it is certainly more secure and cost effective to go keyless for a number of reasons.
Apartment complexes and home owner association operated pools have to consider the fact that every resident that moves away will still have a key that can access common recreational areas. This can become cumbersome over time when every current resident must be reissued a new key when the locks are changed. Not only do the locks and keys cost money, but there will be labor cost associated with those changes including someone to disperse the new keys. For these reasons, keyless pool gates are quickly become the standard.
Coded and Card Access Entry Locks
The most common keyless entry system for pools are those with keypads that require a code for entry and some also require the use of a code to exit the area as an added measure of security. You will never have to worry about replacing lost keys or having them fall into the wrong hands with these affordable systems. An experienced locksmith can assist you not only during the installation process, but they can help you with changing your lock's password codes periodically or when you suspect that there has been a breach in security. Another convenient and affordable keyless entry option involves swipe cards that can be read instantly and allow access to authorized users. Card readers can also be used with digital readers that simply allow a person to pass a key fob in front of a reader to gain access.
Self-Closing Gate Locks
Magnetic gate locks for pools ensure that the gate closes after every entry and exit to prevent unwanted guests from accessing the area. Self-closing gates are the perfect complement to any installed security system you choose to install. After all, keeping the gate closed at all times is the easiest way to keep intruders out.
Learn More About Pool Gate Locks at Great Valley Lockshop
We have five convenient locksmith locations in and around Malvern, PA for your convenience. If you are looking to ramp up security around your pool, simply call one of our offices to get a personal consultation with a member of our professional team members at Great Valley Lockshop. You can reach our offices at 610-644-5334.
We look forward to servicing all of your security needs both indoor and out!
Social Share