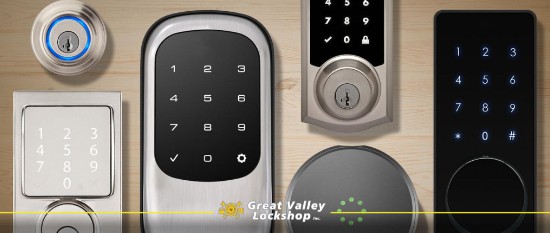 Should Homeowners Trust Smart Locks? 
You may not expect it, but most burglaries and break-ins happen in broad daylight when homeowners tend to be out of the house. Now, in addition to security cameras and alarm systems, there's a new gadget being used to bump up residential security. This new breed of security tech has been designed to reduce break-ins and protect your home. 
Smart locks are connected devices that make it possible to enter your home using secure apps on your smartphone or through the traditional keyed entry. Many homeowners have been making the smart technology upgrade – from thermostats and electrical plugs to automated lights and voice-controlled appliances. In response, over the last 18 months, some big names in the security industry have unveiled their latest versions. But many wonder, 'are they as secure as a good, old-fashioned lock and key?' 
Security Tests for Smart Lock Devices
We followed the hands-on testing performed by Sold Secure, a company that tests and certifies security products before they are sold on the market. Their services are so reliable that they are used frequently by police forces and insurance companies.   
Bench Testing Smart Locks
A bench test is simply a way to look for vulnerabilities in a locking device by opening it up and examining the components and mechanics. By taking the product apart, testers can identify points that may be more vulnerable to attacks and this helps determine how the device should be further tested.  
Force Testing Smart Locks
After the bench test, it's time to put those vulnerabilities to the real test. To get a high security grade, locking devices must pass tests for durability, security, and finish. Residential security grades test everything from resistance to brute-force sledgehammer attacks to weather exposure.  
When Sold Secure put three popular smart lock models to the test. Add-on smart locks suffered the most during the five-minute physical test performed with a full toolbox of drills, hammers, and crowbars. The smart lock model that attaches to a home's existing deadbolt in order to make it remote-controlled was essentially demolished by the physical test, but the tester was not able to breach the door. The other models tested, with integrated deadbolts, stood up to the test and did not allow the locksmith to gain entry. 
What's the Verdict? Are Smart Locks Secure?
What we learned is that smart locks can be just as safe as traditional locks. But buyer beware; there are a lot of different smart lock devices on the market these days, and they're not all the same. Look for a trusted brand – such as Yale, August, or Schlage – when choosing a smart lock, check the security grade, and choose a model that is made from solid, quality metal.  
It's also important when choosing an add-on smart lock device that it be retrofitted to a high-security cylinder lock. Even if the smart device is top-of-the-line, it won't offer the same level of protection if installed on a low-grade lock. So, homeowners should consider upgrading the locks in that case. 
These testing procedures revealed that the most secure smart lock models include both the Wi-Fi, Bluetooth, or Z-wave connecter and an integrated lock mechanism rather than relying on an existing deadbolt which may be less resistant. Integrated models offer the convenience of remote locking and unlocking and the security of a strong deadbolt.  
Are Smart Locks Stronger than Regular Locks?
Generally, yes. Experienced locksmiths know that the vast majority of residential locks, which are pin tumbler mechanisms, can be easily picked or unlocked using a bump key in just a few moments. When compared to the average pin tumbler lock installed on homes, a superior quality smart lock with a steel deadbolt pin is more secure.  
Plus, by eliminating the cylinder and keyed entry from the door, homeowners are making a solid upgrade to a device that is much more difficult to pick or pry open. It would have to be drilled or forcibly removed, a challenge that would take even seasoned burglars considerably more time to accomplish.  
Although we would not consider the average residential smart lock to be a high-security device, it can be a significant security upgrade for homeowners. In addition, they offer a range of security features that traditional locks do not, including real-time notifications, monitoring of door entry activity, and passcodes for guests and in-home services. 
Related article: Popular Smart Lock Brand Experiences Security Failure. 
Residential Security Expert
Get advice on the best way to upgrade security at your home; call Great Valley Lockshop.