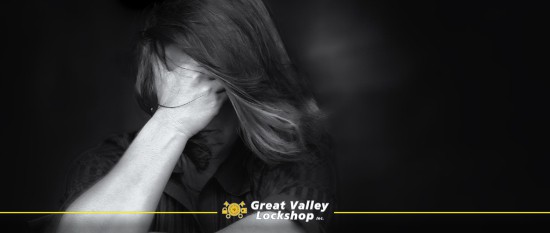 Security Devices & Apps Helping Domestic Violence Victims
Domestic violence is a huge problem in the United States. In fact, according to the National Domestic Violence Hotline, 1 in 4 women and 1 in 7 men will be victims of severe physical violence by an intimate partner at some point in their lifetime. On top of that, domestic violence doesn't just stop at physical abuse. According to the National Coalition Against Domestic Violence, 70% of domestic violence victims also experience some form of emotional abuse. And it accounts for more than 40% of all murders of women.
So, what can be done to help those who are currently in abusive relationships? Well, technology is playing a big role in helping to prevent domestic violence and making victims feel more secure in their own homes. Security devices and apps are helping domestic violence victims feel more secure in their homes. Technology is playing a vital role in the fight against domestic violence, providing victims with a way to stay connected to emergency services and keep track of their abuser's whereabouts.
Reinforced Doors & Locks
Before upgrading to high-tech devices, according to the Women's Law, the first safety measure should be installing solid core doors with dead bolts (solid core doors are sturdier than hollow doors). If you cannot account for all of your sets of keys, you should replace the locks (and protect the spare keys) in case the stalker obtained a set of your keys. Before changing your locks if you are being stalked by someone who lives with you, consult a lawyer. Repair any broken windows or doors, and think about installing an alarm system that will alert the authorities if the alarm is triggered. It's important to note that if you rent your apartment or house, you may need to acquire permission from your landlord before changing the locks, installing an alarm system, or doing anything else.
Barricade Devices
There is also a range of add-on devices that can be used as an extra layer of protection for exterior doors or to barricade interior doors. For example, the Howsarlock Metal Portable Lock is made of reinforced steel and can be installed in seconds to securely lock an inside door. And the Defender Door Brace is an adjustable bar that is designed to be used as a barricade for most types of sliding and hinged doors in order to prevent forced entry. Similarly, the DoorJammer device can be installed quickly to prevent a door being opened; it's both robust and lightweight enough to be portable.
Video Doorbells
A program started in Florida in 2019, designed in close collaboration with Ring, offered video doorbells free to domestic violence survivors to help them feel more secure in their homes and potentially help convict their abusers in the case of future incidents. According to Consumer Reports, pilot programs have since been expanding in urban areas where manufacturers, like Ring, have partnered with crime victims' protection services to supply victims of stalking and domestic violence with doorbell cameras.
Technologies such as Ring cameras "make the process of intervening in domestic violence more convenient, maybe more efficient," says Laura Brignone, a visiting scholar at the University of California, Berkeley, who studies the intersection of technology and violence against women.
GPS Trackers
Apple's new AirTags, $30 wireless devices are designed to help iOS owners locate things, and they work really well. But they can also be used for self-protection. To discourage what it calls "unwanted tracking," Apple built technology into the tags – which can be attached to a keychain or carried in your wallet – that is meant to warn potential victims with audible alarms and messages about suspicious stalking behavior.
For example, Apple AirTags will send a message to a user's iPhone if he/she arrives home (address you have in your "Me" contact) and there is an unrecognized tag in the vicinity. Plus, if the user has an unfamiliar tag following nearby when he/she arrives at a commonly visited locations, like work or the gym, an alert will be triggered. The company states, "the Find My network is built with privacy in mind, uses end-to-end encryption, and why we innovated with the first-ever proactive system to alert you of unwanted tracking."
Security System Apps
ADT, a home security firm, is making its SoSecure mobile safety software available for free to victims of domestic violence. Several response features of the app are tailored to assist people who are victims of violence. They can, for example, communicate anonymously with ADT's live security agents who are available 24 hours a day.
Users can send a quick text message and also trigger an emergency alarm with a programmed voice command from your locked or mobile phone home screen, allowing ADT to locate the user's exact location. When an alarm is triggered, an alert can be sent automatically to designated emergency contacts and if first responders when needed. With SoSecure, they can also set a time limit after which emergency contacts will be contacted if the user becomes unresponsive.
As a bonus, the app has automatic crash detection and one-click road-side assistance.
Ridesharing Apps
Uber has collaborated with organizations that support victims of sexual, domestic, and gender-based violence to provide free trips to shelters and safe spaces in more than 30 cities across 16 countries. The goal of this initiative is to help overcome the problem of transportation for individuals who need to get help.
During coronavirus lockdown, the business saw a particular need to assist abuse victims in getting to a safe location. "Even in a normal situation, a lack of mobility is a big obstacle for survivors of domestic violence. And COVID-19 only adds to the problem," said the National Network to End Domestic Violence's vice president for policy and emerging concerns, Allison Randall.
This program worked by providing domestic violence prevention agencies with Uber accounts where staff and volunteers can send ride vouchers to victims or call on their behalf to arrange rides to a shelter.
Voice Recording Apps
Last year, the VictimsVoice app was launched to help individuals in abusive relationships discretely collect and secretly store the information that law enforcement needs to provide a restraining order, charge and convict an abuser. It enables victims to record arguments, make a timeline of events, and upload photos. Another crucial feature is that the mobile app is hidden when not in use and leaves no trace of activity in the device history.
Related article: Locksmith Saves a Victim of Domestic Violence Held Captive by Her Abuser.
While technology can be a huge asset at a time of crisis, public awareness of the right resources for help is the most important factor. If you are in an abusive relationship, it's important to get help and get to safety. If you are experiencing, have heard of, or witness domestic abuse contact the National Domestic Violence Hotline and The No More Foundation. Trained counselors are available by phone 24/7 at 1-800-799-SAFE (7233) and by chat at www.thehotline.org.