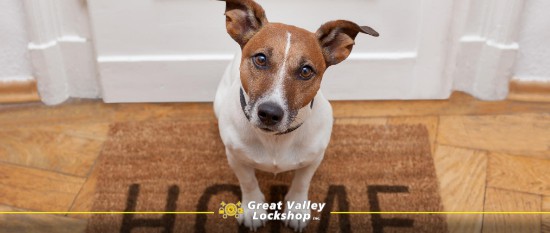 Best Security Devices for Pet Owners   
Owning pets comes with immense responsibilities, like keeping them comfy and safe. I have tested dozens of security devices and found the best suited to help with those responsibilities.
Some of these systems have pet-friendly motion sensors and unique features that help keep your pet safe. So, please take a look at my top picks.
ADT
ADT offers excellent equipment for home safety, security, and home automation. The ADT motion sensors tell the difference between a pet under 40 pounds and a human intruder.
If you've got a bigger pet, you might adjust the motion detectors to recognize a 65 or even 85-pound pet. Few pet device security firms do that; thus, ADT-monitored systems are my top pick if you've got a larger pet.
As a pet owner, you'll want to place sensors and cameras so your pet won't trip the alarm. That's where installation services come in handy. In that regard, contact Great Valley Lockshop Inc. to customize your cameras and motion sensors to help safeguard your pet.
Pros
The company has extensive experience in the home security sector.
They offer customized professional installation.
They have adjustable motion sensors for big pets.
Cons
Highly recommended for top-tier home automation.
The live video or mobile access feature is only available for high-tier packages.
SimpliSafe
SimpliSafe provides both DIY and professional monitoring with no long-term contract. Its motion sensors ignore any animal of up to 50 pounds instead of the typical 40 pounds.
Moreover, the indoor cameras have night vision to help monitor your pets day and night. Unfortunately, its home automation integration is limited and if that's crucial to you, you'll have to look elsewhere.
Pros
It has DIY installation.
Offers affordable monitoring.
Not pricey.
Cons
Pets over 35 pounds might trigger motion detectors.
Vivint
If you prefer top-of-the-line home automation for your pet's safety while you're away, Vivint is my best pick. It has impressive home automation support and top-notch quality equipment like carbon monoxide and smoke detectors. You need a home automation system to ensure your furry friend is comfortable at home while you're away.
Vivint's motion sensors ignore pets of up to 55 pounds. Also, you have to keep pets at least six feet from detectors, which might create some logical issues. However, Great Valley Lockshop Inc. can offer tips on the right placement for your device.
Vivint's plans come with another pet-friendly feature; mobile access. Its cameras are equipped with night vision as well. Unfortunately, video monitoring is available with the most expensive plan, which might not work if you're on a tight budget. But, it has other flexible payment options and offers a no-contract plan.
Pros
It has an adjustable weight setting on motion sensors.
They offer professional installation.
It has two-way video monitoring.
Cons
The company has inconsistent customer service.
Frontpoint
Frontpoint motion sensors use passive infrared sensors, which means they detect changes in heat. Passive infrared sensors ignore small pets up to 40 pounds. Plus, its cameras have night vision so that you can check on your good boy throughout.
Its simple DIY installation makes it easier for you to move the detectors to find the spot that allows your pet to roam freely and protect your home. Overall, it's an amazing security system with pet-friendly features.
Pros
They have high-rated customer support.
They offer a wide selection of security cameras.
They offer a customizable system.
Cons
You might pay extra for smoke detectors.
It has a low motion-sensor range.
The Ring Alarm
The Ring Alarm contains everything you need to protect your pet and home. Its home sensors are pet-friendly too. By default, the sensors are extremely sensitive to any movement. However, there's a mobile application to help reduce the sensor's sensitivity to your liking.
Typically, it ignores a pet under 30 pounds and is immune to a pet up to 50 pounds. In addition, it has the best camera package, which comprises an affordable indoor camera and some doorbells and outdoor cameras. I particularly recommend the Ring Stick Up Cam Battery and Ring Indoor Cam.
The outdoor cam lets you watch your pet play outside. While an indoor cam gives you an inexpensive way to monitor your pet's behavior remotely and ensure he isn't feeling too lonely.
Pros
It has an irritating loud siren.
It supports multiple wireless platforms.
It has available and affordable professional monitoring.
It is easy to install.
Cons
It has bulky contact detectors.
It doesn't come accompanied by a HomeKit
Related article: Everything You Need to Know about Smart Locks and Home Automation Technology.
What's the Best Security System for You and Your Pet? </h2
These are my best picks for home security for a pet owner. You can choose based on your budget, your desire for privacy, and your pet's weight. So, contact Great Valley Lockshop Inc. via (484) 324-2986 today for the best security devices for your pet and home!