How Often & When Should You Change Your Locks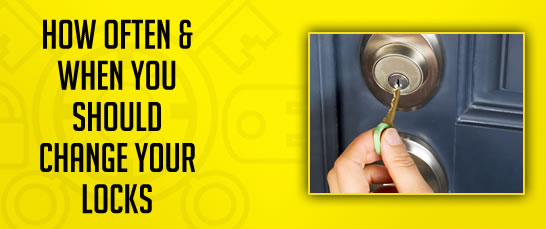 Home security is essential to a safe residency. And the most basic form of home security is none other than your door locks. That's right, while your home may have all the latest bells and whistles as it pertains to a high-tech home security system, your home's main line of defense is still the locks on the exterior doors. With that in mind, it's important not to neglect maintenance and updating on your locks. While door locks aren't something that you'll likely have to change very often, there are certain incidents that warrant such an update. This post will take a look at some of those incidents.
Top Reasons for Changing Door Locks
Residential door locks aren't like other aspects of home maintenance that need regular updating. For instance, you won't need to change them out every month or two, like you would with the filter on your HVAC system. You won't need to change them out as regularly as the light bulbs in your hallway. They don't need servicing every three months or 3,000 miles like your car. No, instead the frequency at which you should change your door locks should be dictated on certain incidents. Here's a look at some of those incidents that warrant lock changing:
You've moved: Perhaps the No. 1 reason to change out locks is when you've taken occupancy of a new residence. While you receive the keys to the house at closing, there's no telling how many other spare copies of the key are out there floating around. For this reason, it's much better to be safe than sorry.
You lose your keys: Whether you lost your keys or had them stolen, it's important to change the locks as quickly as possible. That's because you just have no idea where your keys will wind up. Say, for example, that the keys are returned to you by a seemingly good Samaritan. You should still make it a priority to change the locks, as you just never know if that individual went off and made copies of your house key.
Divorce: Most people strive to ensure that divorces and breakups are amicable, especially if there are children involved in the situation. But the fact of the matter is that emotions run high during these trying times, so much so that people might not always be thinking straight. On that note, it's not uncommon for individuals to enter the home when they know their ex-partner won't be around and reclaim some of their possessions. We'd imagine you wouldn't want to come home to find many of your prized possessions missing.
Home burglary: Another reason you should change your locks is if you've been the victim of a home burglary. However, in a situation like this, you're not necessarily worried about spare copies of the key falling into the wrong hands, you should be more concerned about potential damage to the existing locks and the lapse in home security that just occurred. With that being said, if you've been the victim of a burglary, a phone call to your local locksmith should be one of the first calls you make, perhaps only after a phone call to the police and to your insurance agent.
Lock damage: Locks are like anything else within the home – they require a little bit of maintenance to stay effective. And while we strongly advise making lock maintenance a part of your routine, it's also worth noting that locks will eventually fail or become damaged to the point where they're a home security liability. If that becomes the case, be sure to get them replaced immediately. It would be a shame to become the victim of a home burglary simply because your door locks were not an effective line of defense any longer.
Other situations: There are various other situations that may warrant lock replacement. For instance, if you live with roommates, be sure to change the locks from time to time after old roommates leave and new roommates move in. The same goes for if you regularly lend out the key to repairmen or contractors for upgrades to the home while you're at work.
You just never know if these professionals are taking inventory of your home's prized possessions and making copies of the key at the local hardware store on their lunch break. Finally, you may also choose to change out the locks after a major life event or purchase – simply because you want to outfit your home with the latest and safest technology. For instance, if you've recently had a baby, you may want to do everything in your power to keep that child as safe as possible. Changing out your current locks with the latest and greatest can help to accomplish that.
What Are the Factors Affecting the Cost of a Lock Change?
Boost Security at Your Home
As you can see, when it comes to door locks, there's really no timeline on how regularly your locks should be changed – just certain incidents and situations that warrant it. In many of these situations, you should think of changing your door locks like insurance – as preventative measures to safeguard your home from the unknown and unanticipated. But in other situations, changing door locks are a high priority. Here at Great Valley Lockshop, we've been changing out door locks in Pennsylvania, Delaware, New Jersey and Maryland since 1973. For more information on why and how often you should change out your locks, and to schedule a time to have this work done, contact us today by calling (610) 644-5334 or fill out our free online estimate request!