Protecting Your Assets with High-Security Locks
Superior lock and key systems, created with additional safety measures, to protect you assets as best as possible.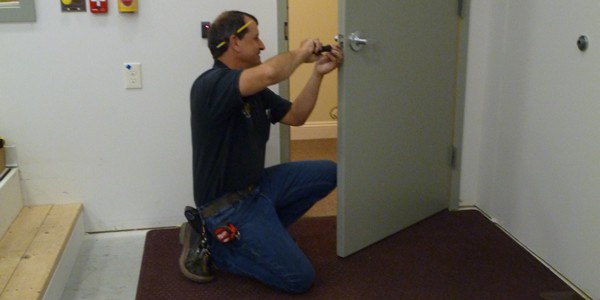 Do all locks provide high security if you are the only one in possession of the matching key? Unfortunately, the answer is no. Only superior lock and key systems are created with additional safety measures in place to reduce the risk of picked locks or duplicated keys. Protecting your assets with high-security locks is your best safeguard.
We provide top security lock services to Pennsylvania, New Jersey, Delaware, and Maryland residents.
GET A FREE ESTIMATE ON OUR HIGH-SECURITY LOCK SERVICES TODAY
The Benefits of Superior Keys
Pin Complexity
Have you ever taken a look at the keys on your key ring? Chances are most of them only have pins on the outside. The unique combination of pins is what makes each key and lock different and secure. To provide superior security, a specially designed system will have pins on both the inside and outside of the key to offer an even higher level of protection.
Patent Protection
Various patents ensure end-user security because it is illegal to duplicate this kind of key without permission. Four utility patents and two design patents make each of your keys many times safer.
Key Bow
A wider and larger bow not only presents users with easier handling, but also extra stamping space if needed.
Thickness
Thicker high-security keys are also stronger and more durable. The added thickness is another distinguishing quality of the products we produce.
Side-Cut Combos
Factory side-cut combinations are another way that we create an end-user product that is exclusive only to the dealer it is ordered from.
Identifications
For quality control and to identify the origin of a key, associated end-user or dealer IDs are imprinted onto the product.
Why You Should Work with Great Valley
The steps Great Valley Lockshop technicians take to design and create our locks and keys are indicative of the heightened protection offered to our customers.
Authorized Locksmiths:
Only authorized locksmiths have access to classified information including key codes, equipment to make each key, and key blanks.
Secure Keys:
We make sure no keys can be created before the locks are sold. To meet this objective, locks are sent to authorized locksmiths without any pins. These are added later on when they are sold and the corresponding keys are cut.
Ironclad Duplicate Key Practices:
To have duplicate keys made, an owner must return to the store of purchase. This allows each owner to manage who has access to their keys and who can have them created.
Additionally, for companies seeking full control over keys, we can provide customized options that cannot be duplicated by anyone else.
Visit Our
Neighborhood Showroom
Our friendly staff is always available for questions or concerns when it comes to security needs in your home. Please stop in to visit our showroom located in Malvern, PA, and lock shop to meet with one of our professionals for help in purchasing items to install yourselves. We sell a variety of home locks and home security items right at our shop!