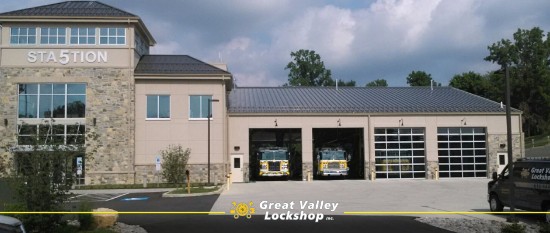 Access Control for East Whiteland Volunteer Fire Association
Case Study
A few years ago, the East Whiteland Fire Association in Pennsylvania built a new firehouse for their department consisting of both volunteers and career firefighters. Organizers raised $5 million for a new facility that would better serve the unit and the local community.
The volunteer association provides fire, rescue and emergency medical services (EMS) to the township. In order to meet those needs, the transitory volunteer workforce needed a more effective way to manage access and navigate throughout its 19,000 square foot facility – a facility that features 26 doors and 150 cardholders.
Location
East Whiteland Township, Pennsylvania – a 10,650-person Chester County community located about 20 miles west of Philadelphia.
Project Challenges
Fast, Reliable Access for Multiple Cardholders
In an emergency situation, every second counts. When a building catches fire, a mere second can be the difference between life and death. Seconds can be the difference between being able to salvage a structure and having to completely demolish it. But when firefighters can't get to the equipment that they need, into the trucks and out to the scene in a timely matter, these precious seconds tick away.
In a facility with 26 doors and 150 cardholders, access management at the East Whiteland Volunteer Fire Department was becoming a challenge – especially considering the inefficient and outdated means of access management that existed at the time.
"The main function of any access management system at a firehouse is to help get firefighters where they need to be as quickly as possible," explains Chris Strauss, East Whiteland Fire Company Deputy Fire Chief and president at Great Valley Lockshop. "With so many people coming and going, and various restricted areas including mechanical spaces, storage rooms, and offices, access management is a huge challenge."
Replacing the Existing System
The key scan system that previously existed in the firehouse presented a lot of problems, notably panel and software freezing, doors operating incorrectly and outdated vendor support – all of which impacted the quality the firefighters were able to provide to the public.
Solution
The firehouse needed an access management system to make up for the inefficiencies of its old key scan system. It also needed qualified professionals to ensure that the system was installed and programmed efficiently for use in the firehouse.
Leveraging Strauss' expertise as a locksmith and as part of a firefighting department, it was decided that the firehouse would select the Vanderbilt Bright Blue® access control system and that GV Lock would integrate the technology for the new building.
The system is capable of managing up to 32 doors and 5,000 cardholders. It features an embedded intelligent design, meaning that no one computer is required for software installation – rather, any computer with internet access can manage and monitor the system. What's more is that the Bright Blue Intelligent Access Management System is user-friendly and easy to use, a key feature at a volunteer firehouse venue that may have several different supervisors coming and going.
But there was much more to the project than just installation of the Bright Blue Intelligent Access Management System. Says Strauss: "My job is to ensure that the complete solution, from door hardware to access management software, performs optimally."
Strauss and Great Valley Lockshop installed Schlage aptiQ readers on 24 of the 26 doors. Door prop alarms were installed on all exterior doors, as well as the doors between the office and apparatus bay which use the lockdown function. PIN codes were added to the two readers, as insurance in the event of an accidental lockout. The remaining two doors were designed to leverage the Bright Blue Intelligent Access Management System for the door prop alarm. Great Valley Lockshop installed the system so that it is to be managed by a three-person team and support 150 users.
"With the simple installation of a junction box and card reader at each door, I can easily customize access requirements depending on location," says Strauss.
Most access management systems have six wires that require connection to the panel, but the Bright Blue system only requires two – a fact that made for a much smoother installation. What's more is that Strauss was able to connect to the panel from his laptop to complete programming and testing before going live with the system.
Results
The Bright Blue system was easy to install, configure and use – but the benefits of the system didn't end there. By using the event schedule feature, Strauss and GV Lock programmed the doors between the office and apparatus bay, an area where firefighting and emergency response vehicles are stored, to trigger a lockdown function when an emergency call comes in. He explains, "This way we can prevent unauthorized access to our offices when firefighters are called out to an emergency. I can also very easily add doors or change access requirements by following simple prompts."
"While Vanderbilt also offers technical support as part of its Bright Blue system, the solution is so easy to operate that even the volunteer firefighters can handle it. That's a big advantage of the system, as most of the volunteer firefighters don't have any type of technology background. This is also beneficial being that there's a high turnover rate of volunteer firefighters, so less time has to be dedicated to training new firefighters on the system and users can be quickly added and deleted."
Aside from simplicity and user-friendliness, however, the system was also reliable. "Bright Blue always works the way it's supposed to, which is absolutely critical in our line of work," says Strauss.
"Not only do we have an override key stored in a lockbox for emergency situations, but we've also backed up the system so that if the network goes down in one of our remote locations, we can default to site code to ensure that a firefighter is never locked out."
In an emergency situation, every single second counts. The Bright Blue system helps firefighters maximize efficient use of their time while in the firehouse so that they can more quickly mobilize to get out to an emergency.
"Time is of the essence in an emergency situation," Strauss says. "Our firefighters and volunteers need an access control solution that is easy to use, reliable and gets them out the door as quickly as possible."
With help from the expert locksmiths at Great Valley Lockshop, the East Whiteland Volunteer Fire Department are now able to worry less about access management and more about putting out fires and helping people in need. Every second counts. Now in emergency situations, firefighters can simply do what they do best – put out fires.
Learn more about the Benefits of Access Control Lock Systems in the Firehouse.
For more information on access management systems and other types of security solutions, contact Great Valley Lockshop today. Call us at (484) 324-2986 or fill out our free online estimate request.