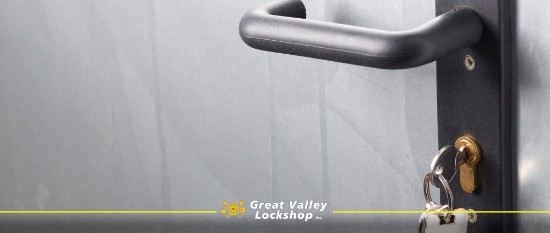 Rekey Project for New Jersey Pharmaceutical Company
Great Valley Lockshop was called to bid on a large rekey project for a global pharmaceutical research company in 2007. This company, located in Malvern, Pennsylvania had been a customer of Great Valley Lockshop since 1987 and had recently acquired a new building in Bridgewater, New Jersey. Due to changes in ownership and lack of a correct key control system, the customer had no control of their master key system in the new building.
Location
This international company is located in Bridgewater, New Jersey.
Project Challenges
Winning the Bid
Great Valley Lockshop, working with lock manufacturer Schlage, completed a site survey of every door in the building that had a lock. More than 2,300 locks were counted and included in the bid on a per-unit basis. Although bidding against local locksmiths located in New Jersey and Bridgewater specifically, Great Valley Lockshop was able to win the bid, with a cost-effective project design that totaled more than $500,000.
Compatibility with Existing Master Key System
Due to the number of doors in this new building, Great Valley Lockshop was unable to match the model of the keying system used in this Malvern, Pennsylvania office. As a solution to this problem, our locksmiths were able to reverse engineer the current keying system in the new building and develop two different master key systems.
To keep costs down, Great Valley Lockshop replaced the locks in "normal" offices with a "restricted" type of key cylinder. For administration and secure offices, Great Valley Lockshop replaced the entire lock on each door with a patented, high-security Schlage Primus Restricted keyway system. These new key systems were designed to accommodate expansion in the future and included four keys with each lock. These four keys ensured management would not have to worry about making copies of keys for years to come.
Results
After receiving the factory order in December 2007, Great Valley Lockshop was able to start installing the locks in January 2008. This process of replacing 2,300 locks took two locksmiths working two days per week for four months. The project was completed in April 2008, ahead of schedule and $50,000.00 under budget.
Find out more about the Importance of Rekeying the Locks.
Get more information on Commercial Rekeying Services provided by Great Valley Lockshop.