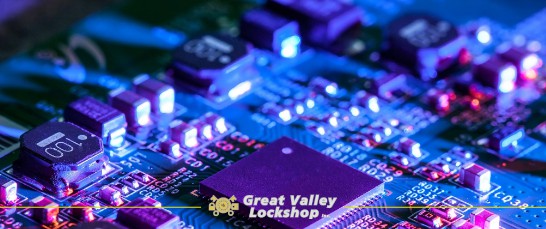 Recent Chip Shortage Affects the Security and Smart Home Industry
Supplies of semiconductors or chips have begun to disappear. The shortage is largely due to increased demand during the pandemic. During the lockdown, many people purchased electronics in huge quantities. Laptops, webcams, monitors, graphic cards and work from home equipment saw huge surges in demand. As supplies dwindled, production fell behind, resulting in a dearth of semiconductors needed to guide smart products. This has also impacted businesses in need of advanced security products and services.
Other factors affecting the chip shortage include the trade war between the United States and China and the Taiwanese production shortage.
Shortage May Drive Up Prices for Smart Devices
In March, Reuters included comments by Wang Xiang, president of Xiaomi, a smart home manufacturer. He indicated that the shortage would probably increase the cost of production. In turn, this could drive up prices even more for residential and commercial consumers.
Initially, the shortage affected the auto industry, but there are many industries dependent on semiconductor and legacy chips, including security systems. The demand for older legacy chips is now competing with the production of semiconductor chips, creating a slowdown in products and services — including alarm panels and cameras — that rely on this technology.
Supply chain woes have trickled down to the security sector, and distributors are all too well aware of the situation. While many have planned in advance for short supplies, long-term shortages will have a deeper impact. Beyond hoarding semiconductor chips and looking for suppliers with a surplus, there isn't much more manufacturers can do.
Residential and commercial security technology often integrates enterprise-level capabilities. This has increased as people spend more time at home. In turn, this makes it more difficult for commercial consumers to meet the smart device needs of their businesses. The industry may face more challenges before the situation improves. However, some manufacturers are trying to turn the tide before supplies hit a critical low point.
Investments by Major Chip Manufacturers Should Help
Intel has launched a $20 billion expansion plan to create more factories in the United States. By opening Intel plants to third party customers and building new facilities, the chip giant hopes to catch up with current demand and stockpile supplies to avoid future shortages.
Taiwan Semiconductor Manufacturing Company (TMSC) says it will spend $100 billion to increase production of its semiconductors over the next three years.
In January 2021, Safewise reported that 85% of those in lockdown invested in smart home technology for security, entertainment or other purposes. This huge surge resulted directly from people spending more time at home and wanting to stay occupied and feel safe there. As lines continue to blur between work and home, much of this demand may remain well after COVID is a distant memory. Therefore, commercial security manufacturers will continue to compete for the available supply of semiconductors.
When Will the Shortage End?
Both manufacturers and distributors have gone to extraordinary efforts to bolster and share the world's supply of semiconductors. However, the end is not yet insight. Some sources speculate that we'll continue to see shortages well into 2022. Others predict that the shortages will subside once employees return to offices in fall 2020 and spring 2022. However, only time will tell if manufacturers are able to keep up with the sea change in the tide of global chip demand.
There are industries that have shown signs of relief. According to The New York Times, GM has begun increasing production of its automobiles as the supply drought recedes. The smart home industry, then, may begin to catch up soon as well.
Strategies for Smart Commercial Consumers
If you need a camera or alarm system in your business, what can you do to expedite the process? For some businesses, waiting it out might be the only option. However, it's important to check back with manufacturers and distributors frequently, because supplies, though unpredictable, continue to trickle in.
Putting off security upgrades might leave home and business owners feeling vulnerable. However, the security industry is already in motion to build new factories to turn out chips and fill the empty bins for the automotive, security and other industries who depend on smart technology.
While it's difficult to predict when the shortage will abate, the security industry continues to wheel and deal with semiconductor manufacturers for delivery dates. Also, this chip shortage is temporary, though prolonged, and patience is the best option for frustrated consumers waiting to purchase new laptops, smart appliances and security systems to safeguard their home/workspace.
The Need for Security Products Is Real
Although smart products aren't necessities, we understand that consumers want to keep their homes and businesses under surveillance. While two-day shipping turnarounds may be a stretch for the foreseeable future, patient consumers can still stock their home or business with camera systems and video monitoring technology that ties into their home network or smart home devices.
Contact Great Valley Locksmith for all your commercial security needs in Malvern, PA and the surrounding communities. Request a free estimate and learn more about product turnaround times today.