An Advanced Security Option for Your Business
We offer a variety of keyless door lock devices, quick installation and professional service. Our technicians are here to support you in protecting your business and keeping security measures up to date.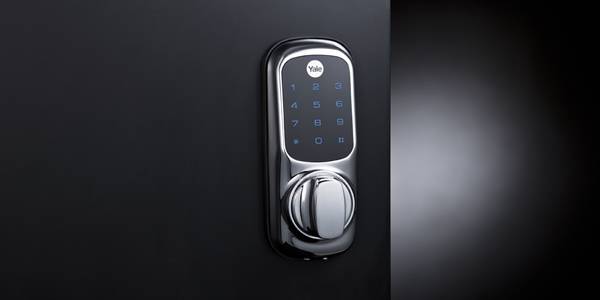 We know that every business is different and that every client has different security needs. That's why our keyless entry system installation team offers customized keyless entry service options to ensure that the property is protected at all times. Our experts will help you select the right options for your particular business.
Our lock experts provide keyless entry services to Pennsylvania, Delaware, New Jersey, and Maryland residents.
Benefits of a Card Access System
You can completely erase the key hassle with a card access system. A card access system comes with many benefits that make security simple:
Enable contact-free entry and security points.
Record of who entered the building and entry times.
Allow or restrict access for individual users without affecting others.
Prevent unauthorized employee access to certain areas of the building.
Cards can be set up with a master system, giving owners and managers access at all times, but limiting employee access to certain hours.
Limit who can access a particular entry in the building and when.
Benefits of Electronic Keypad Locks
Another security option for businesses is commercial electronic keypad locks. This type of system allows owner and managers to set different codes for each individual employee, change codes to limit access from unauthorized users and review who enters and exits the building at all times.
Many commercial electronic keypad locks are not hard-wired, giving you the following benefits:
Reduced expense
Access through doors even during power outages
Easily replaced batteries
Additionally, most commercial electronic keypad locks have the option to override with a key during an emergency.
Electronic Keypad Lever Combo
This combination is available with or without proximity capabilities. A commercial electronic keypad lever combo grants all the benefits of commercial electronic keypad locks. Plus, integrated proximity readers allow certain users to use a code, access fob or access card to gain access to the building.
Manual Commercial Keypad Locks
This is the perfect option for smaller businesses. With manual commercial keypad locks, you can change your code any time you fear someone has access to it that shouldn't. With no electronics, there's no worry about hard-wiring the system or changing batteries. There are several models of manual commercial keypad locks:
Storeroom – Door locks every time.
Deadbolt – Leave doors unlocked during certain time periods.
Knob and Deadbolt – Both options combined in one.
A manual commercial electronic keypad lever combo is perfect for a small business or home office that needs an extra level of security.
Visit Our
Neighborhood Showroom
Our friendly staff is always available for questions or concerns when it comes to security needs in your home. Please stop in to visit our showroom located in Malvern, PA, and lock shop to meet with one of our professionals for help in purchasing items to install yourselves. We sell a variety of home locks and home security items right at our shop!