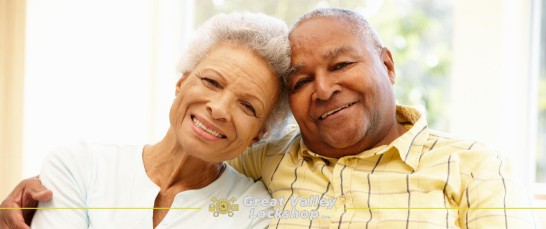 Best Home Security Products for Seniors Aging in Place
According to the U.S. Census Bureau, the aging population in the United States will more than double to 80 million by 2050. More and more families are seeking ways to assist relatives in safely aging in place. Growing old at home offers a great deal of independence and comfort, but it also comes with some concerns.
Seniors who are living on their own often worry about crime, physical abuse, theft, and falling prey to scams. Loved ones are also fearful of accidents, injuries, and medical emergencies that may happen when they are alone. But, thanks to technology and innovative security products, families can feel more sure of their decision to age in place. Consider how an alarm system, a smart lock, or a doorbell camera can keep your elderly loved one secure while also providing peace of mind for everyone.
Top 10 Security Products for Seniors Living Independently
Remote Alarm Device – This personal alert device allows seniors to call for help in the event of an emergency. A button on the device can alert loved ones or authorities if they fall, have a medical issue, hear suspicious noises, or are being threatened.
Smart Lock – This lock replaces existing locks without requiring new keys. This special door lock device can be unlocked with a connected smartphone by the homeowner inside the home, or an authorized guest entering from the outside. Smart locks help older adults to welcome guests or service providers without needing to rush to the door, while facilitating family and caregivers who want to check up.
Key Safe – A low-tech version of the smart lock is a key safe. This allows the homeowner to keep a copy of the key in a secure box on the exterior of the home. In this way, caregivers and loved ones can gain access to the front door without needing to be let in from the inside.
Video Doorbell – A video doorbell can capture real-time images of who is at the front door. These devices are motion activated, and send notifications to smartphones when motion is detected. Seniors can see who is at their door before answering, and they can even speak to visitors through the device itself. This is also a comforting security device for family members to have; they can receive mobile notifications anytime a visitor or caretaker comes to the door.
Two-way Video Monitor – Devices like Amazon Echo Show connect to a Wi-Fi network and can serve as an easy-to-use video monitor for seniors. The devices incorporate two-way communication; users can turn on the device's camera, and speak to their caregiver, family, or doctor as part of a telemedicine visit. This technology not only helps the elderly to stay connected, but it can also decrease the amount of driving needed and exposure linked to in-office appointments.
Motion detection monitors – Motion sensors are useful as external security devices, but they can also be used within the home to alert emergency responders of concerning behavior. Motion sensors are available with a wide variety of ranges and capabilities, and in this regard are commonly placed near the entrances of frequently visited rooms of your home. Sensor data is transmitted wirelessly to a service accessible via the internet. There are a few different service providers nowadays that provide integrated motion detection that notifies the proper contacts in case of a fall, entry/exit at odd hours, smoke detection, or other factors. One of the major advantages of this type of automated technology is that it doesn't require the person who might be in danger to pick up the phone and call.
Monitored alarm system – This is a great way to stay safe for seniors who live alone. Monitored systems use an alarm sensor on doors or windows to detect if anyone tries to break in. The system notifies authorities, and caregivers as well, via phone alerts.
Key turner tool – Arthritis and stiff joints can make it difficult to turn the key in a lock, especially in the colder seasons. A key turner is a handy tool to facilitate this articulated motion that is so 'key' to home security.
Connected alarms – With smart home automation platforms, it's possible for homeowners, as well as their loved ones, to get real-time alerts whenever a smoke detector or carbon monoxide alarm are activated.
Wireless door and window sensors – These are another type of low cost, entry-level security product. They have an adhesive on the back so they can be placed on windows or doors to monitor whether the locks are opened or not. There is no wiring required and they can be applied to virtually any type of door or window frame, including sliding glass doors. Smart sensors can also be synched to the home automation platform so that homeowners and emergency contacts are notified of a possible break-in.
Protect Your Entire Family with the Help of GV Lock
Our residential security services are designed with your family's safety in mind. Give us a call to learn more.