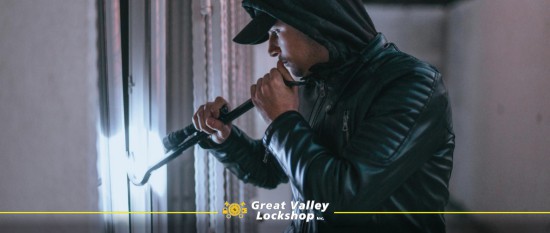 10 Signs that Burglars Are Getting More Brazen
These examples have been ripped from the Headlines. Here are 10 signs that burglars are becoming more dangerous, bold, and efficient.
They Are Armed
The news recently reported another incident of an armed burglary. After breaking into a home as part of a "one-man crime wave" in Florida, a thief shot at police officers. This is just one instance in an alarming crime trend. Officials say that armed robberies are on the rise in the Philadelphia area. And the presence of weapons of any kind, especially firearms, automatically makes any petty criminal a lethal threat.
They Prey on the Vulnerable
It's not news that bad actors take advantage of those who are more vulnerable, such as the elderly. But it's a relatively new development that some trespassers research their targets in particularly cruel ways. For example, one female burglar in New York was found guilty of criminal possession because she targeted families whose relatives had passed away. The woman would look for death notices online and obituaries published in the newspaper. Then, she broke into multiple homes of relatives assessed to be away during the funeral.
They Strike in Broad Daylight
In a number of news articles lately, we also see that more and more burglaries are happening during the day. Some are even bold enough to come to the door, either claiming to be a utility worker, a rideshare driver, or a delivery person. Some burglars watch homes and wait until the occupants leave or track their regular routines and strike when the homeowner is at work. But the message is clear, these criminals are not afraid of being seen or getting caught.
They Go to Great Lengths
Criminals are getting more skilled. Proof of this can be seen in a recent article about a limber cat burglar who climbed up a 17-story building using the drainpipe and entered a penthouse apartment through an unlocked window. The thief stole a significant amount of cash, then escaped by the same route.
Another lawbreaker in Houston even went as far as to break through a wall to gain access to a commercial property and steal money from a vending machine. This is just further proof that burglars are more brazen than ever.
They Know What is Valuable
Burglars are getting smarter. The evidence of this is that they no longer target electronics and items that are difficult to pawn or which render only a small profit by selling them. Instead, they come prepared to steal the things that have a higher value. In Washington state, a set of criminals was recorded on surveillance video picking the lock of a local restaurant. Once they gained access, the burglars sawed through the safe and ransacked the interior of the business.
They Commit Serial Crimes
We have seen this trend rising in our own local area. Career criminals are committing strings of burglaries in and around Philadelphia. One suspected car thief was arrested for a series of car break-ins. The same man was thought to be responsible for more than 1,000 counts of theft and receiving stolen property. The spree took place in the suburbs of Bucks County and into western New Jersey.
Another more brazen local offender was responsible for a string of break-ins. The culprit targeted homes where there were no cars parked in the driveway and knock on the door to find out if anyone was at home. If someone answered, he would make an excuse for being there; if nobody answered, he would enter the property through smashed windows or an unlocked basement door. He then ransacked bedrooms in the houses in the hopes of finding jewelry and cash.
They Know Where to Target
Burglars these days don't strike randomly. They study which areas to target, which types of buildings and vehicles, what time of day they have the best window of opportunity, and more. Last fall there was an ongoing search in Norfolk for a serial burglar. The suspect stole from multiple homes and vehicles in the same area, taking advantage of unlocked sliding doors. He was successful because he was familiar enough with the properties to get in and out quickly in complete darkness, between 12:00 and 4:00 am.
For example, another robber made off with thousands of dollars in luxury brand items by targeting a home that was tented for a fumigation service. The crime occurred outside of Los Angeles and the culprit knew that there were security cameras surveilling the property because he kept his face covered to prevent identification.
They Work in Teams
According to police, criminals often work together to create scams that distract victims while an accomplice raids their belongings. One group of thieves in the Chicago area was so organized that victims didn't realize things from their home were being stolen until after the fact. Working in a team of three, these burglars were able to distract the victim, steal valuables from their home, and get away before the gig was up.
Targeting senior citizens, the first criminal claimed to be a worker from the water department in order to gain access to the home. He distracted the older victim while his companion in crime entered the home and stole silverware and gold jewelry. Then, using walky-talkies to communicate, the third burglar pulled up to the house with their getaway car.
"Please be aware that there are people who portray themselves as utility workers and commonly prey on the elderly population," explained Hobart Police Department Capt. James Gonzales. "I encourage residents to not answer or open their door, unless you are expecting someone. If you have someone knocking on your door and do not know who they are, call the police and get a description of them and the type of vehicle."
They Linger and Return to the Scene of the Crime.
In the Seattle area last year, one burglar was so brazen that he was caught in the act. After committing a series of break-ins and attempted break-ins, the suspect was discovered in the fourth victim's home. In no apparent rush to leave the scene, he was found the next morning sleeping in a child's bed. As if that wasn't enough, the offender was angry with the homeowner upon being woken up and was able to leave the house through the front door without getting caught. The police and Crime Stoppers are still investigating and no arrests have been made.
In other cities, burglars have also been known to attack the same property more than once. In Miami, for example, a burglar stole tools and a pressure washer from one homeowner's backyard. Then, he returned on another night to take a leaf blower as well.
They Don't Care about Security Cameras
We know about most of these cases sited here because they were caught on tape and most of them are still unsolved crimes. This is why many homeowners find themselves wondering, "Do security cameras actually deter crime?"
Essentially CCTV and home security cameras don't deter crime, but they do record what happens. In that sense, if your home is burglarized, you have video evidence. But the better investment is security tools and hardware designed to prevent crime.
Related article: Top 10 Most Burglarized Cities in Pennsylvania.
For Residential Security, Trust GV Lock – Contact us today for a security consultation.