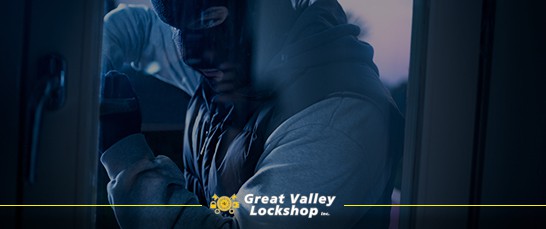 Top 10 Most Burglarized Cities in Pennsylvania
Welcome to our super top 10 list for smart residential security for Pennsylvania homeowners. We've listed the 10 PA towns with the highest break-in rates. Plus, you can see our top 10 recommendations for preventing burglary at your home and what to do in case your residence is burglarized.
Which Cities in PA Have the Highest Burglary Rates?
If you feel safer as a homeowner in Pennsylvania these days, the truth is that you are. Police and law enforcement have focused on bringing the rate of violence in the state down. In recent years, like the national trend, violent crime in Pennsylvania has dropped; this is especially true for the western part of the state.
Since 2017, non-violent crimes, however, seem to be on the rise in many areas. An increase in burglary, theft and property crimes in some cities has been blamed on drug problems and the opioid epidemic which is currently affecting the entire nation. Using the latest statistics, we have updated our list to show the top 10 most burglarized and crime-ridden cities in Pennsylvania in 2019.
Top 10 Cities in Pennsylvania for Break-Ins
Chester – Known as "Pennsylvania's most dangerous city" – as well as one of the country's top 20 most dangerous cities – Chester made the top of the list for 2019. The rate of violent crime and theft in Chester continue to be significantly higher than the national average and the average in Pennsylvania.
McKees Rocks – This city ranks among the highest in Pennsylvania for violent crime and murder, and McKees Rocks also has the state's biggest problem with property crimes. All types of illegal activity in McKees Rocks has increased over the last 8 years.
Duquesne – Unfortunately, this small city in Allegheny County has a high occurrence of burglary. In recent years, it has actually climbed a few places in rank among other towns in Pennsylvania.
New Castle – With the fourth highest rate of robbery, as well as a high instance of property crime and theft, New Castle has struggled to keep non-violent crime down. Though the population is low, break-ins continue to be a problem.
Reading – In Reading, in general, all kinds of crime has been going down over the past 18 years. In 2016, there were 685 cases of burglary reported which was the lowest it had been in this city of 88,000 in nearly a decade.
Harrisburg – In terms of property crimes, Harrisburg's crime rate is 713 for every 1,000 residents. There have been some ups and downs in both violent crime and property crime here in recent years.
Ambridge – In 2019, Ambridge was ranked as the second-most dangerous city in the state, but improved in 2020 and 2021. This city has the highest rates in Pennsylvania for property crime and theft, but burglary and other infractions are decreasing.
York – The rate of robbery in York is higher than that of Ambridge, and some reports show a higher instance of theft here over Chester. But in a comparison to other Pennsylvania towns, the risk of burglary is slightly lower.
Selinsgrove – Selinsgrove is an incredibly small Pennsylvania town Snyder County with less than 6,000 residents. Violent crime is significantly less common here in comparison to other towns in the state. For theft and property crime, however, this community ranks just below York.
Philadelphia – Philadelphia is the 5th largest city in the country, with a population of 1.58 million. It's also one of the most dangerous, though Philadelphia crime statistics generally show improvement over the past two decades. Yet, 2018 will be remembered as a deadly year, with 351 people killed from violence, according to Philadelphia police reports. In the City of Brotherly Love, robbery remains an issue for residents with nearly 7,000 cases reported in one year.
How Can I Prevent My House from Getting Broken Into?
Whether you live in one of these cities or not, home security should always be a focal point. It's important to safeguard and protect the things and people that are most precious to you. According to FBI Burglary statistics, 65% of home break-in incidents occur through forcible entry via front, rear, and garage door entries. While this statistic is startling, the good news is that your home's security can be increased with just a few upgrades.
10 Security Products to Prevent Burglary
Use window locks: Very few people go to bed without locking their doors at night, yet thousands of people open their windows on the way to bed to let in a breeze and keep the air flowing overnight. Having and using window locks is a critical component of home security (and business security if you have windows that can be opened in your commercial building).
Apply security window film: Window locks are useless if your windows can be easily broken to gain entry. Security window film can be applied your glass windows to make them difficult or impossible to break.
Get a home security system: Homes without security systems in the United States are up to 3 times more likely to be burglarized.
Keep your yard up: Overgrown shrubs and bushes can tell a potential crook two things – one, that you may not be home and that there are plenty of places for them to hide around your home.
Install motion-activated lights: Motion-activated yard lights cast bright light when somebody comes within visibility of the sensor. A burglar making an effort to break and enter unnoticed will avoid homes that have visible motion-activated lights outside, and if they happen to activate the lights by accident, will likely flee the scene without taking anything.
Upgrade to high-security locks: In order to ensure the locks on your home and business are designed to withstand efforts to break through them, you should purchase high-security locks at a local locksmith or other lock specialty store. These are designed to be difficult to pick, bump, or drill.
Add deadbolts: Installing a deadbolt lock is a quick and easy way to make your home more secure. Deadbolt sets are locked from the inside with either a thumb-turn switch or a key and locked and unlocked from the exterior using the key.
High-security strike plates: Installing heavy duty strike plates onto doorways that lead to exterior areas can help provide an extra bit of comfort and security to your home. The purpose of a strike plate is to make forcible entry more difficult. These devices are typically added to an in-swinging door's wooden jamb. Strike plates range in lengths from four inches up to 18-inches or even longer. We advise installing extra strong strike plates because the increased length and extra mounting screws securing the plate make them harder to penetrate.
Latch protection plates: Latch protector plates help prevent deadbolts and latches from being pried open or picked. Options are available for in-swinging and out-swinging doors made from any material. Lock cylinder protectors, reinforcement plates, and door security latch guard plates completely cover latches and bolts, and they are an ideal and affordable way to deter home intrusions.
Exterior hinge pin protection: Hinge pins are designed for easy removal, and they can generally be removed with a basic flathead screwdriver or hammered out quickly with a snub-nosed rod and a hammer. This means that an intruder could completely remove the door from the hinges and be inside within minutes. There are three options concerning securing door hinges for outward swinging access points.

Setscrew locks: Setscrews lock hinge pins to one side of your door hinges. When the door is closed, the setscrew is not visible which prevents the ability to remove hinge pins from the outside.
Stud hinges: This hardware is designed to fit into holes on the hinge plate's opposite sides. These studs allow hinge pins to be removed when necessary, however, when the door is closed, they prevent the door from being able to be removed from the frame to keep intruders at bay.
Non-removable hinge pins: Through a manufactured process that flattens the bottom and top of the hinge pins, they become non-removable. We only recommend this in certain cases as a last resort option, as removing these often requires and experienced professional's assistance.
What Should I do If My Home Has Been Burglarized?
One of the worst experiences is the violation of a home burglary. If your house has been broken into, it can be an overwhelming feeling. We wanted to provide a clear step-by-step guide for what to do if this happens to you.
Before you do anything, it's important not to enter the home. For your own safety and in order not to disturb the crime scene, stay outside or go to a neighbor's house. From there you can call the police. Before they arrive, it's important not to touch anything.
10 Important Steps to Take After a Burglary
File a police report: Before doing anything else, call the police. Avoid going into the house or touching broken glass or moving items that may be used as evidence in the meantime. The police will inspect the property for signs of forced entry, speak with neighbors and other possible witnesses and check the house for fingerprints. The police report serves as a written record that a crime has occurred. Once you have filed a report of the burglary, request a copy of it. The police report will be helpful when making an insurance claim.
List the items that have been stolen or damaged: Go through the house, room by room, and make a list of all the things that are missing. Be thorough and carefully look over each shelf and through any jewelry boxes or safes that are in the home. Include serial numbers and an approximation of their value. Don't forget to check for items missing from the garage and missing keys.
Talk to the neighbors: Let others who live in the area know that there has been a burglary in your neighborhood. Ask if they saw anyone around your home at the time of the break-in. You should also ask if they are aware of any similar incidents or have seen any suspicious activity recently. Make note of any helpful information that they give you. Be sure to turn this over to police investigating the burglary along with your neighbor's contact information.
Check for surveillance footage: If you or your neighbors have security cameras around the home and the area, gather the video footage from that day. Share any video that you are able to collect with the investigating police. Surveillance video that captures some part of the crime may also be helpful for your insurance claim.
Gather video and pictures: Take pictures and make a video as you walk through the burglarized house. These can be used to document the crime scene. Videos and pictures also function as evidence of property damage and missing valuables.
Notify your bank: If your home was burglarized, you should inform your bank as soon as possible. Even if your credit cards or checkbook were not among the stolen items, the burglar likely had access to bank statements and other financial documents. You will want the bank to look out for any unusual activity, or close the account entirely, and request new cards.
Make an insurance claim: Look over your homeowners insurance policy to see what items are covered and how soon the claim must be submitted after the break-in. You might be surprised to find out that some of your stolen belongings, even some relatively inexpensive items, may be included in your insurance policy. Collect any evidence of ownership for these things; this could include receipts and photographs of the home prior to the burglary. Once you have gathered the necessary information, contact your insurance company.
Secure the property: Following a burglary, homeowners feel unsafe on their property, and they are. There are usually broken windows, damaged doors or forced locks. It's important to secure the home again for the safety of everyone living there and the remaining belongings. Professional repair companies usually provide emergency services and can help you clean up and secure windows, doors and other access points at least temporarily.
Change the locks and increase security measures: You should contact a professional locksmith to have the locks changed as soon as possible. A trustworthy locksmith should offer onsite assistance even outside of office hours. A home break-in is a strong message that it's time to increase security around your property. Request a consultation with a locksmith and a residential security system provider for advice on how to address the weak points of the house and prevent burglary.
Seek support: A home break-in can be financially and emotionally devastating. It's normal to feel afraid, unsafe and upset. Take time to care for yourself and get in touch with your support network to help recover from the trauma of being burglarized.
Call a Locksmith for Assistance
Trust your local expert locksmiths at Green Valley Lockshop to make sure your home is secure. We can select and install the best residential security solutions. Contact GV Lock at (484) 324-2986 or request a free quote online.