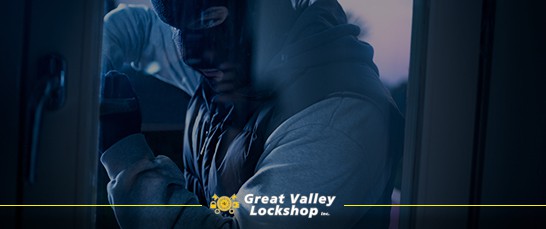 Top 10 Most Burglarized Cities in Pennsylvania
If you feel safer as a homeowner in Pennsylvania these days, the truth is that you are. Police and law enforcement have focused on bringing the rate of violence in the state down. In recent years, like the national trend, violent crime in Pennsylvania has dropped; this is especially true for the western part of the state.
Since 2017, non-violent crimes, however, seem to be on the rise in many areas. An increase in burglary, theft and property crimes in some cities has been blamed on drug problems and the opioid epidemic which is currently affecting the entire nation. Using the latest statistics, we have updated our list to show the top 10 most burglarized and crime-ridden cities in Pennsylvania in 2019.
1. Chester
Known as "Pennsylvania's most dangerous city" – as well as one of the country's top 20 most dangerous cities – Chester made the top of the list for 2019. The rate of violent crime and burglary in Chester continue to be significantly higher than the national average and the average in Pennsylvania. In fact, it has the highest rates in the state for burglary. In 2016, there were 300 reported cases of burglary in this city of just 34,000 people. The good news is that data shows a downward trend in both violent crime and property crime.
2. McKees Rocks
This city ranks among the highest in Pennsylvania for violent crime and murder, and McKees Rocks also has the state's biggest problem with property crimes. All types of illegal activity in McKees Rocks has increased over the last 8 years and is expected to reach a high in 2019. Crime here is higher than most of the rest of the country and state. Based on data from 2015, violent crime in McKees Rocks is 426% higher than the rate in Pennsylvania. Plus, property cases are more than twice the state rate. This means McKees Rocks is one of Pennsylvania's most dangerous cities.
3. Duquesne
Unfortunately, this small city has a high occurrence of burglary. In recent years, it has actually climbed a few places in rank among other towns in Pennsylvania. In 2019, Duquesne also has the largest problem with vehicle theft in the state.
4. New Castle
With the fourth highest rate of burglary, as well as a high instance of property crime and theft, New Castle has struggled to keep non-violent crime down. Though the population is low – just over 22,000 residents in 2019 – break-ins continue to be a problem. But, as of this year, it's important to note that violent crime in New Castle is relatively low.
5. Reading
In Reading, in general, all kinds of crime has been going down over the past 18 years. In 2016, there were 685 cases of burglary reported which was the lowest it had been in this city of 88,000 in nearly a decade. Improvement has also been seen in other categories of illegal activity, which is good news for those who live in this area.
6. Harrisburg
In terms of property crimes, Harrisburg's crime rate is 713 for every 1,000 residents. There have been some ups and downs in both violent crime and property crime here in recent years. In 2016, Harrisburg experienced its lowest reported crime rate in more than 15 years. But annual crime numbers in 2017 showed signs of an increase. Experts will wait until 2019 is coming to a close to make a determination on the current state of law enforcement efforts.
7. Ambridge
Many locals see Ambridge is as a hub of crime. This city has the highest rates in Pennsylvania for property crime and theft, but burglary and other infractions are decreasing. Murder rates and other serious problems are not very high in relation to other cities about the same size.
8. York
The rate of robbery in York is higher than that of Ambridge, and some reports show a higher instance of theft here over Chester. But in a comparison to other Pennsylvania towns, the risk of burglary is slightly lower. It's also true that reported infractions are expected to be lower in York in 2019.
9. Selinsgrove
Selinsgrove is an incredibly small Pennsylvania town with less than 6,000 residents. Violent crime is significantly less common here in comparison to other towns in the state. For burglary and property crime, however, this community ranks just below York.
10. Philadelphia
Philadelphia is the 5th largest city in the country, with a population of 1.58 million. It's also one of the most dangerous, though Philadelphia crime statistics generally show improvement over the past two decades. Yet, 2018 will be remembered as a deadly year, with 351 people killed from violence, according to Philadelphia police reports. In the City of Brotherly Love, burglary remains an issue for residents with nearly 7,000 cases reported in one year. Time will only tell if 2019 will show another rise in crime rates or if the numbers will go down again.
Find out the most important 10 Steps to Take After a Burglary.
Increase Home Security
Whether you live in one of these cities or not, home security should always be a focal point. It's important to safeguard and protect the things and people that are most precious to you. Here are some suggestions for increasing security t your home and minimizing the risk of burglaries.
Get a home security system: Homes without security systems in the United States are up to 3 times more likely to be burglarized.
Get better locks: Locks can play a big role in keeping your home secure. Simply installing deadbolts or high-security locks can be an effective solution.
Keep your yard up: Overgrown shrubs and bushes can tell a potential crook two things – one, that you may not be home and that there are plenty of places for them to hide around your home.

Home security is nothing to take lightly for Pennsylvania homeowners. Request a consultation to review the locks, doors and hardware around your house. Contact the team of professional locksmiths at Great Valley Lockshop today. Call us at 610-644-5334 or request a quote.