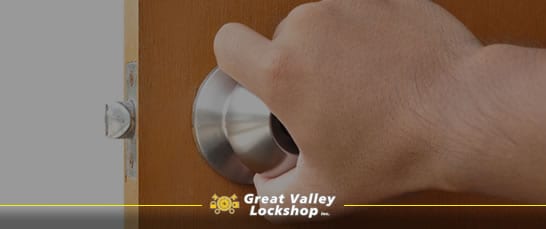 Easy Cleaning Methods for Door Knobs, Hinges, Handles and Knockers
You likely use them every day without giving their cleanliness a passing thought, even when you're doing a thorough spring cleaning of your home. They are building up dirt, grime, and invisible bacteria with each use. That's right, we're talking about door knobs.
The average small home has at least two dozen knobs, not to mention hinges and knockers that are likely the most forgotten part of your doors—at least until they fail or need lubricating. (We can help you fix that door knob at home, too!)
Here at Great Valley Lockshop in PA, we understand that the cleanliness and beauty of your doors is just as important as solid security. With that in mind, we want to offer you some valuable tips for cleaning the most common materials that door knobs, hinges, and door knockers are crafted from. So, get your gloves ready and read on, because most of these cleaning methods involve the use of products you likely have on hand right now.
Considerations Before Cleaning Brass & Copper Door Knobs and Hardware
Brass and copper are two traditional door handle and hinge materials that are seeing a resurgence in popularity in modern homes. While they are susceptible to tarnishing, they can easily be cleaned with a few household products and a bit of elbow grease. However, there are two essential things to ask yourself before you get started:
Is the hardware solid brass or copper?
Does it possess a clear coat lacquer.
Solid Brass or Coated Door Knobs
Before attempting to clean brass door knobs or hardware, you need to determine if it's solid brass or brass-plated iron, steel or zinc, as these should only be cleaned with warm soapy water. Rough polishing or using abrasives is likely to remove the brass plating and damage your hardware.
To find out what you're dealing with, put a magnet on the piece in question. Magnets won't stick to solid brass, so if it does, you likely have knobs or hinges of another material simply coated with brass.
Dealing with Clear-Coated Door Hardware
If your hardware has a highly glossed finish, your attempts to clean the subsurface material will fail. To remove clear coats and get to the nitty gritty, you'll want to use mineral spirits or another solvent. You can always reapply the clear coat after the cleaning process.
Two Easy At-Home Cleaning Solutions for Brass and Copper Door Knobs
Recipe #1:
Create a paste from equal parts of flour, vinegar, and salt. About a tablespoon apiece is a good place to begin, depending on how much hardware you plan to clean. Gently rub the paste onto your solid brass and copper door hardware (pro tip: this works for your cookware, too). Allow it to remain for a few minutes before buffing the paste off with a soft cloth and enjoy the resulting shine.
Recipe #2:
Take a ripened lemon cut in half and coat the exposed inside pulp with salt. Rub the coated surface upon your brass or copper to scrub away dirt, bacteria and tarnish, then follow up with a cotton cloth to remove any residue.
Cleaning Stainless Steel Door Hardware
Cleaning stainless steel can be a bit tricky without beginning with accurate information. Primarily, you need to know what NOT to do in order to avoid damaging the surfaces.
Stainless Steel No-No's Include:
Never use chlorine bleach or chloride containing projects
Avoid using steel wool and other abrasives
Do not use oven cleaners
Avoid using hard water or cleaning stainless steel hardware while it is warm
Use caution when attempting to use popular store-bought cleaning items, as they can damage the finish and leave you with unsightly surfaces.
How You Should Clean Stainless Steel Door Knobs
The easiest and safest way to clean your stainless steel door hardware is to use a soapy, damp soft cloth and then rinse with clean water. However, for stuck on gunk or stubborn residue, you can create a mixture of equal parts of olive oil and vinegar.
You can also douse a cloth with a bit of lemon oil furniture polish, club soda, or WD-40 and rub it into your door knobs and hinges until they are spotless.
Cleaning Sterling Silver and Silver Plated Knobs and Hardware
One of the most tarnish-affected materials on earth, you can remove silver tarnish with a variety of ready-made store bought products. However, if you want to save some cash and time, you might consider this next solution, which would require the temporary removal of some of your hardware.
Take an aluminum tray (the deep disposable trays from the market are perfect) and fill it with one cup of baking soda atop the hardware and then cover them with boiling water. The residue and tarnish will quickly 'melt' away. Once the pieces are cool, you can polish them with a soft cloth to a gloriously restored shine and replace door knobs quickly.
Cleaning Pewter Door Knobs
We know it sounds strange, but cleaning pewter is easily achieved by rubbing external cabbage leaves all around the surfaces. Yes, we're serious! Just rub the leaves firmly over pewter door knobs, hinges and other surfaces to remove buildup and then buff them with a soft cloth to restore their sparkly clean look.
Crystal, Glass or Similar Material Cleaning Solutions
Most general-purpose cleaning solutions will adequately clean crystal, glass and clear plastic knobs and handles. However, use caution to avoid those that contain solvents that can damage your hardware.
Simply spray a bit of the solution onto surfaces, let them soak for a minute or two and then dry and polish them vigorously with a clean cloth. It may take more than one application to get them clean depending on how deep the grime is.
Looking for Door Cleaning or Security Solutions in Pennsylvania?
At Great Valley Lockshop, we take pride in providing local residents with more than 24/7 commercial and residential locksmith solutions. Our mission is to be your source for all things door, hardware and security related. Contact us at 610-644-5334 today for more information about how we can serve you within the communities of Malvern, Kennett Square, Downington, King of Prussia and West Chester.