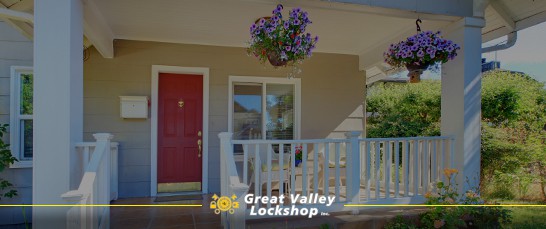 Comparing Steel, Wood & Fiberglass Entry Doors for Your Home
One of the most noticeable features of a home is its front entry door. This is the portal through which most people enter and exit, and is one of the first things people notice when viewing a house. Doors can be built from a wide variety of material choices, but the three most commonly used are steel, wood, and fiberglass. Each has its own advantages and disadvantages.
The Consumer Reports Door Buying Guide notes that energy efficiency is a leading concern for consumers. The report recommends getting a door that is Energy Star-qualified for energy efficiency. Among other energy-efficient qualities, these doors tend to have frames that fit tighter, and also have energy-efficient cores. The guide notes that most door-related energy loss happens because of energy leaks around the door frame, rather than from the door itself.
Wood Doors
According to an article in This Old House, wood doors are natural insulators of heat that can help maintain a room's internal temperature. However, they tend to have less insulating value than steel and fiberglass doors, making them less energy efficient. Wood is quite popular thanks to its versatility, design flexibility, and overall aesthetic appeal.
Unlike metal door frames, wooden door frames do not rust. The hinges, handle and other hardware are easy to install on a wood door, and the material does not crack or chip easily. While steel doors can be dented, this is not true of wood doors. However, wood doors can absorb moisture and rot if not sealed properly.
People living in humid climates are at a disadvantage when choosing doors made of wood because prolonged exposure to moisture can cause bubbles to form in the paint or varnish coatings. Over time, this leads to wear and corrosion. Furthermore, wood doors are also vulnerable to costly termite damage, which can weaken the entire door structure.
Pricing
Hollow-core wood doors are less expensive than ones made of solid wood but lack the same durability and energy efficiency. While a wood veneer or hollow core door is close in price to the cost of a fiberglass door, a solid core wood door is much more expensive. Glass inserts can raise the cost even more. According to Home Advisor, one can expect to pay from $250-500 for an unfinished solid wood door, or $1,200 to $3,000 for a wood door that is ready to install.
Fiberglass Doors
Fiberglass doors are known for being both durable and attractive. This makes them the first choice for many homeowners who are selecting a front door for their homes. These doors do not warp or shift, and hold up well against extreme temperatures. While considered by many to be the ultimate low-maintenance door, they should not be considered maintenance free.
When it comes to energy savings, fiberglass doors have some advantages over both wood and steel doors. Fiberglass doors are tougher than wood doors, and can withstand more extreme temperatures without showing signs of weather-related wear that appear earlier in wood doors. The latest versions of fiberglass doors are CFS-free, making them environmentally-friendly choices as well.
While wood doors are noted for their traditional good looks, technology now enables fiberglass doors to have the appearance of the same grain that you see on wood doors, only on a more durable surface.
Installation of a fiberglass door is much easier than that of a steel door and is noted for its tight, secure fit. However, neither wood nor fiberglass doors are as secure as steel doors.
Pricing
While the initial cost of a fiberglass door tends to be higher than that of a wood door or steel door, the advantages make them a great investment in the long run. They can withstand extreme weather conditions better than steel or wood and are not prone to scratching, peeling or warping, as wood is. Fiberglass doors are maintenance free, a great option for energy efficiency, and typically cost between $250 and $2000.
Steel Doors
These are considered the best in terms of strength and security. Steel doors are very difficult to break into, and a professional locksmith will need to be called if needed for emergency entrance. Installing hardware, or even changing a knob on a steel door can be more difficult than on wood or fiberglass doors.
A steel door will typically also have a steel handle and hinges. It provides a sleek, clean look that can increase the value of a property by adding better curb appeal. Steel doors are typically constructed with 20-26 gauge steel, which will not warp, buckle, rot or crack, but it is recommended they not be painted, so buyers have fewer aesthetic choices. Although typically considered low maintenance, scratches that go through the steel galvanization can lead to rust, if not properly primed and painted. Dings and dents can be pulled and puttied using a car auto-body repair kit.
Like fiberglass doors, steel doors are quite energy efficient, even though steel tends to absorb heat and cold from the outdoors. During their construction, steel doors are filled with foam to maximize their potential for insulation. Thermal adhesives are also used in the construction of steel doors to increase their energy efficiency, as well as their structural integrity.
Pricing
Homeowners can typically expect to pay from $500 – $1,230 for a steel entry door. With glass, the cost increase can be as much as $300 – $1,200. Steel doors that have sidelights can range from $500 — $2,500, with an average price of $1,000 — $1,500.
A Note on Aluminum Doors
Aluminum doors are a relatively inexpensive option (starting at just $200) and you can find a wide range of designs and dimensions. This material is also highly resistant to corrosion. Despite this, however, there are a few reasons why aluminum doors aren't highly recommended.
Aluminum doors react to higher temperatures, expanding when exposed to heat. Expansion can cause problems with the locks in the summer because of the tight fit of the door inside the frame. Because they often have minimal insulation, aluminum doors also tend to be a poor option in terms of energy efficiency. Aluminum doors can also prove easy to scratch, or have the paint flake off in less time, requiring a higher level of maintenance to keep them looking good.
If you do select an aluminum front door, be sure to invest in high-quality locks and hardware. Unfortunately, the standard locksets sold with mass-produced aluminum doors are easy targets of picking and lock bumping.
Home Security Starts at the Front Door
At Great Valley Lockshop, we believe that everyone should feel safe in their own home. For more information on residential security and advice on how your house could be safer, contact GV Lock at (610) 644-5334 or utilize our online quote request form.