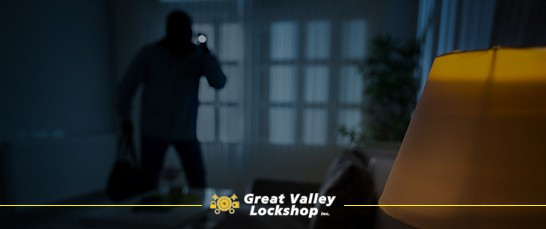 How to Spot the Latest Burglary Trick
It's estimated that 35% of home invasions show no sign of forced entry. While this statistic is alarming, it's more alarming that your home could become part of this statistic depending on the type of lock you rely on for security. Cylinder locks, which make up the majority of locks used on homes across the country, are being targeted by criminals. Find out if your home is at risk and what you can do to prevent a burglary.
The Latest Burglary Trick
Locksmiths are warning homeowners about a "new burglary trick" that is being used to break into residences quickly. They have found evidence of locks being tampered with while homeowners are away, placing a magnet, clear tape, or another flat object across the door's bolthole. This simple method only takes seconds to block the bolt from latching, which essentially keeps the door unlocked.
This enables the burglars to return to the house later and enter the house without being seen. Homeowners are likely to notice that their door isn't locking properly, and this scam works on the assumption that they will not have time to figure out why the lock is faulty in that moment or delay calling a locksmith until the next day. This is the window of opportunity for entering and finding valuables to steal.
Unfortunately, criminals are always looking for new ways to carry out their crimes with greater success and how to take advantage of different vulnerabilities. This trick has been seen often in some residential areas and we think it's important to warn homeowners for their own safety. The good news is that this scam is very easy to detect; if your bolt lock suddenly seems stuck, stop and look to make sure that nothing has been placed in the way of the latch.
What Is Lock Bumping?
This is another trendy burglary method; in fact, it's been identified as a growing threat to residential security. Lock bumping is when a bump key is used to align the pins of a common cylinder lock. It's a picking technique used to unlock a door, usually for the purpose of burglarizing a residence.
With a little practice, few tools, and the opportunity to commit a crime, burglars are able to easily enter homes with cylinder locks. Cylinder locks, typically with a pin tumbler mechanism, are common pieces of hardware used for residential applications. This type of lock has a long history in our country. Unfortunately, home invaders have figured out how to quickly and successfully pick these locks. The technique takes advantage of the mass production of these types of locks, enabling illicit opening of deadbolts and standard key locks.
How Does Lock Bumping Work?
Bump keys, or 999 keys, are special tools designed to help locksmiths, but when they fall into the wrong hands, they can be used to gain access to locked homes. To do this, a burglar inserts a bump key into a lock then uses a mallet or screwdriver to 'bump' it. As the burglar taps the bump key, the pins inside the lock align. Then, the thief can open the door with just a small twist of the key.
Is Lock Bumping a Real Security Threat?
The technique, known as lock bumping, has led to theft and burglaries. And sometimes, homeowners don't even know their home has been burglarized. Police around the country are working to alert citizens about the rise in the use of bump keys. Since 2002, this burglarizing technique has been used by residential thieves. Here are the startling facts about lock bumping:
On most conventional hardware, lock bumping can be completed in about 10 seconds.
Lock bumping is a very easy technique to learn and perform, requiring virtually no special skills.
About 90% of households in America have entry doors equipped with a lock that can be bumped.
It's a non-destructive lock-picking method, meaning that there's likely to be no sign of forced entry. This can be a big issue with insurance companies, as many often require some sign of forced entry to approve claims.
The process to make bump keys is relatively easy and cheap.
Bump keys can now be purchased online by anyone who is interested. They are cheap; bump keys can be bought for as little as $3.
Can My Locks Be Bumped?
Is your home vulnerable to lock bumping? Try answering the following questions:
Are your main entry doors secured with pin tumbler cylinder locks?
Did you purchase your locks from a chain hardware store?
Are your locks fairly new?
If you answer 'yes' to the questions above, it may be time to consider increasing security at your home.
How Can You Prevent Lock Bumping?
The good news is that there are several measures you can take to prevent lock bumping at your home.
Bump-Proof Locks
Many reputable lock manufacturers are now producing bump-proof or bump-resistant locks. These often come with a "UL 437" rating and the locks themselves have small, unique markings near the keyhole. These high-security locks don't rely on the pin tumbler locking mechanisms and are designed to be nearly impossible for burglars to pick or bump. Some versions also have added safety features like a bolt with a ball bearing extension that locks into the receiver of the door frame. Ask your locksmith to suggest a high-security option for your home.
Temporary Lock Guards
Some inexpensive products are now available on the market to prevent lock bumping. For example, you could use a flip guard to hold the existing lock and deadbolt firmly in place even if a burglar tries to pick the lock. The main disadvantage of a product like this is that it can't be unlocked from the outside, even when using the correct key. So, this is a partial solution that can be used when you're inside or to secure the lock before exiting from another door.
Better Visibility Around the House
Lock bumping can be done quickly, but burglars are less likely to attempt it if they can be caught in the act by a neighbor or passerby. Keeping up with yard maintenance helps ensure that thieves have less places to hide while they attempt to gain access to a home.
Guard Dog
While lock bumping is fast and easy to perform, it is a process that makes noise. If a burglar hears a dog barking from the other side of the door after the bump key is tapped, they're less likely to proceed.
Security System
No entry point is 100% secure when it comes to burglary. A good security system can act as the last line of defense, notifying the authorities if your home has been illegally accessed.
Related article: How Ethical Lock-Pickers Help Increase Security.
Request a Professional Security Audit
Consult with a professional locksmith to boost security around your home. The experts at GV Lock can analyze the level of security on your residential property and make recommendations for upgrades in the hopes of stopping a burglary before it happens.
We specialize in residential and commercial hardware supply, installation, servicing and maintenance. Contact Great Valley Lockshop by calling (610) 644-5334 or request an estimate online.