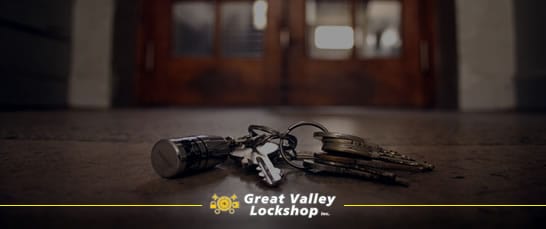 The Best Smart Key Finders
The concept is so simple, but it solves one of our most common and frustrating everyday problems. Losing your keys – whether they're under the couch or accidentally left somewhere else – is annoying. It happens to all of us and can be a huge inconvenience and waste of time. Misplaced keys can also pose security concerns for a residential and commercial properties. In fact, lost keys are one of the top reasons for requesting lock rekeying services.
One of this year's hottest holiday gifts is a key finder system. These smart electronic gadgets may save you countless hours by finding your lost keys quickly. Many shoppers find themselves confused by all the key finder products that are on the market, however. So, we have put together a helpful buyer's guide with some information to differentiate the various options.
See what makes the Tile Mate, TrackR and Esky Wireless systems stand out, and which key finders are the best available.
Tile Mate
This brand introduced the first Bluetooth key finder to the market, which quickly became the top selling product of its kind. Tile Mate is a popular product because it's easy to use and it's not limited to tracking keys. The Bluetooth tile can also be attached to your wallet, purse, or other valuables to help you find them.
There are two locating methods which are helpful depending on if the item was misplaced inside your home or office, or it was left behind somewhere farther away. By using the brand's app, you can activate the tile's audible noise or locate your keys on a map. The app keeps a log of the tracker's location history to show you where it was last. Plus, the Tile Mate community is an innovative way to ask help from fellow users in locating and recovering the lost item quickly. The Tile Mate app can be fully integrated into an automated smart home system and work with voice-activated systems.
Product development has given it an edge over the competition because it is now possible to change out the battery when low, rather than needing to replace the entire electronic fob. If you're shopping around for the best key finder this year, the Tile Mate is often the preferred choice because so many have already been sold. But, it is not the only key finder option, by far.
TrackR Pixel
Similar to the Tile Mate product, the all-new TrackR Pixel provides the user with a set of small fobs which can be attached to your keys or other possessions which tend to wander. It also works with a specialized Bluetooth tracker device and smartphone app to show you where they keys were last located.
Replacing the brand's earlier Bravo tracker model, the Pixel fob includes an audible siren and LED lights which activate when you use the app to locate the item. An added feature allows you to use its finder capabilities in reverse; by clicking on the TrackR Pixel fob, it will make your smartphone start ringing so that you can find it. This works even if your phone is in silent mode.
Now, the TrackR company provides free battery replacements for users. It's really easy; the app notifies you when the battery is low, then you can just click to order a new battery online directly from the app. The 'Crowd Locate' service calls upon other TrackR users to help you find lost items. And 'Family Sharing' allows you to ring your keys from multiple accounts. The key finder device is now also compatible with Alexa voice automation.
Esky RF Key Finder Device
This key finder device works with a radio frequency tracking fobs. The Esky remote can be used to find lost or misplaced keys, along with other items. Rather than a smartphone application, this is a relatively simple device that comes with four color-coded fobs. Users just need to attach the fobs to a set of keys, wallet or other valuable item. Then, when you press the button on the remote, the corresponding fob will light up and the emit sound so that you can locate it. The radio frequency can reach up to 30 meters (nearly 100 feet).

If you like this topic, you should also check out our articles about smart locks.
Your Source for Smart Security Solutions
Great Valley Lockshop provides reliable, professional advice about traditional and electronic locking devices to secure your home or business. Request a security audit or consultation to find the best security solutions for any type of property. Contact GV Lock today at (610) 644-5334 or requesting a free estimate online.