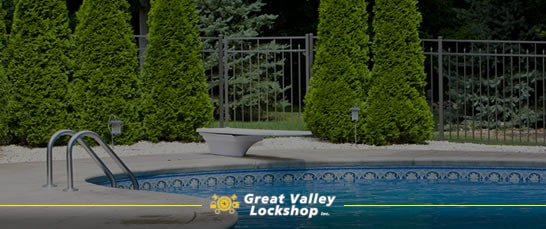 New Regulations for Pool Security – Residential & Public
Whether you have a private backyard pool or manage a community or public pool, safety is surely your main concern. Security measures should always include a gate and a gate lock and there are several options to consider.
Nationally, the number of fatal child drownings has been increasing in recent years and the majority of these tragic accidents happen at residential locations. There were an average of 397 drownings deaths per year between 2016 and 2018 involving children under the age of 15 in swimming pools and spas, according to the CPSC. Last year, as more families staid home and less children were enrolled in swimming safety lessons because of COVID-19 lockdown measures, these numbers worsened.
Although it has been improving over the past two years, Pennsylvania used to rank fourth in the country the amount of drowning deaths and near-drownings in pools and spas. Unfortunately, last year saw a record number of drownings in New Jersey. However, you can make your pool secure and help bring these grim statistics down.
Specifications and Installation for Pool Gate Safety
Generally, both public and residential pools – defined as "any structure intended for swimming, recreational bathing or wading that contains water over 24 inches (610 mm) deep, including in-ground, above-ground and on-ground pools, hot tubs, spas and fixed-in-place wading pools" by the International Swimming Pool and Spa Code (ISPSC) – are subject to the regulations outlined below. 
Pool Fence Specifications
Studies show that many pool drownings are due to a lack of access protection. In order to keep kids safe, experts recommend installing a fence that surrounds the pool or hot tub entirely. In most areas, a barrier is required around both public and private swimming structures. The fencing should reach at least 4 ft. heigh and the bottom of the fence should be no more than 4 in. from the ground. Any openings in the fence should not be larger than 4 in. in diameter. 
Pool Access Gate & Door Specifications
A fence alone does not guarantee that kids won't go in the water. It should have a gate that closes and latches automatically. Magnetic gate latches ensure that the gate closes after every entry and exit to the pool area, preventing unsupervised children from accessing the area. Access gates and doors should open outward, away from the pool or spa. 
Pool Lock Specifications
With the newly released 2021 edition of the ISPSC, doors and gates must be self-closing and outswinging. Doors and gates must also be self-latching. In fact, self-closing and self-latching gates are required in the state of Pennsylvania and many other states. This differs from self-locking hardware which would require a key or access control credential to enter, something that is recommended for public and commercial swimming and spa facilities.  
Unlike other types of doors where opening latch hardware must be installed between 34 inches and 48 inches from the ground in order to be easily accessible, locks on barrier gates and doors around pools are required to be installed higher. Specifically, self-latching doors and gate hardware should be mounted between 52 and 54 inches from the ground level, according to the IBC, and self-locking hardware should be installed 34-48 inches from the ground. There also must not be any openings greater than 1/2 inch within 18 inches of the latch, another measure to prevent children from accessing the lock. 
Easy Unlocking & Easy Exit
As Lori Greene from Allegion explains, egress is always a life safety concern, even when we're talking about outdoor areas. 
"The model codes require releasing hardware that will unlatch the door or gate with one motion, with no tight grasping, pinching, or twisting of the wrist, and with no key, tool, special knowledge, or effort.  Many public pools are considered assembly occupancies, based on the calculated occupant load of the pool and the pool deck within the enclosure.  When the occupant load is 50 people or more, the IBC requires the doors serving the pool area to have panic hardware.  For jurisdictions enforcing NFPA 101 – Life Safety Code, panic hardware is required when the occupant load of the pool area is more than 100 people." 
Types of Pool Gate Locks
In addition to an automatic closing feature, the gate must have a locking device to keep trespassers and unsupervised kids from accessing the pool. There is a wide range of effective locking mechanisms designed to secure pool areas.
Let's take a closer look at options for public, apartment, neighborhood and community pools. For most situations, we suggest keyless or key keypad gate locks.
Keyless Entry Locks for Pools
Many pool owners and property managers are discovering the ease and benefits of using keyless entry locks for recreational areas. For public and community pools with hundreds of residents that require access, it's more secure and cost-effective to go keyless for a number of reasons. Keyless entry systems eliminate the need for making copies of keys and periodically changing the locks.
Apartment complexes and homeowner associations are quickly adopting locks that work with key fobs or proximity cards because it's easy to grant immediate access to pool members. All they have to do is pass their fob or card in front of a digital reader. At the same time, keyless systems make it possible to restrict times the pool can be accessed and block entry to specific users when necessary.
Remember that residential electronic locks are not suitable for this type of application on an exterior gate. If you are doing this job yourself, make sure to upgrade to a commercial-grade electronic lock that is built to stand up to the elements outdoors.
Keypad Access Locks for Pools
The most common keyless entry system for pools are those with keypads. In order to access the pool, members must enter the correct code in the keypad. There is no worry about lost or stolen keys, nor the cost of replacing them or rekeying the lock.
Keypad systems are affordable solutions and the number of members able to utilize them is virtually unlimited. Similarly to a keyless system, pool managers can block access at night or other specific times. Although, we recommend changing the passcode periodically to deter unauthorized entry to the pool.
What Is the Best Lock for a Pool Gate?
Two of the highest-rated pool gate locks for residential safety are the MagnaLatch® Child Safety Gate Latch and the TriLatch made by the Safetech Hardware brand. MagnaLatch® is a magnetic, self-closing gate lock with a opening mechanism that is out of reach for small children. TriLatch requires three points of security with a keyed lock, push button and lift latch. Both of these safety latches can be installed on all types of gates and fences–aluminum fences, vinyl fences, mesh and temporary fences.
Help Prevent Pool Drownings
Pool safety is a serious concern. For both residential and shared swimming facilities, we must take every precaution in order to prevent accidents.
The fence must have a self-closing, self-latching gate with a lock.
Keep chairs, ladders, and other climbable items should be kept inside the gated area.
The pools should have a rigid safety cover.
Always supervise children near water, even if they know how to swim and lifeguards are on duty
Keep life jackets, throw rings and safety devices on hand and visible around the pool area.
Have a first aid kit in case of an emergency.
Stay updated on your CPR certification.
Make sure everyone in your family has had swimming lessons and knows how to swim well.
Stay Safe This Summer with Great Valley Lockshop
If you are looking to increase security around your pool, simply call one of our offices to speak with a lock expert. The team of residential and commercial locksmiths at Great Valley Lockshop can help you find and install the best lock solution. You can reach our office at (610) 644-5334.