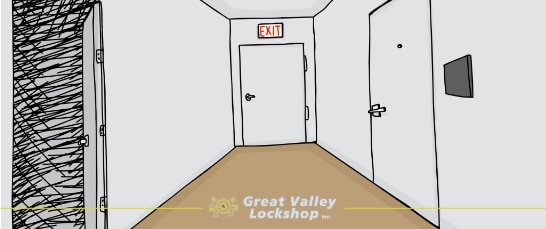 Why Are Door Closers Important Safety Features?
While door closers are not required by law in all jurisdictions, they are typically required in commercial buildings and other places where the public gathers. Yet many owners and maintenance managers of commercial buildings don't really understand the important role they play in life safety. 
What Are Door Closers?
When a door is left open during a fire, it helps fuel the flames and allows the smoke to spread further and faster throughout the building. Door closers prevent this in the simplest way, automatically closing doors leading to hallways, corridors, stairwells, and more.  
A door closer is a type of standard hardware designed to close a door either mechanically or automatically. It's usually mounted on the top of doors or on the door frame. Then an arm connecting the door, the door closer, and the shoe, which is the receiving end of the mechanism. They are often installed on and required for stairway doors as a means to contain the spread of fire and smoke, while also protecting emergency exit routes.  
Why Are They So Crucial in Residential & Commercial Building Safety?
Door closers are important safety features and components of the fire safety plan for virtually any building. They help to limit the spread of fire by keeping doors closed, which can contain a fire to one area and prevent it from spreading to other parts of the building. In some cases, door closers have been credited with saving lives by keeping people from being trapped in burning buildings. 
Lori Greene of Allegion has written extensively about how door closers can help save lives. Here are some examples: 
"I recently shared a report on a Minneapolis high-rise fire, where an open door to the apartment of fire origin compromised the egress route and 5 people died. In a Chicago apartment fire, the residents left the door to their unit open so the cat could escape. When a firefighter was killed during an apartment fire in Maryland, a fire modeling analysis was created to show the effects of the open door."  –iDigHardware, January 2021 

"Last week marked the 3-year anniversary of a senseless tragedy – a fire in the Belmont neighborhood of the Bronx that resulted in the deaths of 13 people, including several children. The fire began when a child was playing with the knobs on the stove in his apartment. When his mother evacuated with her children, the apartment door did not close, and the smoke and flames blocked the egress route for other residents of the building – this was eerily similar to a NYC fire that occurred in 1998." 

"In the news coverage of the Bronx fire, reporters frequently mentioned that the child's mother left the apartment door open, while I repeatedly proclaimed to my computer screen, "THE DOOR SHOULD HAVE BEEN SELF-CLOSING!"  Although for many years the model codes have required interior entry doors to dwelling units and sleeping units to be 20-minute self-closing fire door assemblies, some older residential buildings pre-date this requirement.  Unfortunately, this has resulted in loss of life on multiple occasions."  – iDigHardware, January 2022 
What Are the Regulations Regarding Door Closers?
Failure to comply with these commercial safety requirements can result in fines and even prison time. Plus, building owners are liable for this dangerous, and potentially deadly, type of life-safety violation. 
Related article: What You Need to Know about Fire Doors. 
If you have questions about door closers or other fire safety equipment, you should contact your local fire department.