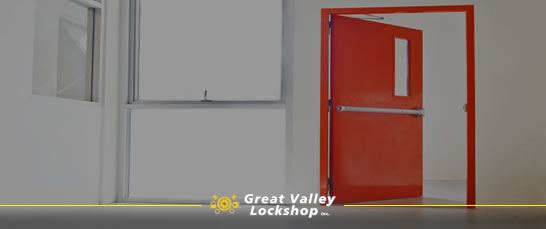 Fire Doors in Your Commercial Building: What You Need to Know
Typical shoppers or patrons may not give a lot of thought to the fire doors at any particular business, such as a store, a restaurant or a club.
Certainly, our knowledge and appreciation of these may change in the event of an actual fire, especially if they're the closest to our location and the rest of the nearby crowd is heading that way. But for the most part, these types of doors don't attract much attention other than perhaps reading that they're not an exit, we're not supposed to use them except in case of emergencies, and that an alarm may sound if we do.
But the usefulness of fire doors can be a different story if you're the owner or property manager of a business or a building. In the event of an actual fire, these doors can serve an important role in keeping flames and smoke from spreading to different parts of your building and can minimize overall costs and property damage. They also can serve as a means of escape for your staff and customers.
Why Do I Need Fire Doors In My Facility?
Fire doors are considered an important part of a passive fire protection system, and along with being a smart safety feature, they are also required by local, state, national and international building codes.
What Types of Fire Doors Are There?
There are a variety of types of doors available, with different fire ratings and compositions. They also can be accompanied by fire-resistant doorframes, hinges, smoke or gas seals, and any related hardware and glazing.
Different styles of doors are also available, which can either match the rest of your décor or stand out as much as possible so they're easy to notice in an emergency. Doors can also be replaced or changed without much trouble, so businesses don't have to be stuck forever with the ones that came with the building.
What Do I Need to Look for When Buying a Fire Door?
While regulations vary from state-to-state, generally speaking each fire door must include a label showing items such as:
The door manufacturer
Whether the opening is equipped with fire exit hardware
Any temperature rise rating
The length of time that the door is intended to resist fire.
Surrounding hardware, such as the door frame, also must have similar labeling, especially the duration.
What Determines The Fire-Resistance Time Requirements?
The amount of time that a door must withstand fire can vary depending on local building codes and location in a particular building, such as closeness to an actual exit or the fire rating of nearby walls. Availability also can be a factor since different manufacturers may only carry certain types of door materials, such as steel or only wood.
How Often Do Fire Doors Need to Be Inspected?
Doors are available in different ratings, often ranging from 20-minutes to 90-minutes. They also need to be inspected at least once a year by a representative from the local fire department.
How to Maintain Your Fire Doors
Just because you install a door doesn't mean you can leave it alone and hope for the best. Besides the annual inspections or any safety sign-offs when it's installed, owners also are encouraged to follow other guidelines.
Don't prop them open.

While it can be convenient to put a wedge in to keep a fire door open to create an easy exit or short-cut or maybe bring in a breeze if it leads to the outdoors, an open door can defeat the fire-blocking capabilities if there is a fire on either side. People rushing in or out likely aren't going to remember to close it behind them either. There is an asterisk here though – some companies do have extra fire doors that typically remain open between departments during the normal course of a day, but they will automatically close in the event of an emergency. However, putting a wedge in to prop these open can disable this feature and prevent this important safety feature.

Don't block it or lock it.

Businesses concerned about people sneaking in or sneaking out without using the main doors may consider blocking or chaining the fire doors for security reasons. Actions like this can lead to injuries or even loss of life if an emergency takes place and people need to evacuate quickly. Finding the doors blocked can be a significant safety hazard and cause further panic for an already scared crowd.

Don't hang onto old doors.

The overall fire resistance and rating of a fire door could deteriorate over time, so you may not get the same protection you would with a newer door. Plus, deliberately not replacing one for years could show negligence on your part if an emergency does occur and attorneys or insurance companies ask about your repair schedule. Your customers, and your insurance company, will likely appreciate it if you're pro-active in making sure all your doors and related safety equipment are all up to date.
Finding the right door
Because there are so many varieties, styles and components of fire doors available, it helps to talk to a knowledgeable lock and door company for recommendations.
Shoppers will also be asked questions such as:
Is the door for internal use or for internal and external use? (Having something that connects to the outside may require additional security features or greater durability).
Is the door going to be connected to the existing alarm system so it will automatically close, or will it have to be opened or closed manually?
Great Valley Lockshop is happy to help you discover all of these answers and find the fire doors that are right for your organization and your budget. Since 1973, it has offered a variety of residential and commercial security products to fit your needs along with providing a strong commitment to service. Call us at (610) 644-5334, or send an email to [email protected] for more details!
Editor's Note: This post was originally published in August 2015 and has been completely revamped and updated for accuracy and comprehensiveness.