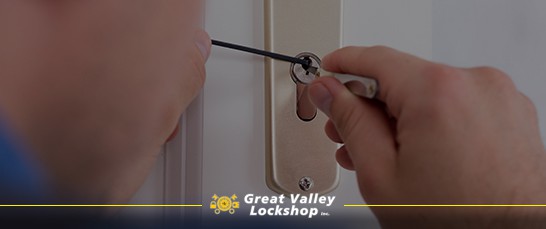 7 Steps to Choosing the Right Locksmith
If you have any sort of problem involving locks, you want to choose a trustworthy, local locksmith who can provide the services you need. Whether it's lock maintenance, repair or an emergency lockout, choosing the right company is key. Hiring a locksmith is a security matter for your home or business. You want to ensure that they are knowledgeable, skilled and deliver quality service. And, of course, you want to pay a fair price for the work.
Unfortunately, there are a lot of unqualified locksmiths out there and commonly run scams which confuse customers. You can find ads online for locksmith companies which seem to be local. In reality, a dispatch center far away sends an unlicensed technician who insists that the service needed costs more than the estimate. Then, they require a cash payment for shoddy work. It's a trap which many home and business owners have fallen into.
So, how can you choose the best individual for the job? Here's how to find a reliable locksmith:
1. Be Clear About the Locksmith Services You Need
The first thing to do is to decide exactly what service you need. You want to be sure, when contacting a locksmith, that they are able to perform the right types of services. Common requests involve:
Installing mechanical or electronic locks at residential and commercial properties,
Rekeying or changing the locks,
Repairing locks,
Making copies or duplicate keys,
Replacing electronic access cards and key fobs,
Supplying, installing or servicing high-security, commercial locks and doors,
Fixing components of a keyless, biometric or access control system,
Responding to emergency calls in case of accidental lockouts or broken locks.
2. Find Out Who Can Provide the Service
Next, get a list of local lock professionals from an online search or a local directory. Find out what services are offered by each provider and narrow your choices down to a few nearby. Call or visit their websites to see which companies offer the particular locksmith services you need. Some companies specialize in either residential, commercial or emergency calls.
If the service you need isn't urgent, find out which locksmith companies can schedule someone to come at a time that works for you.
3. Ask Which Locksmith Providers Are Covered
Your homeowner's insurance, business insurance policy, or automobile association membership may cover the cost of repairing, or installing locks, or for lockout services. If they aren't covered, they may have a list of providers which charge a discounted rate for members.
If you have insurance or are a member of an association like AAA, make sure that the company you choose is covered by it. Sometimes pre-authorization is needed to qualify for coverage. Check with your insurance carrier or membership association to find out the necessary steps.
4. Get an Estimate for the Cost of Services
Then, you should find out how much you will need to pay for the service. If you do have a membership that offers coverage or discounts, make sure that the locksmith's written estimate reflects that. Confirm that the estimate includes all of the related fees and charges. Remember to ask for a written copy of the quotes requested.
5. Request to See Credentials
Pennsylvania does not require locksmiths to have a valid license in order to do business. Yet, if they have a license it can give you more peace of mind. Locksmiths certified by the ALOA, for example, have verified professional knowledge and skills. Locksmith licenses in most states require professional certification and a clean criminal background.
You should also request to see the locksmith's business card. Make sure that the name of the company matches that on the estimate. This type of documentation ensures clients that they are legitimate service providers. Before a hired locksmith begins performing any service, ask to see his or her credentials. If they have professional certifications, they should be glad you asked and happy to show you.
6. Pay Attention to the Documentation
Finally, when the locksmith shows up to do the repairs or services needed, ask to confirm the estimate that was already provided. Don't pay for the service or get out your credit card until you have agreed to the work quoted.
The locksmith may ask to see your ID and fill out an authorization form. Don't worry, this is the sign of a reliable professional. They should ask for identification and other information to confirm that you are actually the property or car owner before starting the job.
The typical authorization form, asks for your:
Name,
Address,
Phone number,
ID number,
Locksmith services requested, and
Signature.
This is standard procedure. Though you should read the fine print just to know what you're agreeing to.
7. Get an Invoice for the Locksmith Services
When the work has been done. Make sure that you get a copy of the invoice with the final cost of services. Any replacement locks, locksmith labor time and special emergency service pricing should be listed in the invoice. You may need submit this itemized document to your insurance company or membership association.
What to Avoid When Hiring a Locksmith
Here are some signs that a locksmith might not be a reputable professional.
Prices that are too good to be true. Often the price you end up paying is much higher.
There is no specified address for the business.
There is no specified service area or the service range is very large. This is often a sign that you are contacting a middleman which will add extra fees to the locksmith's service charge.
Lack of professional certifications, including ALOA certification.
No estimate is provided for repair work.
Bad online reviews.
Learn the Best Ways to Avoid a Locksmith Scam.
Your Reliable, Local Locksmith – GV Lock
At Great Valley Lockshop, we cover everything. We can handle all your residential, commercial, construction and mobile locksmith needs. If you are locked out of your home or car, our licensed technicians even provide 24-hour emergency services. Call us at (610) 644-5334 or request a free estimate.