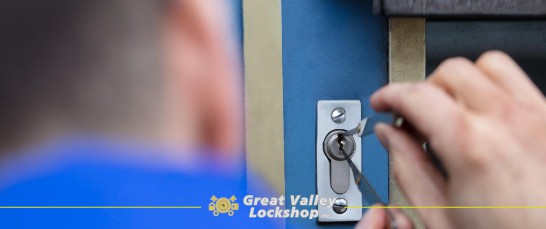 8 Signs that You're Being Scammed by a Locksmith
Locking yourself out of your home or car is probably one of the most annoying things on the planet. It is inconvenient, embarrassing, and sometimes dangerous. When you are already stressed out over needing a locksmith, you likely are not as attentive to detail as you normally would be when searching for a service provider. This can cause you to miss certain red flags and land you squarely in the middle of a locksmith scam.
It happens a lot more often than you might think, but it doesn't have to happen to you. Read on to learn how to spot a locksmith scam, how they do it, and how you can avoid it.
How the Locksmith Scam Works
Customers fall pray to this scam when they look online for locksmith services and click a normally looking search ad. Unfortunately, some of these paid ad spaces are occupied by fake locksmith companies. By all accounts, the ads and websites look legitimate. And they program the ads so that Google search results and maps display them as physical stores in your area. Some even have pictures of storefronts and "customer" testimonials. They are located at the top of search results and their prices are better than average.
These fake lead generation ads may be created by call centers and or individual scammers. Call center operators – that in reality are based out state or outside of the United States – have unskilled locksmith subcontractors on-call. When an unsuspecting requests locksmith services, it sets the second phase of the scam into motion. The operator will give you an irresistibly low quote and then contact a sub-contractor is dispatched to you.
Upon arrival, the locksmith contractor claims to encounter problems with your lock and wind up drilling it. This destroys the hardware and increases the bill substantially. Once finished, he'll claim that the job was more complex than expected and will charge up to 10 times more than the original quote.
The scam banks on the customer's lack of knowledge about how the hardware should really be unlocked and repaired. In fact, most people who have been scammed don't know it. They pay the bill and assume the job was done right.
8 Signs that You're Being Scammed by a Locksmith
There are some key things that are consistent with scam locksmiths that should be red flags to you.
1. The Ad is Too Good to Be True
Low prices are usually a good thing – but if they are too good to be true, watch out! Be wary if the ad offers a discounted rate for first-time customers or makes claims about being the cheapest.
Unscrupulous locksmiths place advertisements offering super low rates to get you back into your home or car – but there's a catch. Once the locksmith arrives and assesses your situation, the price escalates rapidly.
2. The Call Is Vague
When you call, they don't answer with a business name, but instead will say "locksmith" or "service." When the operator quotes you a price, they will tell you a very low price like "$14 and up." First, no locksmith can stay in business by charging such a low rate. Second, the "and up" is what will get you. It could mean hundreds of dollars more than the original quote.
3.The Response Time Is Slow
If it takes the locksmith hours to get to you even though the website and maybe even the operator who took your call promised 10 to 20 minutes, you should be suspicious. Chances are, it is because they aren't as close as they would like you to believe.
4. Lack of Consistency in Appearance
When the scammer shows up, he will likely not be wearing a uniform or have any ID that would show he is employed as a locksmith. Chances are, the vehicle will not be marked, or will have magnetic signage rather than a painted logo for the business.
5. The Locksmith Makes Excuses
When the fake locksmith begins to work on your lock, they will tell you that it is a "high security lock" or "commercial lock" and can't be picked. He will tell you that he has to drill the lock. This will destroy your lock and he will replace it with a cheaper, lower quality lock, but overcharge for it. If they are picking the lock on a car, they will either say it is too new (if it is a newer model) or too old (if it is an older model).
A skilled, professional locksmith will be able to pick a lock without destroying it. Very, very rarely will they recommend drilling it.
6. The Locksmith Seems Inexperienced
If the technician who shows up seems unable to make a simple fix or free a jammed lock, that's because he is! Fumbling with tools, scratching the hardware, damaging the door or lock in the process are all worrying signs of inexperience.
7. They Demand Cash or Debit
The technician may request to be paid in cash, but if you don't have that much cash on hand they may agree to make a debit card transaction. However, they will try to avoid accepting credit cards because they are too easy to trace. The bill will be much more than the original quote.
8. You're Unable to Make Contact After Service
Once the fake locksmith has left you, that is the last you will hear from him or the company. You won't be able to reach the company and if you do get in touch with the fake locksmith he will tell you that the company sets the prices and he has to charge their rates. If you manage to talk to someone at the company, they will tell you that they have fired the technician and there is nothing more they can do.
Do Locksmiths Need to Be Licensed?
There are currently 15 states (and some cities) that require all locksmiths to be licensed: Alabama, California, Connecticut, Illinois, Louisiana, Maryland, Nebraska, New Jersey, Nevada, North Carolina, Oklahoma, Oregon, Tennessee, Texas and Virginia. If you are in a state and the locksmith who shows up to help you does not have a license, he is probably a scammer.
What to Avoid: Warning Signs of a Locksmith Scam
You can avoid getting sucked into a locksmith scam if you take a few precautions:
The best thing you can do is find a legitimate locksmith before you need one. The ALOA Security Professionals Association is a good place to start. You can also ask friends and neighbors for their recommendations.
Check ratings and reviews. You can find ratings of local locksmiths on Yelp, Google MyBusiness, and Angie's List.
Know the signs of a scam and if you notice any, check them out before you hire them.
When the locksmith arrives, ask for an ID that has a name and address. If he is a member of ALOA, he will have a membership card. If you are in a state that requires locksmiths to be licensed, he should be show you one before starting work.
When requesting an estimate, get it in writing on company letterhead. Make sure it includes minimum fees, mileage charges, and other fees.
After you pay, make sure you get a receipt.
If the locksmith wants to drill your lock and replace it, say thanks but no thanks. A professional locksmith can unlock nearly any lock.
What to do if You're the Victim of a Locksmith Scam
If you've been scammed by a fake locksmith, don't just take it – take action! Report to:
The Federal Trade Commission (FTC)
The Internet Crime Complaint Center (IC3) is a special office of the FBI that handles internet related fraud.
Your state's Attorney General's Office to complain about fraud or make a complaint against a business.
Your credit card provider or bank if the service was paid for using a debit card or credit card.
Know the signs, know how to avoid a scam, and take action if you have been scammed.
Related article: Get Tips on How to Choose the Right Locksmith for the job.
Work with a Locksmith You Can Trust
Great Valley Lockshop has been providing residential and commercial lock and security services for over 30 years. When you're searching for a locksmith you can trust, we hope you'll reach out to us by calling (610) 644-5334 or requesting a free quote online. We look forward to helping you regain your security!