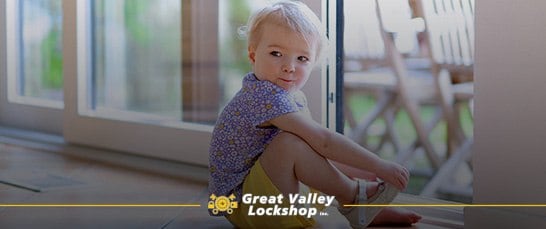 The Ultimate Guide to Childproofing All Types of Doors
Kids are curious and, as you know, the world outside your home is not childproofed. There are literally safety risks all around. Luckily, a range of childproofing solutions to help you secure all types of doors around your house is available.
Exterior doors, door knobs, handles, sliding doors and interior doors can, and should, be appropriately baby proofed to ensure the safety of your little ones. Check out these door-securing devices to prevent your kids from opening a door when you're not looking or pinching their fingers in a closing door. All of these door locking devices for can be found at your local hardware store, baby supply store or online.
Exterior Doors
One of parents' biggest fears is having their little one wander off or go outside without them knowing. Just outside the door of your house or apartment, any number of potential dangers await: traffic in the street, a balcony or a backyard pool, just to name a few. Thankfully there are ways to childproof all types of exterior door.
Deadbolt or Security Chain
The easiest way to childproof your front door is by installing a deadbolt or a security door chain. The deadbolt or chain should be fixed above the door handle and high enough to ensure that children cannot reach the latch and unlock the door even if they find something to stand on, like a chair.
These solutions are easy to install on the door and doorframe easy to unlock for those that can reach it. Some parents choose not to install a deadbolt or security chain because it requires you to remember to lock the deadbolt or reattach the security chain each time you close the door.
Door Knob Cover
For round doorknobs, there are locks available that fit over most standard-sized existing knobs. A doorknob cover prevents a child from opening the door by making it more complicated to turn the knob, similar to child-proof caps on medicine bottles. These types of door securing products are sometimes preferable to deadbolts or security chains because they remain on the knob and you don't need to remember to put them back in place each time the door is used.
There are a few different types available on the market. Some knob covers require the adult to squeeze two buttons simultaneously to operate the door, which can only be accomplished with bigger hands. Other models allow you to turn the knob only by sticking your thumb and index fingers through holes in the cover, but making it impossible for children with short fingers to open the door.
Lever Handle Doors
Doors with lever-style handles are the easiest for toddlers and children to open. By simply grabbing the handle and pulling down, a child can easily get out of the house. Specially designed covers are available which fit onto the door handle. They attach to the door with either adhesive strips or can be installed with screws driven into the door itself.
Sliding Doors
There are also devices available to secure sliding glass doors. Sliding door flip locks are a simple solution that sticks to the glass using an adhesive strip. When the arm of the flip lock is up, it blocks the door from being opened. Then, simply flip the arm down to allow the door to slide open.
We recommend installing this type of device 10 to 15 inches above the latch on the sliding door. This will prevent children from being able to open the door by climbing up or reaching up and unlocking the device.
Interior Doors
When childproofing, it's also important to secure interior doors within the home. You will want to restrict access to areas and rooms that have safety hazards or which cannot be entirely baby proofed, such as the bathroom, basement, utility closet or pantry.
Door Top Lock
A top lock can be a great solution for almost all types of interior doors. Unlike knob or handle covers, this device is installed directly on the door and door frame and it locks and unlocks from both sides of the door. The top lock device can be quickly installed at the top of the door, ensuring that children cannot grasp the latch, yet adults can easily reach up and unlock the door.
Door Monkey
This type of child-proof door locking device simply clips on to the door and grips the door frame, locking the door in a slightly open position. This allows air to circulate and small pets to pass into the room that's off-limits, but not toddlers or children. It's very simple to attach to the door and locks automatically. Additionally, this device also prevents little fingers from getting pinched in doors that slam shut.
Door Unlock Release
For interior doors with locks, you may consider changing out the hardware for a knob with pressure unlock release. To avoid an emergency situation where the child locks his/herself in a bathroom or another room, an unlock release allows you to open the locked door from the other side. Simply insert something thin and long, like a safety pin or very small screwdriver.
Other Tips for Childproofing Your Home
In addition to securing the doors of your home, you should also ensure that windows are childproofed. To prevent kids from wandering outside unattended or falling out of a window, you can install locks to secure windows and alarms to alert you if one is opened.
Related articles:How to Properly Secure Your Pool Gate and Teaching Your Children About Home Security & When to Trust Them with a House Key.
Secure the Doors in Your Home with Great Valley Lockshop
We have five convenient locksmith locations in the Malvern, PA area. If you need to make your home more secure, call to consult with our locksmith professionals at Great Valley Lockshop. You can reach our offices at 610-644-5334. We look forward to helping make your home a safer place for your children.