How Weather Affects Your Keyless Lock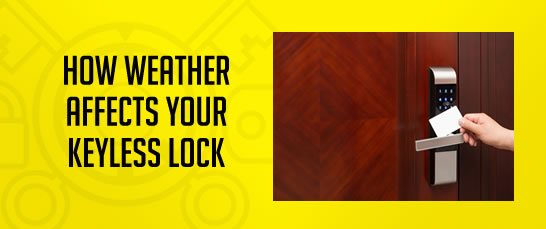 We've all been there, running behind getting into the office in the morning. You scramble for the keys in your pocket to unlock the door to start business for the day, locate the right one and stick it into the keyhole of the doorknob. Except it won't go in. Yes, the night before temperatures plummeted and your door lock is completely frozen, a situation that's going to put you even further behind schedule as far as your day's work after you spend the necessary time getting the issue resolved to regain access.
Like we said, we've all been there – no matter whether the lock is to a home or business. And when you're in such a situation, DIY lock "hacks" or phoning a locksmith are the best courses of action to resolve the situation. Often times, the latter is necessary for locks impacted by weather situations to prevent significant damage to the lock itself.
Enter keyless locks, which are becoming increasingly popular in the business world for both their security and convenience features. Among the lines of the latter, one of the most often overlooked advantages of keyless locks is that they're not susceptible to a lot of the issues that standard locks are during cold snaps and heat waves. There are certain things to know, however, on the impact that weather has on these types of locks:
Weather and Keyless Locks
First things first, just because keyless locks don't include the keyhole doesn't mean that there still aren't some things to take note of when it comes to this style of lock. For instance, keyless locks come in two main configurations – mechanical and digital (i.e. electric).
As the configurations suggest, electric keyless locks typically run on batteries and mechanical locks work similarly to how conventional locks do, just without the need for a key. Digital locks are nice because users can program multiple codes for different employees and can often integrate the locks with mobile devices via apps. The mechanical keyless locks are more basic in nature, usually only working with one universal code.
So what are some of the ways that weather can impact keyless locks? Here's a look:
Battery drain
What happens to your cell phone battery in the winter when subjected to prolonged periods of cold weather? It drains, and it drains pretty fast. That's one of the considerations users need to weigh when it comes to the digital lock format. Being that they run on batteries, cold snaps have the potential to drain battery life.
All said, users typically need to change out batteries on electric locks about once a year. They may have to do it more often if the lock they've chosen doesn't help prevent battery drain from cold snaps.
Mechanical issues
No matter what type of a lock it is, it's likely not going to be immune from mechanical issues that could affect how well it functions. While mechanical issues are perhaps more common with keyed locks, weather can play a role in how well keyless locks also open and close. For instance, exposure to high or low temperatures often takes its toll on the functionality of any type of lock.
It's why regardless of the type of lock that you have installed within your home or business, you ensure that you don't shrug off the occasional maintenance it will need. It's always better to be proactive rather than reactive when it comes to locks. Regularly oiling the locking mechanisms can often be the solution to poor functionality.
Access code jamming
This is more common with the keyless locks that require users to punch in an access code on a keypad. One weather-related issue to keep an eye out for is situations where the keypad gets wet. This is especially important if this moisture then has the potential to freeze, as it could potentially cause the keypad buttons to jam, thereby preventing access.
It's All About the Type of Keyless Lock
While keyless locks may not be immune from challenges that are caused by the weather, keep in mind that certain types of locks perform better than others in extreme hot or cold situations. For example, many types of keyless locks are purpose-built these days so that weather has no affect on how they perform. We'd recommend that you select a weatherproof lock accordingly or get in touch with your local locksmith for some recommendations if you're really serious about ensuring that your business locks aren't going to come in the way of productivity and efficiency.
Weatherproof keyless locks often cost more than standard keyless locks, but sometimes the additional cost can pay for itself versus dealing with any downtime from lock issues that are experienced. Weatherproof keyless locks are designed and built to be more rugged and more durable than conventional ones.
Though keyless locks are in general more expensive than conventional deadbolts and door locks, they make up for it in convenience – which can be a big benefit for businesses of all sizes. And one of the ways that these types of locks are more convenient than alternative styles is when it has to do with functionality and resiliency, especially when it comes to fluctuating temperatures and anything else that Mother Nature might throw your way.
While keyless locks aren't free and clear of regular maintenance to ensure their long-term effectiveness and potential, they tend to be much more of a worry-free option. And when it comes to running a business, you don't want to be worrying about seemingly routine things like door locks.
For more information on keyless locks, the maintenance and upkeep associated with them, and how they're affected by the weather outside, contact Great Valley Lockshop today at 610-644-5334.