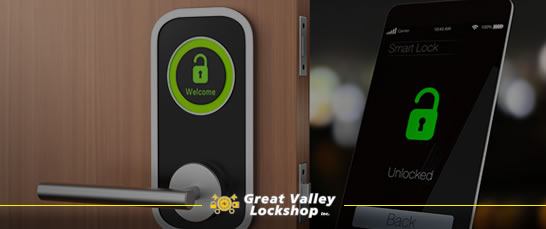 Keyless Lock Technology for Commercial Needs
The advantages of keyless locks speak for themselves. For businesses, going keyless means simplifying everyday activities at the office, increasing security and getting rid of a few headaches.
The convenience of remote lock operations, keyless entry and real-time traffic reporting are some of the main reasons why many companies are adopting this technology. Plus, business owners no longer need to worry about making copies of keys, or having them misplaced, lost or stolen.
What Are Commercial Keyless Locks?
This type requires either a hard-wire electrical connection or a battery for the locking mechanism to function. It's a versatile keyless option for keyless access control systems on a wide range of office and commercial buildings. Electronic locks can be programmed to grant access using a security code typed into a keypad, a set of key fobs, or proximity cards.
Electronic locks can be easily be integrated into a business' automation or security system. Plus, they can give business owners to power to check incoming traffic in real-time and customize security settings to fit their business. At any time, the access system can be programmed to deny entry to all or some individuals who may try to enter the building. Entry to restricted areas or high-security buildings can be limited to specific individuals. And it's possible to limit entry to specific hours and days of the week as needed.
Advantages of Keyless Lock Systems for your Company
Because keys can be lost, duplicated or stolen, keyless entry solutions have a lot of practical benefits. They can provide custom access programming, digital archives, as well as increased security and convenience.
Tailored Access – One of the biggest advantages of any keyless entry system is the ability to customize who can get through the door and when. Because each employee has a unique access code, card or device, employers can customize who has entry rights to which door. They can even adjust when each person is allowed to enter, so that employees can't access restricted areas at inconvenient times or enter a building after hours.
Digital Records – Another perk of keyless entry and smartphone systems is that they can keep an accurate log of who has used the door. This is can be advantageous for safety reasons but can also be utilized by HR to track employees' work hours.
High Security – Though some business owners might be concerned about hacking and digital security as door locks are connected to mobile technology, manufacturers rely on special, highly secure encryption to guard against this. Plus, the ability to integrate the smart lock with the existing security system means seamless protection for your commercial property.
Convenience – A mobile lock system is better than other keyless entry systems because of the great deal of convenience that it provides. A smart lock system doesn't require authorized employees to locate a keycard or remember an access code—they simply have to wave their phone in front of the door. The ability to lock, unlock and monitor entry gives business owners the power to manage the building even when out of town.
Affordability – As R&D improves, so does the overall product and the overall cost of the product. Development has picked up in this sector, and the cost of these products have dropped. These days, you can find a commercial grade smart door lock for less than $50.
Types of Keyless Locks for Commercial Use
You may be wondering what type of keyless lock is right for your commercial property. Here is a simple overview of the different options currently available on the market. We've also provided some factors to consider when you're ready to make the switch to keyless.
Mobile App Keyless Entry Systems
In recent years, remote keyless systems have become the norm for most car owners; imagine the same technology applied to your business with the added benefit of being able to control the locks remotely and monitor who is entering and exiting from your smartphone.
Keyless systems controlled with mobile apps systems can lock doors, control thermostats, lighting, window shades, security systems, conference room and A/V equipment, and more. Smartphone locks, which have been growing in the residential market, involve a special app that's downloaded onto a mobile device, like a phone or tablet. The mobile application uses Bluetooth or Z-Wave technology to wirelessly connect with a reader that unlocks or locks the door.
Staff with access permission can unlock the door with their phone. Plus, managers or personnel can grant access to others remotely. Most smart lock devices are designed to attach on the inside of the door, to your existing deadbolt or door lock, allowing the traditional key to be used as a backup.
Biometric Lock Systems
These systems are electronic locks which rely on biometric input to identify individuals and grant access. They usually use fingerprints or palm prints, or more advanced systems may scan facial features or eyes. Biometric entry systems also allows business owners to remotely time-stamped entry data and program security settings to work specifically with their business needs.
In addition to being convenient for business owners and office managers to use, biometric access systems are extremely accurate. They are flexible and scalable solutions which allow companies to increase security and accountability.
Keyless Mechanical Locks
These keyless locks have been around for more time, but continue to be a great commercial solution. To get into the office, users just have to punch in a security code. The keypad can be installed on the outside of the commercial building, at the security gate or parking lot entrance. It does not require batteries or electricity. When the correct code is keyed in, the high-security mechanical lock opens.
Because of the simplicity of mechanical locks, many businesses still rely on this type keyless lock. They are easy to maintain and make it possible to avoid electrical or technical issues.
What is the Best Keyless Solution for Your Business?
Choosing a keyless lock can be a challenge for any company. There are so many options available today. When making this important decision, consider your business' structure, size and activities. Here are some key questions which will help you find the best commercial-grade keyless lock solution.
Structure
What type of doors that need to be secured?
What material are they made of?
Are they interior or exterior entry points?
What is the condition of the existing doors and hardware?
Restricted access areas should be secured with advanced biometric access systems. Keyless mechanical locks may be better suited for exterior doors which will be exposed to the weather. But you will also want to consider the doors and hardware that you currently have for the office. If the hardware on the doors is high-quality and has recently been installed or upgraded, you may want a keyless lock system that can work with the existing hardware.
Size
How many occupants are in the building?
What amount of traffic will that entry point need to accommodate?
How many doors need to be operated with keyless locks?
Will access need to be restricted for some users or certain parts of the building?
For example, high-traffic entryway are best served with electronic locks and access card or key fob systems. These systems verify users quickly and won't block entry by creating lines. Biometric systems, on the other hand, are recommended for buildings or areas of the building which will be accessed by a low number of users.
Activity
How is the building used?
What are the hours of business?
What level of security is appropriate for your company?
When selecting a commercial keyless lock system, think about what happens throughout the day and throughout the year at that building. Consider the type of users who need to access it, not just staff and employees. Users also include outside service providers, cleaning, repairs, technicians and delivery personnel. You should also think about the time of day that entry is permitted and when access needs to be restricted or blocked completely. Above all, consider the amount of security that your company requires.
It seems that smartphones are capable of doing something new every day, from translating speech to monitoring your heart. Now, you can use applications on your phone to remotely lock and unlock doors from wherever you are.
With the added security and convenience that today's mobile technology provides, smartphone locking systems are rapidly becoming the standard of commercial entry and access.
New Developments in Keyless Lock Systems Designed for Businesses
The possibilities for commercial applications and public facilities are growing every day. For example, offices can integrate smart locks into their automated security system. Industrial complexes can use these systems in areas that are highly secure or potentially dangerous. Retail buildings could use keyless locks to help protect inventory and guard against theft. Government facilities, hospitals, college campuses and other public facilities that have large numbers of people passing by restricted areas can also benefit from secure keyless entry systems.
Some smart lock systems now offer special features that can increase security beyond the simple lock. For example, a few brands include security cameras to show who is requesting access or visually monitor who is entering or exiting when the door is opened.
Lately, tech companies are working with various smart lock brands to develop innovative mobile entry technology. The newly launched Amazon Key system uses remote-controlled locks to grant access for delivery staff via a smartphone app. Other companies are in the process of developing smart locks that are compatible with Alexa and Google Assistant.
Related article: 5 Factors to Consider When Changing the Locks on a Hotel.
Does Your Business Need Access Control with a Keyless Lock System?
Read on to learn about Keyless Lock Options for Your Home and Benefits of Commercial Access Control Systems.
For more information about smart locks, and other commercial security solutions, contact Great Valley Lockshop at (610) 644-5334 or request a free estimate using our easy online form.