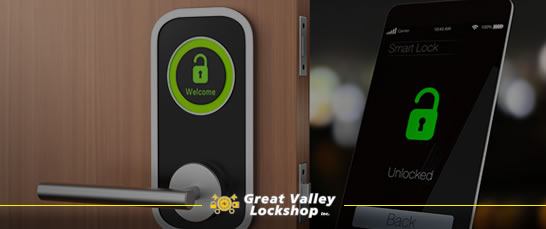 Mobile & Smartphone Locks – Technology for Commercial Entry Access
It seems that smartphones are capable of doing something new every day, from translating speech to monitoring your heart. Now, you can use applications on your phone to remotely lock and unlock doors from wherever you are.
With the added security and convenience that today's mobile technology provides, smartphone locking systems are rapidly becoming the standard of commercial entry and access.
How Smart Locks Work
In recent years, remote keyless systems have become the norm for most car owners; imagine the same technology applied to your business with the added benefit of being able to control the locks remotely and monitor who is entering and exiting from your smartphone.
Automated smart systems can lock doors, control thermostats, lighting, window shades, security systems, conference room and A/V equipment, and more. Smartphone locks, which have been growing in the residential market, involve a special app that's downloaded onto a mobile device, like a phone or tablet. The mobile application uses Bluetooth or Z-Wave technology to wirelessly connect with a reader that unlocks or locks the door.
Staff with access permission can unlock the door with their phone. Plus, managers or personnel can grant access to others remotely. Most smart lock devices are designed to attach on the inside of the door, to your existing deadbolt or door lock, allowing the traditional key to be used as a backup.
Advantages of Smart Lock Systems
Because keys can be lost, duplicated or stolen, keyless entry solutions have a lot of practical benefits. They can provide custom access programming, digital archives, as well as increased security and convenience.
Tailored Access
One of the biggest advantages of any keyless entry system is the ability to customize who can get through the door and when. Because each employee has a unique access code, card or device, employers can customize who has entry rights to which door. They can even adjust when each person is allowed to enter, so that employees can't access restricted areas at inconvenient times or enter a building after hours.
If the company needs to deny or restrict access for any reason, it just takes a few clicks to block the device. Businesses no longer need to worry that disgruntled employees have made duplicate keys or that a lost or stolen key might be used by burglars or vandals. If a mobile device is stolen or misplaced, employers simply have to adjust the lock system through the app ensure that they maintain a secure facility.
Digital Records
Another perk of keyless entry and smartphone systems is that they can keep an accurate log of who has used the door. This is can be advantageous for safety reasons but can also be utilized by HR to track employees' work hours.
High Security
Though some business owners might be concerned about hacking and digital security as door locks are connected to mobile technology, manufacturers rely on special, highly secure encryption to guard against this. Plus, the ability to integrate the smart lock with the existing security system means seamless protection for your commercial property.
Increased Convenience
A mobile lock system is better than other keyless entry systems because of the great deal of convenience that it provides. A smart lock system doesn't require authorized employees to locate a keycard or remember an access code—they simply have to wave their phone in front of the door. The ability to lock, unlock and monitor entry gives business owners the power to manage the building even when out of town.
New Developments in Smart Lock Systems
Some smart lock systems now offer special features that can increase security beyond the simple lock. For example, a few brands include security cameras to show who is requesting access or visually monitor who is entering or exiting when the door is opened.
Lately, tech companies are working with various smart lock brands to develop innovative mobile entry technology. The newly launched Amazon Key system uses remote-controlled locks to grant access for delivery staff via a smartphone app. Other companies are in the process of developing smart locks that are compatible with Alexa and Google Assistant.
Innovative Applications for Mobile Keyless Entry
Where might these locks be used? Hotels and private rental properties are already widely using keyless entry and privacy lock systems. Currently, the possibilities for commercial applications and public facilities are growing every day.
For example, offices can integrate smart locks into their automated security system. Industrial complexes can use these systems in areas that are highly secure or potentially dangerous. Retail buildings could use keyless locks to help protect inventory and guard against theft. Government facilities, hospitals, college campuses and other public facilities that have large numbers of people passing by restricted areas can also benefit from secure keyless entry systems.
Want to Install a Smart Lock System?
Read on to find out how to select the best smart lock device for your business and what to consider before purchasing an access control system.
For more information about smart locks, and other commercial security solutions, contact Great Valley Lockshop at (610) 644-5334 or request a free estimate using our easy online form.