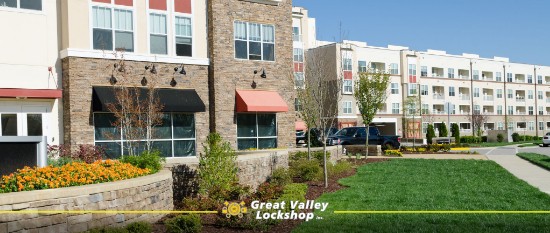 Access Control System Installation for University Housing Facilities
Great Valley Lockshop was subcontracted by a private company to assist with wiring and installing 34 interior and exterior doors with card access security and emergency access into off-campus housing units for a Pennsylvania University.
Locations
This project took place in two locations. Phases 1 and 2 took place in Middletown, PA. Phase 3, which started in early 2014, was located in Harrisburg, PA.
Project Challenges
The Need for Advanced Technology
In order to offer superior security and convenient features to the students living in these off-campus housing units, Great Valley Lockshop pre-wired 34 doors with Schlage battery-powered locks. This particular model of Schlage locks can be operated by a smartphone, allowing students to enter and exit without the need for a physical key. These locks are also centrally managed by a computer, which makes controlling them simple and efficient.
Working alongside the alarm contractor, GV Lock also ensured that all doors worked in conjunction with the alarm system so that they open quickly in emergency situations.
Coordinating Efforts
With multiple sub-contractors on this project, Great Valley Lockshop had to communicate with multiple companies in order to make sure the entire project was not only complete and met the expectations of the general contractor and the client. Working alongside the fire alarm contractor, general contractor and door supplier, GV Locks' locksmiths kept the project moving along with minimal delays.
Results
Due to the fantastic results of the previous 2 phases, Great Valley Lockshop was hired for phase 3, which began in the winter of 2014 and is expected to complete in August 2014. Phase 3 includes installing similar locks and doors in an additional nine, off-campus housing units located in Harrisburg, Pennsylvania.
Get more information about the Advantages of Keyless Access Control Systems on University Campuses.
Learn more about the university and campus locksmith services provided by Great Valley Lockshop.