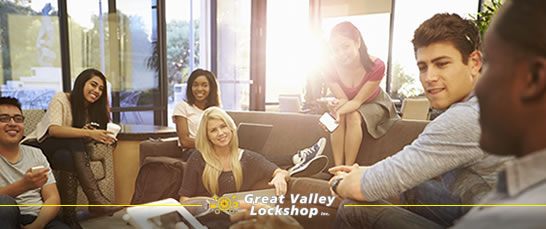 College Dorm Room Security Tips
There are an average of 11,000 burglaries and robberies in college dorms on American campuses every year, according to the Department of Education. Penn State University, for example, averages 56 dorm burglaries and robberies each year. While colleges and residence halls do as much as they can to keep you and your valuables safe, the statistics show that you still have to be proactive when it comes to personal security.
College Dorm Safety Tips
Keep Your Door Locked
About 40 percent of dorm residents say they leave their door unlocked at times when they are not in their room. Most dorm burglaries happen in just a few seconds. That's all the time It takes for a thief to walk into an unlocked dorm room and scoop a smart phone, laptop, tablet, purse and a couple of $150 textbooks into a backpack. Keep the door locked even when you are in your room. Deadbolts and peepholes exist for your safety if a stranger knocks on your door; so use them!
Lock the Windows
Any time your room is unattended or if you are asleep, it's a good idea to keep your windows locked. Don't assume that just because you're on the second floor that your valuables are safe, either.
Know Your Dorm Security Policies
Most dormitories use a keycard or other system to secure the entrances. Those doors will be locked at set times, usually overnight. You should know and follow the rules, which exist for your safety. Entrances should never be propped open after hours because it can put you and everyone else in the dorm at risk.
Buy a Dorm Room Safe
You're most likely not going to carry all of your valuables to every one of your classes. Dorm room safes are relatively inexpensive compared to the amount of electronics that the average college student owns these days. See the list of security products below for some ideas on a safe that works for you.
Keep Track of Your Keys
Never loan out your room key to anyone. The same goes for your student ID. Many colleges now let students pre-load money on the ID for using different amenities around campus. You can also download apps on your smart phone that will help you find your keys if you lose them.
Emergency Exits
You should know where the emergency exits for your dorm are in case of a fire or other emergency.
Share Your Schedule with Family and Friends
Provide a copy of your schedule to family members or close friends. You'll want others who are close to you to have a general idea of your location in case of emergency.
Use the Elevator
Stairwells can be cramped and isolated, which is why attackers prefer them. Use the elevator and if you must take the stairs, especially after hours, go with a friend.
Carry Self-Defense Spray
A can of pepper spray is relatively cheap and you can carry it on your keychain. Learn how to use it and get used to carrying it around.
Purchase Renter's Insurance
Many insurance companies offer a $10,000 renter's insurance policy for as little as $10 to $15 per month. You may never see your laptop again if it is stolen, but at least the insurance will cover the cost of replacing it. A renter's policy can also cover any items stolen from your car. This is a cheap investment compared to having to replace all of a student's electronic devices after a burglary.
College Dorm Security Products
Adding some more safety and security products to your dorm room can keep you even safer and give you additional peace of mind. Most dorm burglaries happen very quickly, so if you throw some extra security measures in a thief's way, the few extra dollars you spend will be well worth it. Here are some of the most popular products for parents and students to consider.
Computer Lock
Several companies sell a simple cable lock system that can secure a laptop or desktop computer directly to your desk. Some are even portable so you can lock your laptop down in other locations, such as the library. You can also purchase anchor lock cable systems that attach multiple devices together, such as a desktop, monitor and printer.
Door Alarms
These are relatively inexpensive and attach to your door with adhesive. If an intruder opens your door at night, the piercing alarm will wake you and your neighbors up.
Window Alarms
There are many window alarms that are battery-operated and stick directly to the glass. If anyone tampers with the window, the alarm goes off.
Dorm Room Safe
A dorm safe is a great way to secure your valuables when you're not in your room. A company called Yak About It sells inexpensive dorm furniture such as bookshelves and wardrobes that include a lockable keypad safe. For additional security, consider a computer safe such as an Iron Brick for your PC or Mac.
Tracking Tags
These are nice safety devices that you can attach to a computer or other mid-sized item. It connects through Bluetooth through your phone and emits a noise that can be heard up to 200 feet away.
Tracking Apps
Where's My Droid and Find My iPhone are popular apps to help the authorities track down your smart phone if it is stolen. Backblaze is a piece of software that can pinpoint the IP address of your PC if it is stolen. For Apple users, a program called Find My Mac can lead the police to a stolen Mac.
Contact Great Valley Lockshop
Great Valley Lockshop has been in business since 1973. Our locksmithing and security experts have helped colleges and universities all across Pennsylvania to upgrade their building and dorm security systems. You can send us a message using our free estimate form or call us at 610-644-5334. We can help install deadbolts, dorm room safes and other security features to give you or your student added peace of mind.