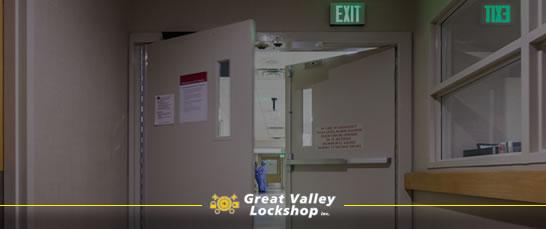 Delayed Egress Doors: Their Purpose and Installation
Delayed egress doors delay any unauthorized persons who attempt to exit through an egress door while still permitting egress when necessary. These doors are used in a variety of healthcare, commercial and industrial settings as a means of stalling, and hopefully catching, any unauthorized individuals who try to exit a building.
Delayed Egress Doors Work on a Delayed Locking Mechanism
The International Building Code (IBC) identifies a delayed egress door as one that has a non-mandatory locking system which is permitted on egress (exit) doors in certain situations.
The non-mandatory locking system works in conjunction with a door's other latches and locks to delay — but not prevent — unauthorized exits. Most systems are designed to delay exiting by 15 or 30 seconds, although the time frame can be a different duration. This time gives security personnel or other individuals a few extra moments to catch up to an unauthorized person who's attempting to exit (e.g. a patient who's trying to leave prior to discharge or a criminal who's fleeing from a building).
In addition to the delay mechanism, many doors are also equipped with an alarm. In most cases, a door's alarm will sound after its delay is over and the door opens. This is to ensure that security or other building supervisors are aware of any potentially unauthorized exits.
Thus, delayed egress doors provide a way to restrain or release an egress door that otherwise must remain operational from the egress side. Technically, these systems can be installed on many different doors, but they're primarily used on doors that are within an exit path. Hence, their name "delayed egress doors."
(Authorized personnel is able to exit through doors without delay, usually by means of a traditional key or key card.)
Delayed Egress Doors Must Be Approved Prior to Installation
Delayed egress doors, obviously, can pose a safety hazard when they're installed improperly or used in inappropriate situations. While uncommon, there are certain scenarios where a 15- or 30-second delay can cause great harm or death to people. For example, during a fire people may not be able to safely wait for a few seconds until a door opens.
For this reason, these doors must be installed with certain safety measures in mind. It's common for doors to automatically release when a fire alarm goes off so that people aren't waiting for a door to open during a fire. While this removes the delay's added protection against burglary or other unauthorized exits, there are other emergencies that call for attention when a fire alarm goes off.
Additionally, all delayed egress must be approved by the appropriate authorities before the doors are installed. As the National Fire Protection Association (NFPA) notes, all relevant "authorities having jurisdiction" (AHJs) must give authorization for a door. AHJs are broadly defined. They may include federal, state, county, city and town authorities, as well as local departmental offices and anyone who's responsible for the materials kept within or installations done in a building.
Finally, all delayed egress doors must naturally meet all applicable codes. By the time a door has been approved by all involved AHJs, however, it almost certainly is up to code. Additionally, a door that does meet all codes still can't be installed without authorization from AHJs — even doors that do meet all codes can't legally be put in until authorization is obtained. Thus, codes must be followed, but doors usually already meet all codes by the time the installation process reaches this stage.
Commercial Locksmiths Can Help with the Installation Process
For help going through the process of installing a delayed egress door, contact us at Great Valley Lockshop. Give us a call at (610) 644-5334 or fill out our free, online estimate request form and one of our friendly representatives will contact you.
As a commercial locksmith, we're familiar with both the formalities that must be attended to when putting these doors and the installation process itself. We'll guide you through selecting a delayed egress model, seeking authorization from AHJs and making sure a door meets codes. Of course, we'll also take care of installing the door for you, too.