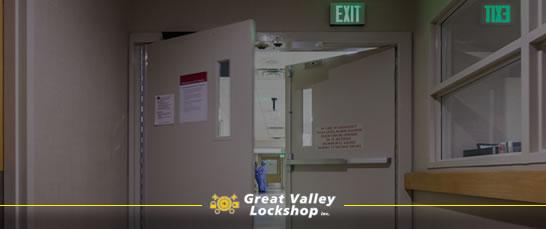 Function and Installation of Delayed Egress Doors
Delayed egress doors are specifically designed to prevent a door from opening immediately when someone tries to exit under normal circumstances. Yet, to ensure the safety of all occupants, this special type of door allows easy exit in emergency situations.
For various public and commercial buildings, delayed egress doors provide a safe solution to a wide range of issues. Depending on the state jurisdiction where the doors are used, either the local Fire Marshal or Building Inspector is responsible for verifying correct installation.
What is a Delayed Egress Door?
Delayed egress means that a door, which otherwise must remain unlocked to allow quick and easy exit from one side in case of emergency, can be blocked for a short interval. These systems can be installed at many different types of access points, but are primarily used on doors within an exit path. Delayed egress doors have three important jobs:
They temporarily block unauthorized exit from a building or area;
They alert personnel of the attempted exit; and
They fully allow egress in emergencies.
Temporarily Blocking Unauthorized Exit
The International Building Code (IBC) identifies a delayed egress door as one that has a non-mandatory locking system integrated into exit doors which can be used in certain settings. The non-mandatory locking system works together with a door's other latches and locks to delay — but not inhibit — unauthorized exit. Most systems are designed to delay exiting by 15 or 30 seconds, although the time allowed can vary.
It's important to note that authorized personnel can exit through doors without delay by using an electronic access control card.
Alerting Personnel of Attempted Exits
Many delayed egress doors are also equipped with an audible alarm. In most cases, the alarm will sound when someone presses on the crash bar. The alarm will continue to sound for the delay interval. This notifies security staff or building supervisors of the unauthorized exit. After 15 or 30 seconds, the delayed locking mechanism releases allowing the person to exit.
Enabling Emergency Egress
Preventing people from exiting a building poses a serious safety hazard. Even a delay of 15 or 30 seconds can cause an emergency situation to become life-threatening. For this reason, delayed egress doors automatically release the instant the fire detection system or emergency sprinkler system is activated. The doors will also unlock in case of a power outage.
Function of Delayed Egress Doors
This type of door is often found in healthcare facilities, schools, and other educational settings, airports and other public and commercial buildings. The purpose is to give time to address an unauthorized exit from the building or area of the building.
This delay helps medical staff keep a patient from leaving before they are discharged. It also prevents travelers from exiting an airport between security checkpoints. These are just a few examples of settings in which delayed egress doors help ensure the safety of all.
Installation & Authorization
These doors must be installed with respect to certain safety measures and building codes. These doors must meet all applicable fire and building codes. Delayed egress must also be approved by the appropriate authorities – federal, state, county and city fire and building officials – prior to installation.
Assistance with Exit Door Installation & Service
For help selecting and installing the proper types of doors and locks for any commercial or public building, contact us at Great Valley Lockshop. Learn more about our exit door and device services. Our technicians install and service egress doors. We also secure authorization from the Fire Marshall or Building Inspector and making sure the door meets all relevant codes.
Call GV Lock at (610) 644-5334 or fill out our free estimate request form and one of our knowledgeable team members will contact you.