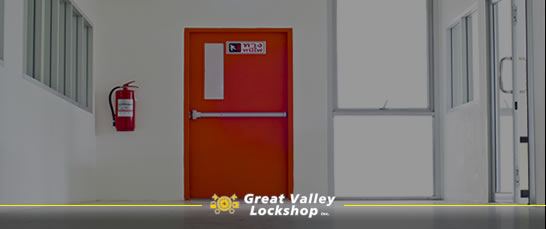 The Ultimate Guide to Panic Hardware Installation
If you own a business, you are fully aware of the necessity of having proper emergency exit door installations for fires and other incidents that require a building to be evacuated quickly. They are often called fire doors, crash doors or panic doors, and they are an instrumental safety feature that is required by law as an aspect of commercial business security.
The primary benefit of panic hardware installations for exit doors are that they allow patrons and staff to bypass locking mechanisms, allowing them immediate access to the outdoors by pressing on a horizontal push bar across exits. Many often feature alarm triggers that alert others to the emergency, and some models can open the door automatically in case of a fire or situation. Whether you're opening a new business or want to update your panic hardware installation, here's what you need to consider before getting started.
Meeting National, State and OSHA Requirements
Unless your company is rather small with few employees present daily, at least two fire exits are mandatory, and more are required for large businesses. The Department of Labor and Occupational Safety and Health Administration (OSHA) regularly inspects the functionality of these doors in the workplace and has strict compliances in place dictating how these doors must be installed and marked.
Panic doors must be able to be opened from the inside without a key, hardware must meed certain standards within compliance of the American National Standards Institute (ANSI), and also comply with other national, state, and local fire codes to pass inspections. You should also consider making sure the hardware you choose to install meets or exceeds recommended fire ratings by the researchers at Underwriter Laboratories to ensure that they will function optimally during actual fire situations.
Security System Connections
For maximum safety and security, having your panic bar hardware connected to a security and/or alarm system is ideal. Self-locking and inaccessible from the outside, yet unlocked from interiors, you can have your crash doors immediately sound an alarm when opened. This serves two key purposes: alerting others to evacuate and making the presence of uninvited guests known if they break in through your panic door.
Panic hardware installations in Malvern can also be directly connected to your alarm that automatically opens the emergency route doors when situations set off the security alert system. If you opt to make this connection, it is essential to have an override system just in case a system failure or glitch occurs. It is highly recommended that you have a professional locksmith like Great Valley Lockshop perform installations tied into an existing alarm system.
Considering the Types of Emergency Exit Bars Available
You have likely seen the traditional horizontal emergency exit panels in just about every place you visit, and they are by far the most popular choice for business owners. However, there are three other types of emergency exit bars available: vertical rod panic bars, concealed vertical rod panic bars, and panic bar levers.
Vertical Rod Panic Bars
These have the same appearance as horizontal panic bars, but vertical rod panic bars feature locking and unlocking mechanisms at the bottom and top of the door that are activated when the hardware is pressed as opposed to a traditional horizontal lock.
Concealed Vertical Rod Panic Bars
This emergency hardware system is perfect for aluminum doors and features special rods to accommodate the hollow body of the door frame. Because the hardware is concealed internally, there is less chances of unwanted intruders using your panic doors as entry ways.
Panic Bar Levers
These levers are integrated components of your panic bar that are placed on the exterior of your exit doors. This can serve as a backup method of entry in emergency situations, allowing rescuers to free those inside and also provide access for rescue teams responding to emergency calls.
Properly Marking Emergency Exits
Once emergency exits are in place, you must adequately mark them as such and post notifications of their presence and location throughout the building. This can be a challenging task, as fire laws and building codes are very specific.
Should You Self-Install Panic Hardware or Call a Professional Locksmith in Malvern, PA?
If you are somewhat handy and confident in your DIY skills, self-installation may be an option. However, if you are planning to connect panic door hardware to an existing fire or alarm system, it may be best to let the professional commercial locksmiths at Great Valley Lockshop come to your 'preventive rescue' with their comprehensive and code-compliant emergency exit hardware installation services.
If you're looking for an experienced commercial locksmith in Malvern who understands code compliance and building safety, call the pros at Great Valley Lockshop at (610) 644-5334 today to schedule a no-obligation consultation with one of our professional team members.