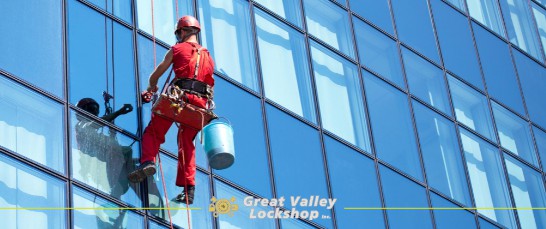 How to Maintain Commercial Window Tint
Many of us have driven down commercial corridors and noticed that most of the buildings we pass use commercial window film, or tinting. But why is that? 
Quality commercial window tinting provides a number of benefits, including privacy, glare reduction, lower energy bills, UV protection, and a crisp and slick appearance. 
Whether installing window tint on a newly constructed building or an existing building, it can be a significant investment, so we want to ensure that we properly care for it so it will last its entire expected lifespan of 10 to 20 years. In this article, we'll explain how to properly care for window tinting on commercial buildings. 
How to Care for Commercial Window Tint
Ensure the Tint is Completely Cured
Before any maintenance is performed on the windows, it's imperative to wait until the window film has completely cured. The weather, the type of window tint, and where it's located can all play roles in how quickly the window tint cures, which refers to the time it takes the tint to completely dry. 
The installer should provide us with specific instructions in regards to when it's safe to clean the windows. But as a general rule of thumb, it typically takes a week to a month for the film to completely cure. If we're unsure if the film is cured, we should wait at least a month to clean it to err on the safe side. Cleaning the windows prematurely can damage the tint and move it out of place, creating an expensive repair job. 
Regularly Clean Tinted Windows
Once the tint is cured, it's important to regularly clean the tinted windows just as we would untinted windows. 
We should always use care when cleaning windows with tint to avoid damaging and scratching the film, which can lead to early replacement. Avoid using harsh chemicals, abrasive sponges, or bristle brushes. 
Instead, use a mixture of vinegar diluted in water or water and dish soap. Make sure the cleaner is ammonia-free to avoid discoloring or damaging the window film. Vinegar is a natural solution that is great at removing fingerprints and other marks without causing damage. 
Use microfiber towels, synthetic sponges, or other soft materials to apply the cleaning solution to the surface. 
Related article: Advantages of Commercial Window Tint. 
How Often Should Window Film be Cleaned?
The frequency in which we clean commercial windows that are tinted depends on a number of factors, including: 
The climate.

The

climate

in which we live plays a large role in how frequently we'll need to clean tinted windows. An area that receives heavy rainfall or snow means our commercial windows will likely need to be cleaned every two weeks to one month.

 

Location.

Commercial buildings located near highways or other busy roads will likely accumulate more dirt and dust, meaning the windows will also need to be cleaned more frequently.

 

The type of facility.

It's important for facilities such as restaurants, medical offices, and retail stores to keep tinted windows clean at all times. Not only does this provide customers with a more inviting appearance, but it also provides them with reassurance that the building is clean and sanitized. Consider cleaning tinted windows on restaurants, retail stores, and healthcare facilities every two weeks and office buildings about once a month.

 
Related article: 6 Signs that It Is Time to Replace Window Tint Film.
Who to Hire to Clean Commercial Windows
Although companies often have a janitorial staff that can clean commercial buildings, it's often more cost-effective to hire professional window cleaners. This is especially true if it's a large or multi-level commercial facility. 
A professional window cleaner has the expertise and know-how to properly clean tinted windows without causing damage. Look for the following in a commercial window cleaning company: 
Stellar online reviews.

 

A professional-looking website.

 

Free estimates

 

Insurance in case something goes wrong

 

Gentle cleaning products that are environmentally friendly and won't damage the film

 

Quality cleaning equipment

 

Good customer service

 
Related article: Introducing Self-Tinting Glass Film. 
Contact GV Lock for Window Tinting Sales & Application
We can increase our buildings' privacy and efficiency by having window film installed on commercial windows. Contact our friendly pros at Great Valley Lockshop for window tinting installation services. Reach out to us online for a free estimate or call our office at (484) 324-2986.