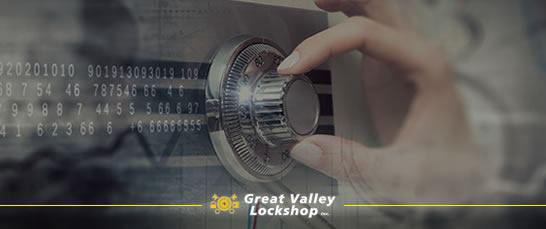 Maintenance Tips for Residential and Commercial Safes
A quality safe for the home or business can last for decades or even a lifetime when properly maintained and cared for. Whether the goal is to protect cash, firearms, important personal documents or sensitive business materials, a poorly performing safe can ultimately fail you when you need it most. To ensure that your safe offers maximum protection and functionality, it's important to take steps regularly to keep it performing optimally for years to come.
Don't Rough-house the Safe
It might not seem like any big deal to slam the door of a sturdy safe, but their heavyweight can actually cause the internal bolts and moving parts to bend or become dysfunctional with repeated slamming. Those with a traditional combination locking mechanism often think the best way to reset the lock after closing is to quickly whirl the dial like a spinner top. This action also wears down internal moving parts of the lock, so it's best to spin slowly. However, according to many professional residential safe locksmiths and commercial safe locksmiths alike, this problem can be avoided altogether by investing in more secure and modern locking options such as digital combinations, electronic access cards or biometric technology.
Perform a Monthly General Cleaning
About once a month, take time to clean the exterior of your commercial or residential safe. Using a soft, non-abrasive cloth and clean the edges, handles, cracks and lock thoroughly. Certain coating materials such as glossy, powdered-coat and textured may be cleaned with a damp cloth, but never use metal polishes or solvents even on locking mechanisms. These can damage the exterior of the safe.
Lubricate Locking Mechanisms Annually
A stuck safe that refuses to open like you're a burglar even when entering the right code is problematic, and these incidences often occur at the most inconvenient times such as when you need your firearm, an emergency evacuation or you require important business documents on the fly. To keep safe locks opening smoothly, apply a small bit of manufacturer-approved grease to the bottom and front sides of the lock's bolts once per year. This prevents them from jamming and sticking. While this maintenance step is minimal, it may be best to let an experienced safe locksmith handle this along with annual servicing.
Invest in Safe Inspections and Servicing Once Per Year
While an annual inspection includes checking springs and lubricating the lock and hinges for proper functioning, it also ensures that the safe door closes smoothly to avoid those emergencies when a quick close is necessitated. This maintenance call also lets the technician check all of your security checkpoints such as alarms, biometrics, access cards, and make sure any sort of digital records concerning who opens the safe when are functioning. However, the lock is the most important aspect of any safe whether residential or commercial. Most safes are sold with a generous warranty, and a pro can help you understand what is covered and what is not. Another aspect of maintenance to consider is that if your safe or its contents are stolen, you may have to prove that you've kept it in working condition to simplify any claims.
Learn more about the Different Types of Residential Safes.
Need Commercial or Residential Safe Services?
Experiencing a safe lockout or having trouble accessing your safe? Did an employee quit suddenly or a dispute between family members occur and you need access changes right away? Let Great Valley Lockshop assist you with your residential and commercial safe needs. Our 24/7 mobile locksmith services in the Greater Malvern region can help with everything from repairing malfunctions and performing on-the-spot emergency safe openings to complete installations. Contact Great Valley Lockshop today by calling (610) 644-5334 or requesting a free quote to learn more.