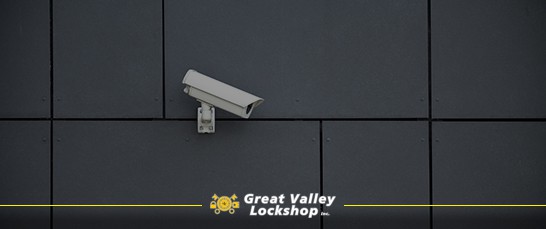 Powerful Ways to Upgrade Your Commercial Security
Unfortunately, crime is a reality. As business owners, we have to be on guard and be vigilant about security for our office, commercial property, and employees. If you are a business owner there are surely a lot of things that you have to manage. Don't overlook security. Here is a checklist of the main measures that you need to address to keep your company safe.
Checklist for a Secure Commercial Property
Looking for reliable ways to shore up security at your office, store, or facility? This is where you should start.
1. Build a Company Culture about Security
An effectively secure business starts with its employees. As a business owner, it's your job to put company policies in writing. Security measures should address emergency procedures, visitor restrictions, and safety codes. They should also cover how employees should treat company property and their keys to the commercial building – if they are allowed to loan them to others or make copies.
Managers should follow a set routine for locking doors around the property, closing gates and setting the alarm. Review the expectations regarding locking up with employees. Go over the company's security policies and emergency procedures with your entire staff and with new hires.
Security isn't just about written rules, though. Encourage your staff members to speak up whenever they see unusual activity in and around the office. They should always come to you if someone requests sensitive information or asks about security details. You could also talk to other business owners in the area. Together, you could form an area watch group to notify each other of crime patterns or suspicious activity around their property.
2. Properly Secure Doors and Entry Points
High-quality locks are advantageous for businesses because it's a relatively low-cost security measure. All doors and points of entry should be locked, even during regular business hours, when they're not being used. Windows are no exception. They should be secured from the inside when the office is closed or when a space is not being used. If it's possible, have deadbolts installed on all the doors accessing the building. If deadbolt locks are already in place, make sure that they all function normally.
3. Upgrade to an Access Control System
Keyless entry systems reduce the number of keys available and make it easy to track entry into the building throughout the day. Access control makes it easy to change user permissions immediately. That means that new hires can enter the building using the proximity or biometric reader and employees that leave the company have their entry permission canceled immediately.
Advanced biometric access control systems utilize fingerprints or facial features to verify users' identities. This type of system is convenient for employees – who don't have to keep track of a set of keys – and it provides a greater level of security, as biometric features are virtually impossible to fabricate.
4. Install Security Cameras
Adding security cameras will allow you, as the business owner, to see who is accessing the building. When installed on the interior and exterior of the building, the video feed will provide evidence of a crime if necessary, but also act as a deterrent. Cameras can be placed at key locations on the premises: entry points, loading docks, the parking lot or garage, restricted areas and storage facilities. It's important that you post signs clearly stating that security cameras are present.
Surveillance isn't foolproof, however. In fact, police and security agents have been unable to show that installing security cameras affects the crime rate. There are no statistics to support the idea that surveillance deters criminal activity. Further, cameras can't stop criminals from entering, stealing, threatening occupants or damaging property, even during the act. There is also no guarantee that video images will help catch or convict the offender, nor get stolen property returned.
On the local level, here in Pennsylvania, the arrest rate for burglaries is among the highest in the country. Unfortunately, solving only 19% of burglaries is considered good news when compared to other states in the country.
Security cameras don't keep invaders from accessing the property or entering the building. Unlike active security measures, surveillance only observes the events going on around it during the day or night. If the security camera does its job, at best, it records activity when an intruder accesses a store, warehouse, office, workshop or construction site.
Though systems have become quite advanced in recent years, the technology is still not perfect. Surveillance video often doesn't reveal who is responsible for a crime on the property. Footage could turn out to be entirely unhelpful. For example, the camera may not have been recording or was too far away. Sometimes video footage is deleted automatically before the manager or authorities could review it or it is too grainy to identify the culprit.
5. Protect Valuables
Have staff keep their personal items like wallet, purse, and keys, in a locked room or cabinet rather than leaving them unsupervised. If your business accepts cash payments, be sure to make frequent bank deposits during regular business hours. This will limit the amount of money in the cash registers at any given time.
When you close up for the day, have your staff get into the habit of putting particularly valuable items away, out of sight. It would also help to deter possible thieves to close the blinds and window treatments. Extra cash and important documents should be stored in a secure, fireproof combination safe.
Before anything bad happens, you should review your company's insurance policy. Be familiar with what it covers and how the claims process works. You will want to record the serial numbers of expensive equipment and keep this document in at least two different safe places.
6. Enforce Network Security
Inform your employees about expectations and policies regarding electronic communication, computer usage, and handling information. This should include running regular system updates and using anti-virus software. The WiFi network should be protected with a strong password. If you would like to offer customers access to free WiFi, provide them with a separate network.
Especially if your company works with sensitive data or customer information that is subject to privacy regulations, you will need to invest in extra network security measures.
Office workers should print documents only when necessary and shred any sensitive information that has been printed before throwing it in the trash. Be sure that this type of garbage is handled properly and not allowed to sit around on the property.
7. Maintain the Property
Routine property maintenance will help protect your commercial building. Install extra lighting and replace light bulbs in fixtures surrounding the outside of the building. Floodlights and motion detectors can also help illuminate any blind spots and decrease the risk of nighttime break-ins. Ensure that there is plenty of lighting near the main doors for any employees that may need to enter or exit after dark.
Work to keep bushes and landscaping well-trimmed. Fencing and gates with secure locks should be installed around the property to help protect company cars and equipment. Lastly, it's important that damaged doors, locks, and windows be repaired as soon as possible to avoid them being used for easy access into the office.
8. Hire Commercial Security Services
Security patrol staff can help keep an eye on your commercial property after regular business hours, on the weekends and during holidays. These trained professionals monitor the facility and look for signs of problems when your regular staff is away. Many service providers allow you to dictate how often they control the property and provide real-time reports and GPS tracking.
9. Add a Security System
Security systems are a solid way to protect commercial buildings from vandalism and prevent theft during the hours when activity is closed. Though the cost can be intimidating, think of it as an investment. Installing an alarm system may also help reduce insurance costs and qualify for a tax deduction on business tax returns.
10. Provide Ample Lighting
Exterior lighting works as an effective crime deterrent. A well-lit property around the building and parking lot also goes a long way in making your employees feel safe during the dark evening hours.
11. Screen and Accompany All Guests
Uninvited or unannounced guests shouldn't be able to enter and wander throughout your office at will. Having a receptionist who collects information from all visitors to your building works to keep track of who enters the building and for what reason. Any guests should then be escorted to the individual they came to see and then all the way to the door when they're ready to leave. They should never be left alone to wander the office.
Some companies enforce this type of policy through an ID badge system. This involves supplying all employees and faculty members with identity badges that have their full names and pictures. Then, any visitors to the workplace are asked to wear a guest badge while in the building.
12. Manage Incoming and Outgoing Employees
Many companies have made background checks a standard part of their hiring process. This can provide a greater sense of security when working with new staff. You should also request proper documentation and references for any other service providers who will have access to the office building, such as cleaning crews.
The business owner should establish a set procedure for how to handle security when employees leave. Here are some of the measures that should be accounted for in the exit policy:
Exit Interview – Arrange a meeting with a representative from human resources and the employee's immediate supervisor to ensure a smooth transition for the departing worker and to finalize any remaining terms.
Retrieve Equipment – IT should collect any company property including computer equipment, laptop, mobile phone, tablet, etc.
Deactivate Credit Cards – If the employee exiting had a company credit card, make sure you call the provider and cancel his/her account.
Deactivate Account or Forward E-mail – Make sure that the employee's e-mail is deactivated or forwarded to his/her replacement or superior.
Reset Passwords – Ensure that passwords are changed on any accounts that the employee had access to.
Collect Key or Access Card – Have the employee return his/her key or access card. If your company has an access control system, entry permissions should also be updated to deny access to staff that has left the company.
13. Rely on Professional Locksmiths
A commercial locksmith can recommend the right security solutions for your facility. They can recommend the lock hardware and latest in security devices that will work well with the layout of your existing commercial structure and provide the level of security that your business needs. Having locks professionally installed by an experienced commercial locksmith also ensures they'll function as intended. Commercial locksmiths are dependable for installing, repairing, and maintaining access control systems, security networks, lock hardware, and complex systems.
Increase Security at Your Business
Hiring a commercial locksmith service like Great Valley Lockshop is a great way to secure your business. Trust an expert to help you increase security at your place of business, whether it's an office, store or warehouse. The skilled locksmiths at Great Valley Lockshop offer a range of services for commercial buildings, from making master keys to installing emergency exit doors.
Contact Great Valley Lockshop today at (610) 644-5334 or request a free quote using our easy online form.