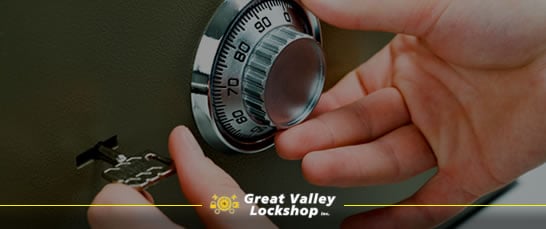 Where to Install a Safe in Your Home
Unfortunately, home burglaries are on the rise in our area. There is a residential break-in every 11 seconds, according to Pennsylvania State Police, and the majority take place during the day. In order to protect valuables and documents, many homeowners have invested in fire-proof safes.
But what is the best place to install a safe in order to keep your valuables as safe as possible? Although there is no exact place that works in every home, there are some guidelines which can help choose a good location.
You're making a wise decision by buying a safe to protect valuables in your home from theft, fire or other potential disasters. Most home safes include an installation kit and instructions. However, there are certain factors to consider when choosing the best place to install your safe.
Reasons for Keeping a Safe
Some things are difficult, if not impossible, to replace. In the unlucky event of a residential break-in, fire, flood or other natural disaster, a fireproof safe can help protect those special items. Jewelry, birth certificates, passports, savings bonds are just a few examples.
Before making this investment, check that the safe is rated by the manufacturer to withstand the heat of a fire. You can choose a safe with either a keyed and combination lock.
Best Place to Install a Safe in a House
There is no foolproof location that is recommendable for every residential property. Every house is different. However, we can provide some indications for safer places to install a safe to protect valuables from burglary, fire and floods.
In Case of Burglary
Look for a place that is in a low-traffic or difficult to find part of the house. It should be out of plain view and built into the structure of the house. We suggest putting it in a coat closet or guest bedroom closet. The safe should be located in the wall and covered with a door that blends in, or cabinetry can be constructed around it to match the closet.
In Case of Fire
Fire is the second biggest threat to your home. The most secure place to install a safe would be at the corner where two outside walls meet. This provides the most protection and support for a heavy safe. In a house that has multiple levels, it's best to keep the safe on the ground floor. It's also smart to install it within the range of sprinkler if your home or condo is equipped with an emergency system.
In Case of Flooding
To prevent your valuables from being damaged by or lost in a flood, ensure that the safe is installed above ground level. In areas that flood frequently, it's advisable to construct a concrete or steel base to support the safe. The base can be anchored in the structure of the house and keep the safe at least two feet off the floor. Though fire safes usually provide some level of water resistance, store valuable documents, electronics or photographs in a waterproof container to be extra sure.
Where Not to Install a Safe
There are some clearly less secure places within the home where safe installation is not recommendable.
We always suggest selecting a location outside of the master bedroom. This is usually among the first places that burglars look for safes.
Avoid the garage. This is usually the least secure area of the house in terms of burglary, fire, flooding and other disasters. Garage doors are often unlocked and left open. Plus, it's easy to find and remove safes here.
Preparing to Install a Safe in Your Home
The installation instructions will include a list of simple tools that will likely include a socket set, drill, drill bits, screwdrivers, and a marker pen. You may also need certain tools depending on the type of flooring you plan to fix your safe to. For example, cutting carpeting may be necessary to give you access to the underlayment. Be sure to clean and properly prepare your area prior to installing your safe.
Safe Installation on Concrete Floors
Position the safe into place and open the door. Inside, you should see some pre-drilled holes in the base. Use your marker to note where you'll need to drill into the concrete. Set the safe aside and prep your drill with the correct size bit per the instructions. If you drill the holes too large, you'll have to purchase bigger bolts and increase the size of the pre-drilled holes inside the safe to proceed.
Once the sizing is perfect, place the raw plugs from the fixing kit into the holes and place the safe atop them. The final step is to then screw the bolts into the interior pilot holes and secure the safe to your cement foundation.
Safe Installation on Wooden Floors
You're going to follow the basic instructions outlined above, but there are other considerations when fixing your safe to a wooden floor. Floorboards themselves aren't strong and secure enough to support the weight of a heavy safe. Therefore, you'll need to find a space for your safe where a floor joist is present.
Most safes don't come with the proper bolts and tools for wood installations, so you'll want to get some long coach bolts that will reach deep enough to penetrate your floor joists and secure them with a nut. You may also consider using some glue such as Gripfill in addition to coach bolts. However, you shouldn't glue certain safes, especially those over 100 pounds without consulting a professional.
Extra Precautions for Safe Installation
To make it more difficult for the safe to be removed either by a person or a natural disaster, it should be fixed to a sturdy part of the building. This could include a concrete floor, part of the foundation or an external wall. It's best not to mount it on a wooden surface because that would make it very easy to pry out of place.
Whenever possible, you should keep the safe concealed from plain sight. Custom cabinets, large pieces of furniture, wall hangings or doors that blend in with other storage spaces in the house could be used to cover it up.
Never do any type of drilling into the floorboards if you have underfloor heating. Be aware of any pipes that may run under the flooring, and this may require pulling up floorboards or finding your building's plans. If you are unsure at any point about what lies beneath, give an experienced safe installation expert a call.
Your Local Safe Locksmith – Pennsylvania, Delaware, New Jersey, Maryland
The safe locksmiths at GV Lock are fully licensed and experienced. We service the greater Philadelphia area as well as parts of Delaware, Maryland and New Jersey. We offer onsite and in-home consultations for selecting and securely installing a new safe. Learn more about our safe locksmith services.
Call Great Valley Lockshop at (610) 644-5334 or request a free estimate with our quick online form. See our service area.