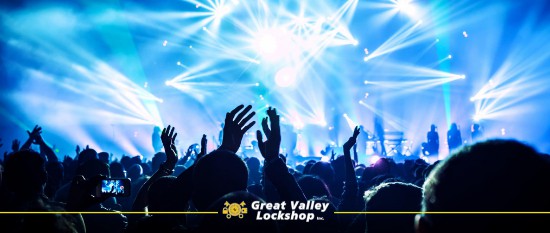 Concert Venue Occupancy & Emergency Exit Regulations
One of my personal favorite experts in the industry, who is very vocal about the hardware and safety code topics that are near and dear to my heart, is Lori Greene from Allegion. She provides a wealth of practical and relevant information for locksmith and hardware professionals through iDigHardware.
Here's her update on the issue of emergency egress from places of assembly, in the article Documentary – America's Deadest Rock Concert: The Guest List: 
"It's hard to believe that 19 years have passed since the fire at the Station Nightclub in West Warwick, Rhode Island – the fire occurred on February 20, 2003. One hundred people died and more than 200 were injured, and non-code-compliant conditions played a role." 

"NIST – National Institute of Standards and Technology investigated the Station Nightclub Fire and published a list of 10 recommendations based on their findings.  Recommendation #5 was related to egress." 
So, let's take a closer look at this set of recommendations.
Occupancy Limits and Emergency Egress
"NIST recommends that the factor of safety for determining occupancy limits of all new and existing nightclubs be increased in the model codes in the following manner, and that state and local authorities adopt and aggressively enforce the following provisions:" 
1. Occupancy limit should be based on estimated evacuation time.
Within the model codes, establish the threshold building area and occupant limits for egress provisions using best practices for estimating tenability and evacuation time; and, unless further studies indicate another value is more appropriate, use 1-1/2 minutes as the maximum permitted evacuation time for nightclubs similar to or smaller than The Station. 
2. Calculate the number of required exits +1.
Compute the number of required exits and the permitted occupant loads assuming at least one exit (including the main entrance) will be inaccessible in an emergency evacuation. 
3. Main entrance should allow 2/3 of occupancy egress.
For nightclubs with one clearly identifiable main entrance, increase the minimum capacity of the main entrance to accommodate two-thirds of the maximum permitted occupant level (based upon standing space or festival seating, if applicable) during an emergency. 
4. Sprinkler function shouldn't decrease the allotted evacuation time.
Eliminate trade-offs between sprinkler installation and factors that impact the time to evacuate buildings. 
5. Training for emergency egress situations is a must.
Require staff training and evacuation plans for nightclubs that cannot be evacuated in less than 1-1/2 minutes.
6. Clearly mark emergency exit routes.
Provide improved means for occupants to locate emergency routes—such as explicit evacuation directions prior to the start of any public event, exit signs near the floor, and floor lighting—for when standard exit signs become obscured by smoke. 
Other Egress Codes that Are Applicable to Nightclubs
Panic Hardware
Building codes and Life Safety codes require the installation of panic hardware in specific commercial settings. Panic bars are required on buildings that are intended for assembly, which includes entertainment and concert venues. More specifically, the IBC requires panic hardware on buildings with an occupancy load of 50 people or more. 
Lock Hardware
Buildings used for assembly, where panic hardware is required, can be equipped with either fail-safe and fail-secure locks. Crossbars and touchpad style hardware can work with a wide range of lock types, including automatic locks, electrified locks, and traditional mortise locks. 
That being said, unless an exit door falls into the category of delayed egress or controlled egress, it must allow free egress. Any locking devices used on a commercial door within the exit route must meet the following requirements: 
Exit doors must open to the outside in a single motion that does not involve pinching or twisting of the wrist to unlock it.

 

Locks must comply with federal

accessibility laws

; they must be simple to open for people with limited mobility and children. (However, the age and height requirements depend on local building codes.)

 

The hardware and locks on the door should be installed 3 to 4 feet from the floor.

 
Free Egress
Emergency exit doors must allow people to exit the space quickly without a key, tool, extra force, or special knowledge. This ensures that people can safely exit even in dark, smoke-filled, or otherwise frightening situations without searching for a key or using a complicated locking device. 
No Barricades
It's important to note that these important Life Safety codes prohibit the use of any add-on barricade devices. Exit doors must not be boarded up or blocked with the use of furniture, heavy objects, chains, ropes, zip ties, padlocks, or by any other means. As Lori Greene explains in another post titled Chains and Padlocks, "I-Codes don't differentiate between occupied/unoccupied with regard to egress." This means that free egress from the building must be guaranteed whether it is occupied or not. 
Marked Fire Exits
Fire exits must be properly labeled and notifications of their presence and location must be posted throughout the building. 
Committed to Life Safety Awareness
Follow GV Lock and Allegion for more information on the most important topics in our field.