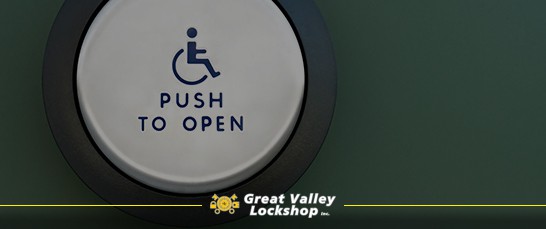 Accessibility Compliance for Doors: What Business Owners Need to Know
Nearly 13% of the population in the United States is considered disabled, according to 2017 report of Disability Statistics. Businesses should be naturally motivated to make their buildings, programs and services accessible to customers with physical limitations. Thanks to the Americans with Disabilities Act (ADA), public entities and many private companies are also required by law to comply with accessibility standards.
Accessibility Requirements for Buildings
Though ADA standards are a good guideline for any building that should be handicap accessible, not all buildings are required to comply.
Which Buildings Are Required to Comply with Accessibility Standards?
ADA accessibility codes apply to public agencies and private businesses which serve the general public. This also includes buildings constructed by the state or local government. Generally, any building considered a place of "public accommodation" must be accessible to people with a wide range of handicaps.
When Did ADA Accessibility Standards Go into Effect?
ADA accessibility codes apply places of public accommodation constructed after January 1992. Similar buildings constructed prior to 1992, are expected to make efforts to remove unnecessary barriers.
Accessibility Requirements for Doors
Welcoming all customers starts at the main entrance, literally. Now, let's learn about ADA requirements for doors.
What Types of Doors Are Required to Comply with Accessibility Standards?
Not all doors in a place of public accommodation must meet accessibility requirements. Generally, at least 60% of public entrances in newer buildings must be accessible for people with limited mobility or who use a wheelchair. More specifically, to comply, at least one door should be accessible in the following points throughout the facility:
The main public entrances,
Entry points for each building or business within the complex,
Interior rooms or spaces open to the public,
Entrances from parking structures,
At least one restricted entrance (if applicable),
Doors along the building's emergency or fire exit route.
What Are the Specifications for Door Compliance?
Door Measurements
For a doorway to be considered accessible, it must be at least 80 inches tall and provide at least 32 inches of clear width. This measurement refers to the space between the face of the door (when fully open) and the stop on the other side of the doorframe. If the doorway is more than 2 feet deep, the clear width must be at least 36 inches.
This is applicable to at least one side of a double-leaf door. It does not apply to doors that are operated only by security staff.
Door Surface
To facilitate people entering the building in a wheelchair or while using a cane, the bottom portion of the door should have no projections. The lower 10 inches of the door must have a smooth surface on the exterior side. If the door has a kick plate, it should be installed flush with the door surface or be capped.
This doesn't apply to sliding doors or certain kinds of glass doors.
Entrance Thresholds
In order to meet accessibility codes, the doorstep can have a maximum height of a ½ inch for swinging and sliding doors. The threshold should be beveled with a maximum slope of 1:2. Existing doors can have a slightly higher threshold if they meet all other requirements.
Maneuvering Space
Mobility devices and wheelchairs require a certain amount of space to turn and maneuver. This is why accessible doorways must provide a level surface with ample maneuvering space for that type of entrance. Anyone should be able to reach the door, reach the door hardware, open the door from the outside, enter and close the door.
18 inches minimum clearance is required for doors that swing out.
12 inches minimum clearance is required for doors that swing in.
Visibility
Windows next to doors which provide lighting for the entryway should be located no more than 43 inches off the finished floor. This doesn't apply to doors with vision lite panels more than 66 inches from the floor level.
What Are the Specifications for Hardware Compliance?
Handles, latches, locks, panic bars and other exit devices must comply with ADA accessibility standards.
Operable parts for opening and closing the door must be installed between 34 and 48 inches above the floor.
Round doorknobs are not ADA compliant. Lever or push mechanism are preferred.
Door hardware must be accessible from both sides of a sliding door even when fully open.
Learn more about accessibility concerns and door lock compliance.
Opening Requirements for Accessibility
It's important that door hardware allows everyone to easily open and close accessible doors. To meet ADA requirements, hardware must:
Be easy to operate with one hand.
Require 5 lbs. or less of force.
Not require tight grasping, pinching or twisting of the wrist.
These specifications apply to interior doors and gates with hinges, as well as sliding and folding doors. Check your state and local building and safety codes to find the maximum force required to open exterior doors. This usually ranges from 8 to 10 lbs. Of force and may be less for emergency exit and fire doors.
Closing Requirements for Accessibility
Automatic closing hardware can increase the level of accessibility for a private or public building, but is not required by ADA regulations. Anyway, the door should allow people ample time to securely enter or exit the building before closing.
Automatic door closers should allow a minimum of 5 seconds when moving from open to closed.
Doors with spring hinges should allow a minimum of 1.5 seconds when moving from open to closed.
Knowledgeable Commercial Locksmith Services
Guidelines which apply to doors, emergency exits and locks, such as ADA, are specific and sometimes complex. Although public safety depends on compliance with these important regulations. Refer to an expert locksmith to ensure that your commercial property up to code.
Contact the team at Great Valley Lockshop for an expert consultation or free estimate. Call us at 610-644-5334 or request a quote online.