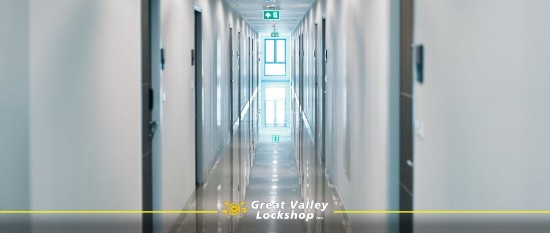 Lock Installation for Large Pennsylvania University
Great Valley Lockshop was subcontracted by an integration company to install electric locksets and wire transfer devices in multiple gymnasiums across Pennsylvania for a large University.
Locations
Great Valley Lockshop dispatched our expert locksmiths directly to 18 satellite campuses across Pennsylvania including Abington, Altoona, Media, DuBois, Erie, Harrisburg, Hazleton, Lemont Furnace, McKeesport, Monaca, Mont Alto, New Kensington, Pittsburgh, Schuylkill Haven, Wilkes-Barre, Scranton and York.
Project Challenges
Expertise Required
GV Lock was hired by another security company (the primary contractor) as an electronic hardware specialist to help convert the existing door locks to electric locks with access card readers. The university requested that no magnetic locks be used for this project. Due to the primary contractor's lack of experience in this area, they called on Great Valley Lockshop for assistance.
Design Flaws
Great Valley Lockshop's primary responsibility in this major project was to install the parts supplied by the primary contractor. After completing new lock installations at several sites, the primary contractor realized they ordered incorrect parts. GV Lock was then asked to help consult the primary contractor on the design to ensure a secure installation of all remaining sites.
Manpower
During the fall and winter of 2013, GV Lock designated two locksmiths to this project, each working on site, three days a week. With 18 campuses with gymnasium facilities across Pennsylvania and between 12 to 15 doors at each site, this project not only required our expertise and manpower, but a significant amount of travel time.
Results
In the end, Great Valley Lockshop was able to provide expertise and manpower to the primary contractor along with improved security to the university's maintenance and police departments without inconveniencing or interrupting their day-to-day activities. With the final site in Dubois scheduled to be completed in June of 2014, GV Lock has met every deadline with minimal punch list items.
Get more information about the Advantages of Keyless Access Control Systems on University Campuses.
Find out more about the university and campus locksmith services offered by Great Valley Lockshop.