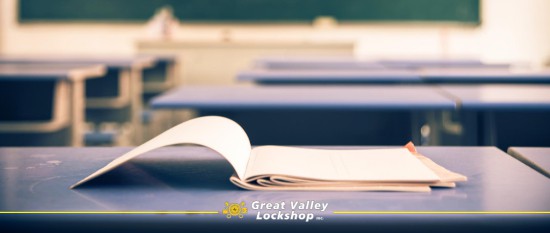 Students Safety: How Can Schools Improve Safety and Security?
Why Schools Need Better Security
During back-to-school time each year, the Sandy Hook tragedy, and other recent school shootings, as a sad reminder for educational institutions around the country. Years after these terrifying incidents, school security continues to be a serious concern for parents, students, faculty, and citizens in general. We have learned that, if something like a mass school shooting could occur in Newtown – a city where violent crime was rare, it can happen anywhere. While Sandy Hook is a tragic example, it's hardly the only one. In fact, 2018 was considered the worst year for school shootings, with 24 separate incidents resulting in death or injury of 114 students.
Is your school building prepared to adequately handle an active shooter situation? It's important to have security systems in place that help prevent a serious threat to campus safety. Though there has been a lot of talk about special classroom security locks and barricade devices, these measures often create other problems. Let's take a look at this issue and some better solutions improve safety in schools.
How Can Schools Improve Safety and Security?
The fire and safety codes are clear, and the requirements for additional locks or barricades to keep intruders out are strict. Most retrofit security products, though they may be advertised for use in schools, do not respect these important restrictions. Yet, the threat to school safety seems to be growing.
5 Ways to Improve School Security
So, how can schools increase protection for students, faculty, and staff? Let's look at some security solutions that are appropriate for an educational facility.
1. Video Intercom Entry Systems
In standard school buildings, intercoms are installed in every classroom to allow communication between teachers and the main office, but intercoms can prove valuable beyond this function. Schools are increasingly installing video intercom, buzz-in devices outside of main entrances. – and complementing them with video surveillance equipment. This type of access-request system gives administrators and staff time to verify the identity of visitors and deny entry to any unauthorized person. Security measures such as this help school staff prevent potential danger before it even enters the door.
2. Access Control Systems
Educational facilities should have a limited number of entry points which can be monitored and controlled by responsible personnel. Advanced access control systems can be customized to fit the needs of virtually any school or university. Relying on access cards, key fobs or biometric data, such as fingerprints, an access system identifies each person trying to enter the building. Anyone who does not have proper authorization to enter is must wait until personnel verify their identity and remotely unlock the door. The system can be programmed to limit access to certain users, specific areas of the school or campus, or during set hours and days of the week.
With controlled access, for example, a school could program the system to block entry for students who have graduated or who have been suspended or expelled. Similarly, a college campus could restrict access to computer labs at night and during summer break. Dormitories can restrict access only to the students living there and have a real-time report identifying who entered and when. The system could be used to grant faculty and staff access to parts of the building, while denying access to students.
For a controlled access system to be an effective security measure, however, students and teachers must use it properly. This means entering the school in an orderly fashion and not holding the door open for others. Specialized automatic locks can be used to secure the less strictly controlled entry points and emergency exits. By stressing the importance of student safety, a school or university can get everyone on campus to cooperate with the set protocol for managing the access system.
3. Bullet-Resistant Protection
Additional security equipment which does not infringe on safety or handicap accessible codes is available for schools. For example, bulletproof doors were recently installed on classrooms at a pre-K – grade 8 school building in New Jersey. Other schools are turning to bulletproof glass to help protect students in case of gunfire and inside active shooter threats. Some are undertaking bullet-resistant entryway renovations, adding protective window shades or films, or following the development of deployable bulletproof curtains.
4. Adopting New Security Measures in an Educational Setting
Whenever new access systems, security protocol or locking devices are adopted, administrators should ensure that staff and faculty are familiar with it. Training should be provided to understand how and when to implement the new security measures. It should also be clear what each figure's important role is. Everyone needs to know what is expected. Written protocol and lockdown drills can help assign responsibilities.
5. Lockdown Drills
In order to safeguard child occupants, school staff members should regularly review training for lockdowns and active shooter threats. Lockdown procedures should be defined for each campus building and should clearly outline each staff members' responsibilities. The goals of regular drills are to:
Define the role and tasks for each staff member;
Outline the lockdown protocol for students;
Give school staff the chance to use locking devices in a realistic setting;
Build confidence of everyone on the school campus in implementing lockdown procedures.
School Security Guidebook
Review this clear guide of basic information for school security. It addresses the need for tighter security measures and how that can be achieved with controlled entry systems. Our handy guidebook also has helpful tips and practical security measures for universities and schools. It highlights relevant building and fire safety codes for educational facilities and classrooms.
Learn more about the Advantages of Keyless Entry for College Campuses.
Fostering a Safer Environment Through Positive School Culture
While technological solutions and physical enhancements play crucial roles in enhancing school safety, building a strong and positive school culture is equally important. A culture of safety, respect, and trust can significantly contribute to a secure and welcoming educational environment.
Key Elements of a Positive School Culture for Safety:
Community Involvement: Engaging the broader community in school safety initiatives can create a network of support. Involving parents, local law enforcement, and community organizations can promote a sense of collective responsibility.
Clear Communication: An open line of communication between students, staff, and administration is vital. Encouraging students to report any concerns, whether related to bullying, threats, or safety issues, fosters a safer atmosphere.
Anti-Bullying Programs: Bullying can be a precursor to more severe safety issues. Implementing anti-bullying programs and communicating a zero-tolerance policy for bullying can help create a safer environment.
Emotional Support: Providing emotional support for students experiencing stress, bullying, or other emotional challenges is crucial. School counselors, mental health programs, and peer support groups can offer assistance.
Promote Inclusivity: Creating an environment of inclusivity and respect for diversity helps mitigate instances of bullying and discrimination, ultimately contributing to a safer atmosphere.
Conflict Resolution Programs: Teaching students effective conflict resolution strategies can help prevent minor disputes from escalating into more significant issues.
Resilience Education: Programs that build resilience in students can help them cope with stress, adversity, and trauma, promoting emotional well-being and, in turn, school safety.
Awareness of Warning Signs: Training staff to recognize and respond to warning signs of potential threats, such as unusual behavior in students, can aid in early intervention.
Professional Locksmith Services for Educational Institutions
When it comes to the safety of hundreds of children, you can never be too careful. And preventative action is key.
Great Valley Lockshop boasts more than 30 years of experience assisting colleges and universities in making their campuses safer for students. Schedule a consultation to discuss workable solutions for improving university security. Contact GV Lock at 610-644-5334 or request a quote here.